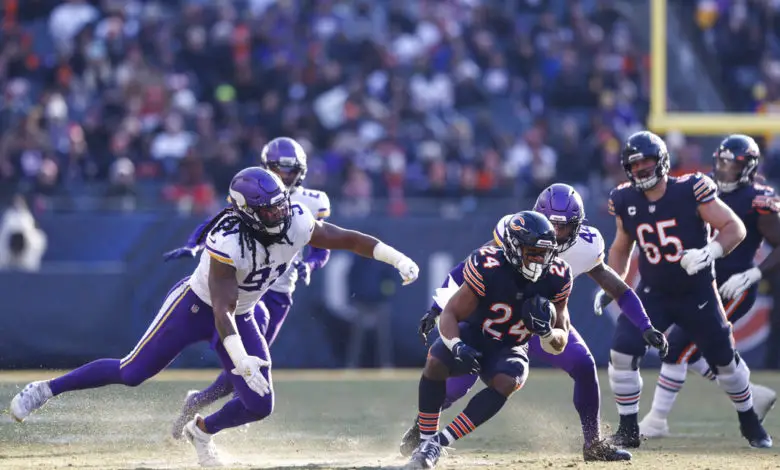 The Upside of a Disappointing Bears Season
The Bears ended their season with a one-sided loss to the Vikings on January 8. The loss was so terrible that the Vikings played backup QB Nick Mullens, who threw 11 of 13 against an injury-riddled Bears defense that forced just one punt.
Despite the loss, the Bears showed enough this season to prove they can be competitive in 2023. Chicago was within one score in seven of their 14 losses this year. The Packers and Falcons were the only teams from those 14 with losing records and remember, the season started with the Bear's victory over the NFC champion contender 49ers. so there is plenty to look forward to. I'll break down the position groups for the offense and add some upside perspective to next season.
Quarterback (B-)
Justin Fields started slow, but after a Thursday night loss to the Commanders that came down to the last play, Matt Eberflus utilized his 11-day "mini-bye" to reevaluate everything. The result was a victory over the Patriots the following Monday and a season-high rushing performance, unlike anything I'd previously seen. Fields, with 16 fewer carries, finished behind Lamar Jackson by 63 rushing yards to earn second-best all-time for a quarterback.
Chicago's offense was often limited, and the offensive line was porous too often, limiting the Fields' time in the pocket. The wide receivers also struggled to get open and dropped the ball on occasion. So, it's not all on Fields, but the second-year quarterback eclipsed 200 yards passing just twice and had two games with less than 100 passing yards to boot. The young field general had enough flashes to provide hope, though. His deep ball is crisp, and there's a lot of potential for a step forward in year two with OC Luke Getsy.
Running Back (C+)
David Montgomery started more games this year than in any other season in his career, but he also finished worse in almost every category. Again, the offensive line carries partial blame for some of his woes, but Montgomery's backup, Khalil Herbert, struggled less. Herbert exceeded Montgomery's yards-per-attempt by nearly two yards and came up only one touchdown shy of the four-year veteran despite 72 fewer carries.
I believe the Bears will move on from Montgomery this off-season. They could run the ball with Herbert as the starter or take a crack at someone like Saquon Barkley in free agency.
David Montgomery gets LOOSE for a 80-yard TD 💨

(via @NFL)pic.twitter.com/mZSCtHVvsZ

— B/R Gridiron (@brgridiron) December 13, 2020
Wide Receiver (C-)
The wide receiver group needs to be much better, and that's putting it lightly. A plethora of injuries made the group too inconsistent. No wide receiver played all 17 games, and Darnell Mooney was the only receiver to approach 500 yards. Equanimeous St Brown had the next most yards for the Bears with just over 300, but it was enough to earn him another year with the Bears.
Despite the low grade, the Bears have much to look forward to from this group. The most significant silver lining is Chase Claypool. Claypool only had a few games to work with Fields. As that chemistry improves, and with a healthy Mooney, there should be more production from the duo in 2023. Velus Jones also showed potential in Getsy's offense. If the Tennessee rookie can limit turnovers he could also be a pivotal weapon.
Tight End (B+)
Tight end is an exciting position in Chicago thanks to Cole Kmet. The Notre Dame product emerged as a go-to weapon for Fields en route to a career-high seven touchdowns. Kmet was also the only pass catcher to surpass 500 yards. More importantly, Kmet can block well, an essential component of the run-first offense. If the Bears add one more weapon at tight end, this group could earn an A in '23.
Offensive Line (C+)
The Bears went into the season with high hopes for the offensive line that included several new additions. The acquisition of Lucas Patrick added a lot of excitement. I don't know if the enthusiasm was because he was signed to replace Sam Mustipher or because Patrick is a talented center, but his assessment is incomplete. Patrick only played seven games and had a team-low PFF pass-blocking grade of 30.8. Cody Whitehair and Riley Reiff are the veteran linemen for the Bears, but each performed averagely at best.
I admit my grade is a little higher than expected, but that's because there's so much upside on the developmental side. Ja'tyre Carter earned just 31 offensive snaps, but he effectively worked those 31 snaps into a team-best 83.9 pass-blocking grade. Tevin Jenkins moved inside to guard and led the team with an 82.2 run block grade. The most exciting story to emerge this season was rookie Braxton Jones. As a fifth-round draft pick, Jones was relatively consistent while starting all 17 games at left tackle. Jenkins (80.7 PFF overall grade) and Jones (74.5) were the two highest-rated offensive linemen.
Sure, the Bears failed to meet our expectations, but youth is on their side. I predicted nine wins, but I'm not giving up on this team. There are many changes still to come, and Chicago's young core is promising. The Bears have the 1st overall pick and the NFL's most cap space. There's a lot to look forward to in 2023, and I'm going to enjoy the ride.