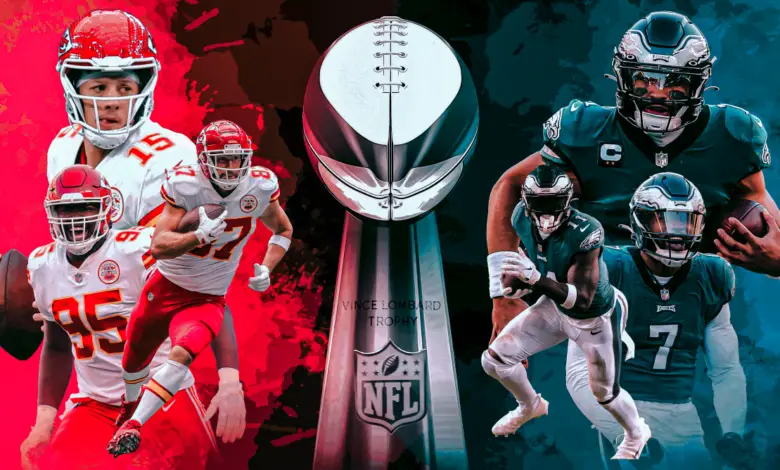 Super Bowl LVII Game Day: Where Do You Expect to Be in Five Years?
One of the things I dislike about job interviews is the obligatory five-year plan question. Specifically, where do you see yourself in five years? It's a loaded question because you believe you're supposed to refer to things like loyalty, security, or fitting in. What you're supposed to do is align your personal and career goals with the job at hand.
Truth be told, I want to win the Powerball and watch football from a sports bar that I own in the Bahamas. Yeah, it might happen.
This month represents a convergence of so many great things. Today is Super Bowl Sunday, NASCAR kicks off its season, pitchers and catchers are reporting to spring training sites, and what the heck, Tuesday is Valentine's Day. I'll be in Florida, dressed in shorts, and dreaming of summer. No, I am not trying out for the New York Yankees. Oh yeah, it's Golf season, too. I'm watching Tin Cup as I write this. Don't forget to waggle a little.
Yes, it's Super Bowl weekend but this is a Bears blog, so let's try to predict when the Monsters of the Midway will be, er, monstrous again. Will it be within five years? Ryan Poles is wagering his career on that benchmark. I don't know if you've noticed, but the NFL's founding franchise has been a veritable GM graveyard. Those who leave never get a chance to run another franchise.
It's been 37 years since the Bears shuffled off with the Lombardi Trophy, and after a 3-14 season, it seems like the path ahead is long and arduous. But maybe it isn't. Chicago has the top pick in the 2023 draft, or as I like to say, "The Chicago Bears are on the clock." Poles also has close to $100 million in available cap space. He can do a lot of damage once the league opens for business on March 13.
First and foremost, let's just stop with the Justin Fields trade talk. Matthew Stafford was a Super Bowl-winning quarterback last season, and this year he was 3-6. Why? Well, he was sacked 29 times in his nine starts this year as compared to 30 in 17 starts last year. The team also exchanged Odell Beckham Jr. for Allen Robinson Jr. It's tough to win when you don't see a competent wide receiver downfield.
I know, I know. I'm picking on Robinson and I'm aware the Rams have Cooper Kupp and Ty Higbee. The Bears' leading receiver was Cole Kmet, who had seven scores on 509 receiving yards. Their top wideout was Darnell Mooney, who had 493 yards in 40 receptions. But, Stafford was sacked 3.2 times per game playing behind a significantly better offensive line than Chicago's. Fields took 55 sacks in 15 games and was beaten like a piñata all season.
My point is, it's hard to win if you're on your ass more often than not. If the Bears intend to "take the NFC North and never give it back," they're going to have to get Fields some blockers and lots of weapons. If the number one goal of Poles' five-year plan isn't to do just that, he's going to join Ryan Pace, Phil Emery, and Jerry Angelo in the discard pile.
Expect the Bears to be playing in Super Bowl LX in 2026. There I said it. Save the receipt, and see me in three years.
The Eagles are favored by a point and a half on Sunday to win the NFL Championship. Philadelphia is -125 on the money line (bet $125 on the Eagles to win $100 straight up), and the over/under is 50.5.
Field Conditions
The game will be played at State Farm Stadium in Phoenix. The turf will be fast, and the weather will not impact the outcome. Don't expect to see Jake entertaining Patrick Mahomes or Aaron Rodgers on Sunday. State Farm will stick to Tik Tok for the second straight year. Besides, the stadium name is the greatest example of product placement in the history of sports! Plus Mahomes is playing in the game! Winner, winner, chicken dinner.
Unique engineering that makes football in the desert comfortable for players and fans will be on full display at #SuperBowl 57 in Glendale, Arizona.

With its rollout natural grass field and retractable roof, State Farm Stadium was the first of its kind when it opened in 2006 pic.twitter.com/bfkE29JJeP

— USA TODAY Sports (@usatodaysports) February 9, 2023
Team Trends
The Eagles might have the greatest Super Bowl front seven since our beloved '85 Bears. Philadelphia sacked opposing quarterbacks 70 times during the regular season. Then they added eight more during the playoffs. The Chiefs, however, have the best pass-block win rate in the NFL. I despise that statistic, but it doesn't mean that Kansas City's offensive line is not one of the league's best.
Also, just 11% of pressures against Mahomes have resulted in a sack, according to ESPN analytics. Sunday's game is going to be a study of trench warfare at its finest.
On the flip side, Kansas City's defense must do its best to force Eagles quarterback Jalen Hurts out of the pocket. I know Hurts is a dual threat, and earlier this season rushed for 100 yards in the first quarter of a game. But look at these passing rankings:
21st on throws outside the pocket
24th while throwing on the run
27th when holding the ball for four seconds or more
Incidentally, this is why Fields is going to be a much better QB than Hurts. The Bears QB excels in those situations. I digress.
Why the Chiefs Will Win
Travis Kelce is the most popular 1st TD scorer bet, 24% of wagers are on him 👀

All #SuperBowl props ➡️ https://t.co/mU6lsD73TN

— Bovada (@BovadaOfficial) February 11, 2023
Experience will be a big factor and this is Kansas City's third trip to the big game in four seasons. Let's talk about the wow factor, too. Besides Mahomes, the league's newly minted two-time MVP, the Chiefs boast transcendent tight end Travis Kelce, Chris Jones, and the rest of the stars of their rebuilt defense. With coach Andy Reid pulling all the right strings, well, there are plenty of reasons why the Chiefs will be celebrating another championship Sunday evening.
This will actually be Reid's fourth time as a head coach in the Super Bowl — he did lose once with Philadelphia in case you forgot — and for the past two weeks, he's been guiding the Chiefs through their preparations to his typical exacting standard.
"I don't want to have any regrets," Mahomes said earlier this week. "When I step off this football field, I understand how lucky I am to be in this organization. I understand how lucky I am to play with guys that are going to be Hall of Famers. And so when I look back at the end of my career, I don't want to look back and be like, 'Man, I didn't give everything I have to win to win Super Bowls,' because of the great people I have around me. When I get done with my career, I want to make sure that I know that I gave everything I had on that football field."
The Chiefs are going to score points. That means the Eagles will have to get their share of big plays as well. I think they will, mostly coming on the deep passing game, but just not enough.
Why the Eagles Will Win
Philly loves Jalen Hurts pic.twitter.com/jeK3pnbBDc

— Crossing Broad (@CrossingBroad) February 1, 2023
There's an argument to be made that the Eagles have the most complete roster in the NFL, and a side-by-side comparison with the Chiefs might leave the impression that they are the heavy favorites to walk away winners Sunday night. Additionally, trench warfare usually favors the defense in big games. The Eagles do not have a single hole in their lineup.
Hurts isn't Mahomes, but he earned second-team All-Pro and finished second in MVP voting after tying a franchise record with 35 combined TD passes and runs. This…despite missing two games with a shoulder injury. That said, the Eagles boast a much better ground game. Philadelphia set an NFL record with 39 rushing touchdowns in the regular season and playoffs.
"I had something that I was definitely prepared to do for this moment, but then I altered my plan a little bit," Eagles head coach Nick Sirianni said on the Eagles' final night prior to the game. "What we'll do on Saturday is instead of me talking and instead of a captain talking, I think we're just going to open it up to the floor. We'll just kind of let everybody talk."
Not to beat a dead horse,m but this game should be decided in the trenches. Both teams possess Pro Bowl-caliber fronts, but the Eagles have a deeper rotation. Mahomes could be in for a frantic day here, and in that case, Philadelphia will feel more comfortable taking shots downfield.  If the Eagles have any success in their passing game, it could mean a win. Grease those light poles, Philadelphians, just to be safe.
Ex-Bear Factor
Current Bears' GM Ryan Poles worked for Kansas City last year, and his assistant, Ian Cunningham, was hired from Philadelphia. I wonder what they're betting? Matt Nagy, the head coach the Bears fired at the end of last season, is a senior assistant and quarterbacks coach for Kansas City. I'd enjoy seeing him win a ring. Oh, the humanity!
Robert Quinn plays for the Eagles thanks to a midseason trade. Deon Bush and Michael Burton play for the Chiefs. I assume most Bears fans are rooting for Quinn and the Eagles and against Nagy and the Chiefs. I've got my money on the Chiefs.
Injuries
Chiefs: No injuries reported.
Eagles: Britain Covey (hamstring) is listed as questionable.
Predictions
Our own Sean Holland previewed Super Bowl LVII a couple of days ago and predicted a 24-21 Eagles win. Trying to pick a winner in this game is like trying to choose between pizza and another pizza. The teams are so evenly matched it's a genuine tossup. The Eagles are expecting Kelce to stay home as an extra blocker but Reid is smarter than that.
Eight of 12 analysts at FOX Sports predict a Chiefs win. 45 of 71 "experts" at ESPN are choosing the Eagles. There is a dead heat at NFL.com, with 12 votes for each team. The Madden '23 simulator predicts a 31-17 win by Philadelphia. Tyreek Hill and Dak Prescott are calling it for Kansas City.
I'm going to side with a familiar friend, nickname assignor, and NFL Swami Chris Berman of ESPN, who predicts a 29-26 win by the Chiefs. I'll say Kelce grabs two touchdown passes, Mahomes wins the MVP award, and Kansas City upsets Philadelphia 37-34.