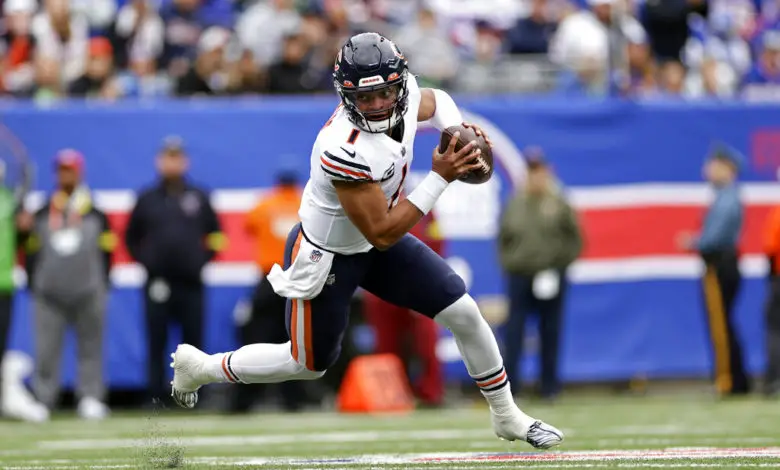 Let's Talk About the Justin Fields Trade Rumors
I've taken some time away because the less-knowledgeable Bears fans can sometimes get a little out of control. If I'm being honest, it's all a little difficult to digest.  I've read and perused some of the craziest mock drafts I've ever seen in my life, and I've come to realize three things about the team's fanbase:
After ripping Ryan Poles for the better part of his first year, they now believe he is going to orchestrate the most one-sided draft day trades ever.
Justin Fields is Poles' meal ticket to accumulating a couple of extra first-round picks. As we all know, most Bears fans like nothing better than a new quarterback that they can hate a year later, be it a veteran or a rookie.
Most of the fans who believe Fields should be traded also believe Mitchell Trubisky is still a potential All-Pro quarterback.
Perhaps you've seen scenarios like this, and by the way, I am not picking on the person who created the post. I get it. It's a conversation starter designed to elicit a response.
Houston Texans Trade Offer for No.1 Pick
1ST (2nd OVERALL)
1ST (12th OVERALL – FROM CLEVELAND)
2ND (33rd OVERALL)
3RD (65th OVERALL)
1st(2024pick) who says no @BearsTw1tter @beast_bears1 @S_K_POWELL @Scar179ny @TezKnowsBall @BearsUK2 @JayBear29 @MEdwardCanter @NoahBrasos

— Will Wright (@willwright06) February 9, 2023
That's a dandy of a throw by itself, but some of the responses claim the Bears should then trade the No. 2 pick to the Colts, and then trade the No. 4 to the Raiders. Once the smoke clears on these types of scenarios, the Bears have acquired about 37 2023 draft picks and multiple first-rounders for the next decade. Yeah, that might happen.
Of course, the faction of fans that don't like Fields chimed in as well. They believe the second-year quarterback could fetch multiple first-round picks this year and then some. The question I have is why would you give up on a player that you think is worth that kind of haul? But that's the thing with a lot of fans. They think that they're astute enough to see what everybody is missing, which is that Fields is a run-first quarterback and a wasted draft pick. Yet almost every other GM loves the kid.
Fields has two years of development, plus a year under his belt in Chicago's new offense. Why start over in 2023 with a rookie that those same fans will rip to shreds for not immediately leading the Bears to the playoffs? And if you're hoping for a veteran, who do you want? If I had to choose between Fields and Tom Brady, Sam Darnold, Baker Mayfield, or Jimmy Garoppolo, I'd stay put.
However, as misguided as the reasoning is, Fields does actually have very high trade value. That's not because he's bad, however. It's because all of the teams that need a quarterback would rather have Fields than Bryce Young, CJ Stroud, or Will Levis. And if you're trying to put a value on those free agents, let's see how many pursue a veteran instead of selecting one of the heralded rookies.
Most teams, including the Bears, are currently focused on free agency instead of the draft. The window to negotiate with free agents begins a month from Monday. The Bears have nearly $100 million in cap space, but I wouldn't expect them to shop for a starting quarterback. Ryan Poles sounds like he is fully committed to Fields.
"I think I talked about when I first got here: I wasn't fired up how we protected the quarterback in terms of getting him off the ground and that attitude and that physicality," Poles said. "He's a reason why we ran the ball so well. We finished, we had an attitude, and we had an identity. That's a lot because of guys like him.
"Does he have room to grow? He does. He has to get better as a passer, and I'm excited to see him take those steps as we move forward. We also have to continue to build around him so that he can do that consistently, as well."
That doesn't mean the first-year GM won't listen to offers. I'm sure the Raiders, Colts, and Texans would love to acquire Fields. The Ravens might be tempted to trade Lamar Jackson if Fields was part of the return. Then again, Jackson would be a game-changer in Houston, Indianapolis, or Las Vegas. Regardless, Jackson's availability will change the way teams approach the draft. The teams positioned to trade with the Bears might opt for Jackson instead.
Finally, I wouldn't read too much into Chicago's draft preparations. Poles is doing his homework on Young, Stroud, and Levis. That's exactly what he should be doing. Chicago's front office should have detailed dossiers on every draft-eligible player.
"The Bears will do their homework on Young, Stroud, and Will Levis atop the draft," said ESPN's Jeremy Fowler. "But Fields' ceiling remains mighty high."
And as for Fields, he's taking all of the rumors in stride. He sounds like expects to return next season.