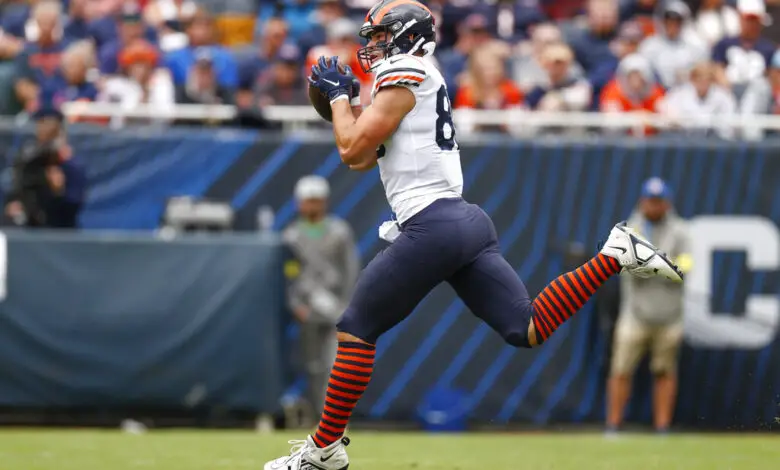 Kmet Extension Signals Start of Next Step in Bears' Rebuild
In case you missed it, Cole Kmet signed a four-year $50 million extension with the Bears earlier today.
The deal includes $32.8 million guaranteed ($), according to a league source and Kevin Fishbain of The Athletic.
Kmet, 24, was Chicago's top pass-catcher last season. The 2020 second-round pick caught 50 passes for 544 yards and a career-high seven touchdowns in 2022.
Kmet is durable, too. He has started all 17 games for the Bears in each of the past two seasons.
The new deal represents the first extension that GM Ryan Poles has handed out since taking the reigns in January 2022. It also signals that the difficult part of Chicago's rebuild is over. Poles is done cleaning house, and he's looking for long-term, blue-chip playmakers to lead the Bears toward their next championship window. The Bears were 3-14 last season, though Kmet was hardly part of the problem.
Enjoy some Cole Kmet highlights to honor him signing his big contract extension! 🎉🐻⬇️ pic.twitter.com/RDgws3sK05

— DeeksView (@DeeksViewOG) July 26, 2023
The deal is structured quite nicely. Kmet will get $20 million in the first year of his new contract, which ranks fourth overall among tight ends. The $12.5 million AAV would place him ninth among his peers. He'll continue to develop his chemistry with Justin Fields, and it's not much of a leap to vision an extension for Fields next year. Darnell Mooney and Jaylon Johnson are also up for extensions this year, but Poles might let that play out a little longer. The Bears have also indicated they're exploring an extension with Chase Claypool. Trevis Gipson might be under consideration, too.
The contract also gives the Bears long-term salary cap flexibility. With $12.8 million guaranteed after the first year of Kmet's contract, Poles strengthened the team's financial situation, especially when it comes to negotiating with his starting quarterback. If Fields continues to improve he could be looking at a deal that is similar to the one Jalen Hurts got from the Eagles. Hurts will earn $255 million over five years with $179.304 million guaranteed.
Kmet was one of the best tight ends in the NFL last season. He ranked third at the position in touchdowns, tied with Juwan Johnson of the Saints. Travis Kelce (Chiefs) led the league with 12 scores, followed by George Kittle (49ers) who registered 11.
"Honored to be here, honored that they felt I was a guy worthy of this," Kmet said. "Ready to get going and prove these guys right and play beyond what the contract value is, in my opinion. That's what I want to do. And show that they made the right decision."
Head coach Matt Eberflus was pleased with the announcement, too. Kmet anchors a room that includes Robert Tonyan, Jake Tonges, and Chase Allen. The tight end position is a big part of Chicago's offense, and the Bears now have one of the league's better one-two punches.
"Certainly excited about that. Having that type of guy, that type of tight end, that type of man that reps everything we want to represent [with] the Chicago Bears…and certainly he has a bright future ahead of him with [us]."
The long range impact of the extension is the most exciting part. The deal means that Poles is identifying his guys. In addition to his pass-catching prowess, Kmet is also a strong run-blocker. Poles has really weaponized his offense since the middle of last season. Mooney, Claypool, D.J. Moore and Equanimeous St. Brown form a much-improved wide receiver corps. The Bears should now be able to stretch the field enough to improve their league-best run offense. The loss of David Montgomery hurts, but Khalil Herbert, D'Onta Foreman, and rookie Roschon Johnson are very talented backs. Fields will get his yards, too.
The offensive line should be much-improved this year, too. It's early, but first-round pick Darnell Wright has impressed the coaching staff. Cody Whitehair has shifted to center, his best position, and Teven Jenkins and Braxton Jones will anchor the left side of the line. Free agent acquisition Nate Davis will start at right guard.
The Bears were one of the league's best offensive teams for a five-game stretch that saw Chicago average 29.6 PPG. They lost four of those five games, and though the defense is improved, especially at linebacker, the Bears will be able to keep up offensively with any of their 2023 opponents. Kmet will be a big part of that. He'll be a Chicago fixture for another four seasons, too.
This is the first time we've seen Poles taking a proactive stance with one of the players he inherited, and it's nice to see he recognizes Kmet's value to the Bears.
"I thought Cole did a really good job," Poles said after the season. "I thought he elevated his game from the film that I watched last year to what it was this year, so that's exciting."