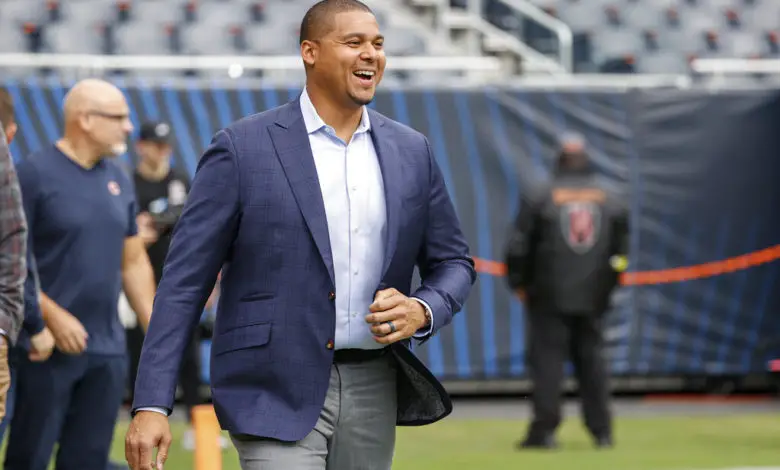 Ryan Poles Employs Touchpoint Analytics as Basis of Player Evaluations
Bears Biggest Need More Obvious Than You Think
The 2023 NFL Draft is a little over a week away, and the mocks are flying fast and furiously. The bulk of those projections have the Bears selecting one of LT Paris Johnson Jr. or DL3T Jalen Carter at No. 9. Chicago's lines were nothing special on both sides of the ball last season, though the defense was much worse. Trying to decide which is a bigger need has been an endless tug-of-war among fans and writers since the season ended in January. There's also the Bijan Robinson faction of fanatics.
Chicago's front office places Touchpoint analytics at the forefront of its player evaluations. Touchpoint basically means paying particular attention to the people who act as the face of your brand. It also means making the most of the opportunities you can control. There are two questions that must be answered the right way when it comes to successful player evaluation. The first is, obviously, "What skills does the player bring to the team on the football field?" The second question is "Does the quality of character in the players we acquire match their skill sets?"
Ryan Poles made headlines when he traded the No. 1 overall pick in this year's draft to Carolina last month. He discussed that move and what led to it with @peanuttillman and @Harp41.

Listen to the full conversation with the @ChicagoBears GM here: https://t.co/WqPmIa5Ey5. pic.twitter.com/fSzmrXqnrw

— NFL Legacy (@NFLLegacy) April 11, 2023
That process plays out in different ways, and the Bears aren't the only team that embraces this latest trend in personnel evaluation. Any touch point that the front office has with players is critical. That includes formal and informal interviews, football theory conversations, and watching players work out and compete. You've obviously noticed that Poles attended just about every Pro Day that the team visited in the last six weeks. That interaction is critical in finding the players that will best fit with the organization.
NFL player analysis differs from any other sport. Data collection is as much observational as it is numeric. It is a combination of information sources disseminated in groupthink in order to make the best decisions for the organization. Numerical data is the foundation of player evaluations, but the call to process is just as important. You may have also noticed how involved Chicago's scouts were during last year's draft, and those were mostly guys Poles inherited from Ryan Pace. This year, the entire department has skin in the game. Great decisions are therefore born of intelligent conversation.
That, in a nutshell, is Touchpoint. Poles talked about it in the latest edition of 1920 Halas Drive on Chicago's YouTube channel.
The fact of the matter is that the Bears' most glaring need heading into next week's draft is more playmakers, no matter what position they play. What they want is those types of athletes who also exhibit exemplary character. There are too many holes to fill in one offseason, so GM Ryan Poles has to find the players that best fit into his short- and long-term plans. The executive uses the word "playmaker" any time he is asked about what he's looking for. Check out his quotes going back to last year.
5/3/2022 – "They come in different shapes and sizes and speeds. I think it comes down to playmakers. I think we saw that in the Super Bowl. Guys that can make plays when their number is called, and that's what we look for, and you can see that on college tape. I will say one of the benefits of the combine is you get to see some of the physical traits as well — what sets them apart. Is it size? Length? Explosion? Is it speed? We'll put all that together. But I would say that all boils down just to being a playmaker."
7/26/2022 – "I don't think you ever have enough playmakers, but I'm happy with the guys that are in the building. We're gonna stay active, trying to find playmakers and continue to make it competitive. Again, it's on paper right now, so we've got to see what these guys do. We've got to see what they do in pads. And we've got to see what they do in the preseason. So there's a bunch of steps along the way, and yeah, you feel great about it now. But we've got to actually see it happen against opponents."
1/10/2023 – "We need to win more games. Some of those tight games, I want to finish. Bringing in more playmakers is going to allow us to do that. The expectation is to take that next step. We want to make decisions that can last a long time."
3/14/2023 – "Having the No. 1 overall pick in the 2023 NFL Draft gave us a tremendous opportunity to take steps forward this season and in our plan of building long-term. We are excited about the additional picks acquired, including staying in the top 10 selections this year, but also the addition of a proven and dynamic playmaker in DJ [Moore]. We had multiple aggressive offers to consider, but in the end it felt right for both teams in what Panthers GM Scott Fitterer presented and it keeps us in an area of this year's draft that we really like."
I think you get the picture. The Bears don't specifically need offense or defensive linemen, they need playmakers on either side of the ball. How does Poles define the term "playmaker?" His simple explanation is that it is a player who "moves the needle." He means on and off the field, and that's how the team incorporates Touchpoint into its evaluations.
On draft night, we'll see exactly what Poles means. He already seems to be a step ahead of every other NFL executive.
The closer we get to the draft, the harder it's looking for Houston/AZ to potentially trade down (if they want to)

Ryan Poles acting fast and moving far looking smart at the moment

— Brad Spielberger, Esq. (@PFF_Brad) April 17, 2023
The Bears already added several players this offseason who move the needle. That includes wide receiver D.J. Moore, running back D'Onta Foreman, and linebackers Tremaine Edmunds and T.J. Edwards. They have a playmaker in quarterback Justin Fields, and I'd add tight end Cole Kmet and defensive backs Kyler Gordon and Jaquan Brisker to the list of top-tier athletes. Velus Jones is another potential "move the needle" type of player if he can continue to develop. Though Poles inherited Fields, all of those players check the same boxes on and off the field.
It's a big change from last year when budget constraints forced the Bears to sign players who didn't meet the criteria Poles and his staff use this year. Chicago just needed bodies last year, no matter where they had to find them.
The Bears are building a new tradition, one deeply steeped in analytics. If you'll allow me a baseball comparison, Theo Epstein changed baseball and the Red Sox once he became Boston's GM. Poles is starting to look like his NFL equivalent. The GM wants to return the team to its Monsters of the Midway glory days. He's just going about it in a way that most Bears fans aren't used to. Chicago finally has a competent front office. It's truly a sight to behold.