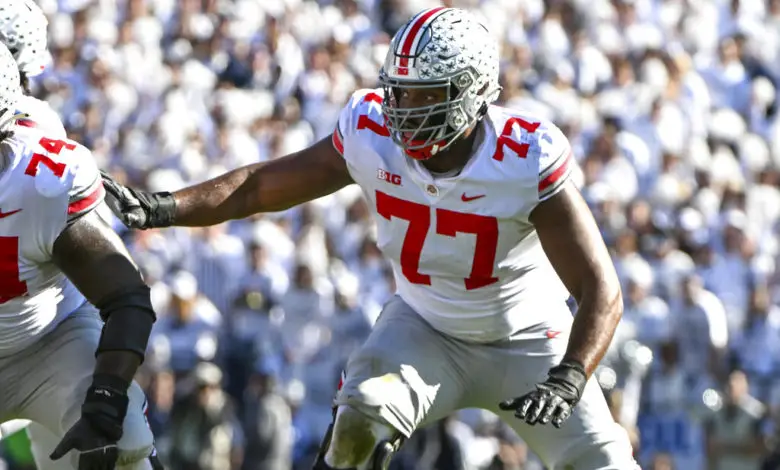 Ranking Bears Top Six Options With No. 9 Pick
Assuming the Bears don't draft a quarterback or trade down when they're on the clock, GM Ryan Poles will have his choice of one of the top six players on his draft board. I spent the weekend perusing every mock draft I could find by professional writers to check the team's temperature. Mind you, a number of analysts expect Chicago to trade down, but there is a consensus provided that Poles keeps his pick. Let's take a look.
I think if Paris Johnson Jr falls far enough the Steelers will go up and get him…

I wonder if it's the Bears at 9 or the Eagles at 10 pic.twitter.com/7jNdito6A0

— Michael Beck (@MichaelBeck56) April 12, 2023
Johnson is the heavy favorite if you simply tally every mock draft. A lot of Bears fans won't like this pick because they've bought into last year's performance by Braxton Jones. But, Justin Fields needs elite pass blockers, and Chicago's line will be much better with the bookend tackles no matter which moves to the right side. Johnson has the makings of an early NFL starter at left tackle, and the tools to become an impact player.
Jones talked about the possibility of moving to the right side in an interview with Nicholas Moreano and Mark Carman of CHGO.
"This offseason I am doing the things to come back and obviously play left tackle and you know, definitely try to be the cornerstone left tackle for sure," Jones said. "But at the end of the day if they are coming to me and telling me that you might have to make a move to the right, I'd still have a job, right?
"I can't be mad, [and] I can't be frustrated. I played right tackle and if I had to make that adjustment, I'd do it. That's a job that I'm trying to win and I'm trying to help the team win. I'm going to do anything that says 1-0. I'm not going to fight that or anything, but I want to be the left tackle and I've obviously been working a lot of left tackle. I for sure want to stay at left but I'm a huge team player and will do anything for us to go out there and win. I'm just doing what I know, doing what I can every day to get 1% better."
The fact that Jones is at least prepared to make the switch makes Johnson a very good potential pick. Johnson is a high-ceiling tackle with an already excellent baseline. Drafting the 6-foot-6, 313-pound offensive tackle is a clear indication that Fields is the team's top priority this season. The Bears are at No. 9 because they don't need a quarterback and picked up a No. 1 wide receiver in D.J. Moore plus considerable draft assets to move down. Selecting Johnson seems almost obvious when you look at it that way.
Best Fits (in order): Titans, Patriots, Jets, and Bears
Breaking down Peter Skoronski's pros and cons ⬇️ pic.twitter.com/0LtFP8SFGM

— The 33rd Team (@The33rdTeamFB) April 7, 2023
Will Skoronski be a guard or a tackle in the NFL? The answer to that question will be revealed next Thursday, if not sooner. If the Bears select Skoronski, it will be because Chicago's front office believes he can be a very good NFL tackle. The Bears, Jets, Steelers, and Titans have shown heavy pre-draft interest in Skoronski. All teams list offensive tackle as a top need, so there's your answer. The Steelers are rumored to be eyeing the Bears' pick because they want a shot at Johnson or Skoronski.
Drafting Skoronski might also require Jones to move to right tackle. Or, Skoronski could play guard with Teven Jenkins making the switch. The 6-foot-4, 313-pound Northwestern product is the most technically sound lineman in the draft. His football IQ is said to be off the charts. If he clears tackle thresholds, he very well could end up playing for the Bears. Skoronski is definitely a scheme fit. Like Johnson, his addition would vastly improve Chicago's offensive line.
Best Fits: Bears, Jets, Steelers, and Titans
Do the Bears draft Jalen Carter if he drops down to No. 9?

The Reporters discuss ⬇️ pic.twitter.com/kgTDjEN3iP

— Marquee Sky (@SkyMarquee) April 17, 2023
The Bears were last in the league in most defensive statistical categories last year. Roquan Smith and Robert Quinn were traded midseason. Trevis Gipson regressed terribly, and Al-Quadin Muhammad was a poor free-agent signing. Nicholas Morrow was average at best. Things were so bad that UDFA Jack Sanborn ended up being Chicago's best defensive player.
Poles has already started to rebuild the team's defense. The executive signed Tremaine Edmunds and T.J. Edwards, the top linebackers on the open market. Last year's top picks Kyler Gordon and Jaquan Brisker are expected to improve Chicago's secondary. EDGE Dominique Robinson showed flashes of promise. Adding Carter would give the Bears an elite, interior defender, something head coach Matt Eberflus desperately wants. There's a decent shot that he could be a Bear if he's available when Poles is on the clock.
There are, however, extenuating circumstances. Carter dealt with some off-field issues and had a couple of poor Pro Day workouts. Neither is expected to hurt his draft status. In fact, Carter could go to the Seahawks at No. 5, the Lions a pick later, or to the Falcons at No. 8. In other words, the odds of Carter falling to the Bears are pretty slim.
Best Fits: Lions, Seahawks, Bears, and Raiders
Who would Justin Fields take in the first round if he were GM of the Bears?

His guy, Jaxon Smith-Njigba @jaxon_smith1#GoBucks pic.twitter.com/EdQPou3diI

— AthletesInSpace (@AthletesInSpace) February 16, 2023
Picking Smith-Njigba would be all about doing Fields a solid. The third-year quarterback has championed the selection of his ex-Ohio State teammate since the College Bowl season ended. Smith-Njigba has more helium than any receiver in this class, but taking him with the ninth pick would be a considerable reach.
That said, reuniting is an idea the two have discussed for some time. The Bears have Moore, Darnell Mooney, Chase Claypool, and Velus Jones, but their receivers' room is far from complete. Additionally, Mooney and Claypool could be ex-Bears by this time next year.
Chicago's receivers ranked last in catches and yards in 2022. What works against adding Smith-Njigba is the Bears' dearth of early picks. If they don't trade down, the Bears have no selections between picks 10 and 53. I expect Poles to draft the best player available, but even if that's Buckeyes wideout, it still seems like a bit of a stretch given Chicago's more urgent needs.
Best Fits: Vikings, Bears, Giants, and Chiefs
It's all about getting after the QB 💯 @gregcosell breaks down the strengths of Tyree Wilson, Will Anderson, and Nolan Smith. pic.twitter.com/8YV9A3563e

— NFL Matchup on ESPN (@NFLMatchup) April 10, 2023
Wilson is an intriguing pick and would be a monster in Chicago's defense. However, one of the teams that miss out on Carter will probably select Wilson. It would be somewhat of a miracle if Wilson is still available when Poles is on the clock. As a matter of fact, the only way that would happen is if Carter, Will Levis, and Bijan Robinson are selected among the top eight picks.
Wilson is a dual threat in that he can play inside or outside. He's also equally strong against the run or pass if positioned correctly. He works better against the run on the outside and can be dominant at getting after the quarterback on the inside. Wilson is an NFL starter that will get better as the season progresses.
If Wilson, Johnson Jr. and Skorinski are all available when it's the Bears' turn to pick, I'd expect Poles to take one of the offensive linemen. If Carter, Johnson, and Skorinski are taken, I'd expect Chicago to trade down. Wilson will be one of the more intriguing stories next week, but I just don't see him ending up with the Bears.
Best Fits: Lions, Seahawks, Falcons, and Bears
Darnell Wright is a bad bad man! pic.twitter.com/I4w7elWMLG

— The GOAT House (@GoatHouseNFL) April 9, 2023
Like Smith-Njigba, Wright has an awful lot of helium right now. He's flying up many draft boards because he's the best pure right tackle available. If the Bears are content to keep Jones on the left side, Wright could be their guy. Unfortunately where once they could trade down to get the Tennessee product, now it seems unlikely. The Titans pick 11th and the Jets are on the clock two picks later. Trading down would likely eliminate Chicago from contention for Wright.
Put another way, if the Bears trade down to No. 17, the pick owned by the Steelers, it would probably mean Pittsburgh will take Wright, and Chicago will select one of Njigba-Smith, Robinson, Broderick Jones, or Byan Bresee. Poles wouldn't even have to feign interest in the 6-foot-5, 333-pound tackle to incentivize the Steelers.
Would Poles consider drafting Wright and bypassing offers for the pick? If he did, that would be a strong show of confidence in Jones as the team's current and future left tackle.
Best Fits: Bears, Steelers, Patriots, and Jets
Here's a look at the best fits for other draft-eligible players expected to be taken with the top 20 picks, minus the top four quarterbacks: