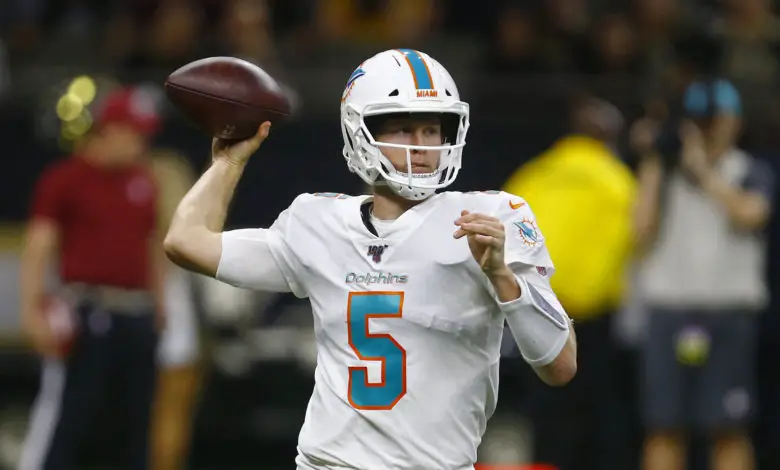 Bears Bringing in QBs Jake Rudock, Kyle Sloter to Provide Depth After Mitchell Trubisky Injury
With Mitchell Trubisky likely to miss at least a little time due to a shoulder injury suffered in Sunday's loss, the Bears are looking to add a little depth behind Nick Foles. Next in line should the starter go down is Tyler Bray, who has been in the organization as a member of the practice squad for the last three seasons.
Since that's not a whole lot for a playoff hopeful to bank on, the Bears are bringing Jake Rudock and Kyle Sloter in for workouts. So…yeah.
With Mitch Trubisky expected to miss time, per @MikeGarafolo, the #Bears are bringing in QBs Jake Rudock and Kyle Sloter for a workout, per the transaction wire.

— Tom Pelissero (@TomPelissero) November 4, 2020
Sloter played college ball at Southern Miss and Northern Colorado before signing with the Broncos in 2017 as an undrafted free agent. He has since bounced around with the Vikings, Cardinals, and Lions, even landing a tryout with the Bears in August of this year. He has seen action in the preseason, but has yet to attempt a pass in a real NFL game.
Rudock played at both Iowa and Michigan before being drafted by the Lions in the sixth round in 2016. He got into three games in 2017 for mop-up duty, completing three passes on five attempts for 24 yards and an interception. After one more season in Detroit, Rudock joined the Dolphins' practice squad and yo-yoed around there until early October.
If you're keeping track, that means the Bears will have, at best, five aggregate passing attempts of experience behind Foles. And none of those passes have come in the last three seasons. What's more, the Bears are without Bobby Massie (IR, knee) and Jason Spriggs (COVID), with Germain Ifedi still questionable due to being a close contact with Spriggs. Yikes.
They really, really need to keep Foles upright in Tennessee.