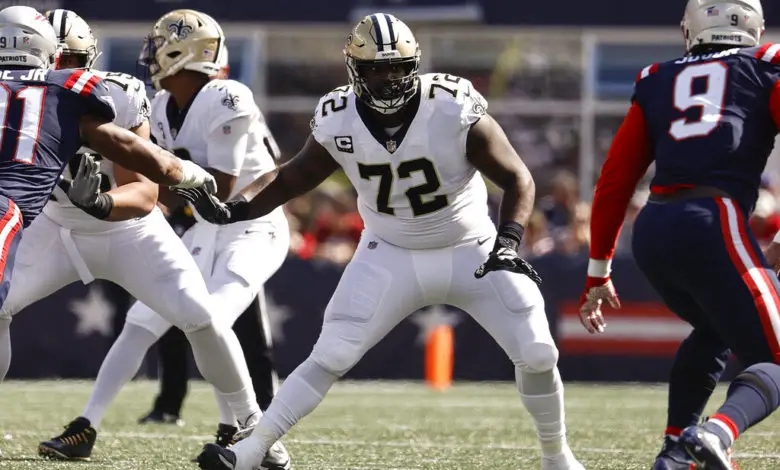 Pro Football Focus: Best and Worst Case Scenarios for Bears Offseason
The new NFL season doesn't officially start until March 16, but many analysts are already protecting spring and summer moves for all 32 NFL Teams, In that light, Pro Football Focus recently published its best and worst-case scenarios for the Bears offseason.
Any fan of Chicago's footballers knows that new GM Ryan Poles needs to strengthen his offensive line, needs to find at least two playmaking wide receivers, and needs to find at least one safety and one cornerback.  The Bears also have just 26 players under contract for next season, and though they have one of the league's more favorable cap situations, there's going to be quite a bit of heavy lifting at Halas Hall over the next few months.
In fact, both scenarios involve Chicago's offensive line and the team's wide receiving corps.
PFF recommends signing free agent tackle Terron Armstead as the first order of business for Poles. The 30-year-old is coming off an injury-hindered 2021, but when healthy, he's one of the game's best offensive linemen. Poles is well-positioned financially to pursue at least one top free agent, and in fact, could be the favorite to land the veteran tackle. Armstead, who grew up in southwest Illinois, never earned a single-season PFF grade below 75.0 in his nine years at left tackle in New Orleans.
"I had to go check on my brother,"

Terron Armstead on going into the injury tent and helping Jameis Winston on the cart after the injury pic.twitter.com/q4HyJWXVxW

— New Orleans Saints (@Saints) November 4, 2021
Still, a cheaper and more obvious way to improve the OL could be through the draft. With the No. 39 selection overall, Boston College guard Zion Johnson could be available. The 6-3, 315-pounder allowed only six pressures on 364 pass-blocking snaps for the Eagles last season. Here's the scouting report on Johnson from NFL Draft Buzz:
"Johnson is a high-floor mid-level ceiling kind of a prospect who has a great skill set especially as a run blocker – where we score him highly. He is slightly less accomplished as a pass blocker but still has skills. Our only concern is that he may never come to dominate in the NFL to the same level he has done at the college game because of his lack of size and power.
We have a second-round grade placed on Johnson that could change if he can demonstrate strength at the combine. He could go as high as the first day of the 2022 NFL Draft if a zone-heavy running team were to fall in love with his particular set of skills."
Of course, Poles could sign Armstead to play left tackle and draft Johnson to play left guard and he would immediately have one of the better lines in football. In doing so, Poles could still possibly land WR David Bell of Purdue with the No. 71 pick. Adam Hoge of NBC Sports Chicago believes Bell will fall to the Bears in the third round. Getting Armstead, Johnson and Bell would have to be considered a serendipitous coup if Poles can pull that off.
NFL Draft Buzz has Bell rated a little higher than Hoge.
"David Bell is a quality NFL prospect with pretty much everything you look for in an outside receiver, he's got nice soft hands, runs good routes – with the ability to make defenders miss, as well as an ideal size for the position. He has consistently put up good numbers and dominated wherever he has played. The only issue that will likely keep him out of the first round is his lack of elite speed and the second gear to beat faster corners – it will be interesting to see how he runs at the combine.
Bell is a likely starter on the outside at the next level who will likely be used as a short to intermediate-range receiver. We expect Bell to hear his name called anywhere from the second to the third round next April at the NFL Draft."
One mock draft has the Bears selecting Ohio State wide receiver Chris Olave at No. 39, though it's doubtful he will fall that far in the draft. Because they have so few picks this year, Poles is not in a position to trade into the first round.
Per PFF, Chicago could possibly make a trade for a playmaking pass-catcher. One the Bears may have a better chance at landing is Calvin Ridley. ESPN's Jeremy Fowler named Chicago as a sleeper to land the wide receiver through trade earlier this month. Ridley is a top-notch route-runner and posted an 84.9 PFF grade in 2020 before missing most of 2021.
Hurting the Bears' chances of acquiring Ridley is their lack of draft picks. There are few player-for-player trades in the NFL, and Poles would need to find more draft picks before he could even think about trading for a premium player. If the Bears can't land one of the top wide receivers available in free agency or the draft, D.J. Chark Jr. is a name to keep an eye on.
Conversely, if Poles fail to address those two key positions, he will have a very poor start to his Bears career. Failure to bring in a veteran offensive lineman or receiver could add some strain to the draft and would hurt the development of second-year quarterback Justin Fields.