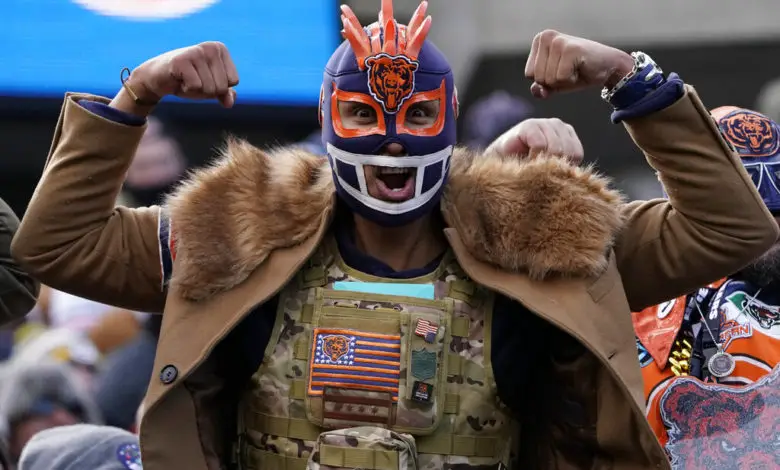 First & Long: Losing 'Fun' Is Still Losing, Defense Letting Offense Down, J.J. Watt Honors Bet Lost to Poor Officiating
At some point, an exciting loss will just feel like a loss. We may have hit that point when the Lions beat the Bears 31-30 on Sunday. Yes, Justin Fields had an exciting game. But the Bears took a lot of penalties, and once again, the defense had no answers for its opponent. Chicago made Jared Goff and Amon-Ra St. Brown look like the second coming of Joe Montana and Jerry Rice.
The Bears dropped to dead last in the NFC North after entering the game – unbelievably – 1.5 games out of the final Wild Card spot. If the season were to end today, Chicago would have the No. 6 overall pick in the draft. If they can jump into the top three, GM Ryan Poles will be in a prime position to trade down and amass extra selections. After all, the Bears no longer need to look for a franchise quarterback. It would be nice to find a top receiver and offensive lineman in the first round.
JUSTIN FIELDS IS A MAGICIAN 🪄

(via @ChicagoBears)pic.twitter.com/C9Dnfbib9B

— ESPN (@espn) November 13, 2022
But where the Bears really need help is on defense. Head coach Matt Eberflus and defensive coordinator Alan Williams can't stop anybody, and Chicago has surrendered 16 touchdowns in its last three contests. Fields has every reason to gripe about the defense, but he took the high road and put the blame on his shoulders. Though the Bears had multiple opportunities to add to their lead in the 4th quarter, they managed just six points.
"We're putting up, what, 30 points a game?" Fields told reporters. "So just finish when we get those late-game drives."
Here's how the Bears' final drive went:
There were no designed runs on that final drive even though Fields has 142 rushing yards when the Bears' offense took over.
Luke Getsy has done an amazing job with Fields over the last four weeks. Chicago even ran some RPO against Detroit. But the team got very conservative once they grabbed a 24-10 lead. Fields also threw a pick-six to Jeff Okudah from his own 17-yard line. He looked a little rattled after a 19-yard run by Khalil Herbert was negated on a questionable holding call against Ryan Griffin. Again, the young quarterback manned up.
"I can assure [you that] that will never happen again for the rest of my career."
Chicago has seven games left and all will probably be of the run-and-shoot variety. The Bears have averaged 31 points per game since losing 12-7 to the Commanders in Week 6. The defense is allowing a little more than 32 PPG in those same tilts. That said, the Bears' goal coming into this season was to determine if Fields is the team's quarterback of the future. The second-year QB accounted for 311 yards and four touchdowns on Sunday. He has been the best player on the field for four consecutive games. It's fair to say that question has been answered.
Bears News & Notes
Fields is 88-of-141 for 1,018 yards, 10 scores, and three interceptions in his last six games. Yes, he's more than just a running back disguised as a QB.
The second-year quarterback has made Sundays fun again for Bears fans.
Fields became the first Bears quarterback to rush for at least 100 yards in back-to-back games. He's also the club's first player to run for at least 147 yards in consecutive contests since Hall of Fame running back Walter Payton compiled 155 yards against the Cowboys and 154 versus the Saints in Weeks 5 and 6 in 1984.
The Bears are now 0-4 on two-minute, game-winning drives.
Fields and the Bears are stressing the need for "winning habits" after failing to close out the Lions.
Claypool was on the field for fewer snaps this week than he was last week against the Dolphins. The third-year receiver was targeted twice and caught just one pass for 8 yards. He was the fifth wide receiver in terms of snap share.
N'Keal Harry and Velus Jones Jr. were healthy scratches on Sunday.
Kmet has become one of the Bears' best offensive weapons.
Jack Sanborn led the team in tackles, had two sacks, and an interception that was called back because of a penalty on Jaylon Johnson. It was his best game as a pro, obviously.
Sanborn has emerged as Chicago's defensive playmaker and has ably filled the shoes of former teammate Roquan Smith.
Though Sanborn and Jaquan Brisker have been terrific, Chicago's shoddy defense has reached a breaking point.
Eddie Jackson is frustrated that the Bears' defense keeps letting the offense down.
Jackson also had a beef with the officials after the loss to Detroit. " I feel like some of the calls were kind of BS. But in the end, we got to leave no doubt. We got to come in, do what we have to do, put ourselves in those types of situations, especially with a 14-point lead."
Eberflus made sure to show the team what they did well in the third quarter and why they lost the game in the fourth.
Herbert has a bad hip, but Eberflus is keeping the details within the clubhouse, just as he's done all year.
Another loss, another mock draft. This time the Bears are projected to select OT Paris Johnson of Ohio State. The consensus seems to be one of Johnson, and offensive tackles Olu Fashanu of Penn State, Peter Skoronski of Northwestern, and WR Quentin Johnston of TCU (player links represent scouting reports).
There's a Flag…On the Play
Your weekly reminder that Sanborn went undrafted.
I've seen all I needed to see from Jack Sanborn. This kid can play in this league.

In his 2nd start he had 12 tackles (9 solo) 2 sacks and what should have been a game ending pick. This guys future is BRIGHT. #DaBears #Bears #ChicagoBears pic.twitter.com/mQh9b7kXsB

— Clay Harbor (@clayharbs82) November 14, 2022
Scout Team
Film Room
Getsy's been a master at misleading defenses since the Vikings game in Week 5.
On the play before Cole Kmet's 50-yard TD, the #Bears lined up in 13 personnel (3 TEs) and gained nine yards.

Next play, Bears come out with the same personnel. Detroit clearly thought it would be another run, on second-and-1, but Luke Getsy calls for the deep shot to Kmet. pic.twitter.com/iDFvTz2taL

— Nicholas Moreano (@NicholasMoreano) November 14, 2022
Northern Exposure
NFL News & Notes
Browns quarterback Deshaun Watson is nearing the end of his 11-game suspension and has been cleared by the NFL to resume practicing.
The Vikings-Bills game may have been the best of the season so far. It was certainly the craziest.
Dallas was 195-0 all-time when entering the fourth quarter with a lead of at least 14 points…until Sunday. All-time!
Josh McDaniels is on the hot seat after the Raiders were defeated for the seventh time in nine games on Sunday, and this time he lost to Colts interim head coach Jeff Saturday.
Former Bears receiver Brandon Marshall doesn't think McDaniels is cut out to be an NFL head coach. Marshall played for McDaniels with the Broncos in 2009.
J.J. Watt is going to honor a parlay bet for one man because an official robbed the Cardinals of a defensive score.
Arizona tight end Zach Ertz suffered a season-ending knee injury in Sunday's win over the Rams.
The Rams are arguably the worst defending Super Bowl champion ever. They're 3-6 and in danger of missing the playoffs. Los Angeles has less than a 25 percent chance to make the postseason. Allen Robinson has 29 catches for 292 yards and two touchdowns, in case you've lost track.
Three Yards and a Cloud of Dust
The Bears have 776 yards of total offense in their last two games, and Fields has accounted for 612.
Justin Jefferson has the most 100-yard receiving games by a player in his 1st 3 seasons with 20.
The Eagles entered Monday night's game leading the league with a +16 turnover differential. The Vikings are second at +8.
From the Podium
"We got to be better on defense. We got to get this fixed fast. Justin [Fields] is balling. We are leaving him out to dry." – E. Jackson
"In the team meeting, I showed the guys the whole third quarter, those plays, the third-down stops, and the big touchdown throws and all that. And then working into that fourth quarter, how we can play it a little bit better? How can we be smarter? How can we do a better job of functioning as a group?" – Eberflus
"We were up by six I think with seven minutes to go. We have to put it away there. We didn't as a football team do that at that time and that's what we've got to work on." – Eberflus
Running Out the Clock
I believe the Bears are going to take all of their frustrations out on the Falcons this Sunday. "Come doused in mud, soaked in bleach…"