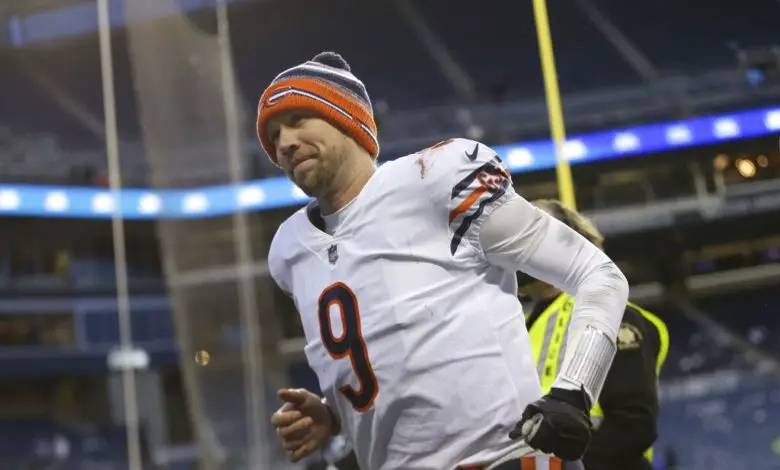 Bears Agree to Release Nick Foles
Bears' backup quarterback and former Super Bowl MVP Nick Foles is free to choose where he will play next. On Saturday, the Bears agreed to release Foles and his $10.67 million cap hit, though it frees up $3 million in cap space. Foles, who was acquired by former GM Ryan Pace in a trade with the Jaguars for a fourth-round pick, started the 2021 season as the team's third-string quarterback.
Chicago GM Ryan Poles confirmed in March that the team had been trying to trade Foles after adding veteran  Trevor Siemian in free agency. Siemian will serve as the primary backup to Justin Fields.
"In this offense, I think [Sieman] is a better fit," Poles said at the NFL owner's meetings in March. "And … in terms of a guy who has been behind Peyton Manning and Drew Brees, there's also a wealth of knowledge he can bring to Justin as well."
The #Bears have agreed to release QB Nick Foles, his agent Justin Schulman confirmed. The team's new regime decided to allow Foles to find his next home rather than continue to search for a trade partner. "Ryan Poles did the classy thing and Nick appreciates it," Schulman said.

— Mike Garafolo (@MikeGarafolo) May 1, 2022
Dating back to last season and the previous regime, the Bears had been looking to trade Foles but found no suitors. Poles then decided to take a fresher and more professional approach in the quest to part ways with Foles as the organization moves forward in a full rebuild.
The rookie GM wanted Foles to find a new home rather than continue searching for a trade partner. Giving him his release essentially makes the third-stringer a free agent, and since he has been paid all of his guaranteed money, a team will likely be able to sign Foles for the league minimum.
Though he did start one game last season, an exciting 25-24 win over the Seahawks that was decided by a successful two-point conversion, Foles was primarily responsible for working with Justin Fields to help the rookie acclimate to the NFL. Foles understood his role, and to his credit, put the team first in coaching up the freshman signal-caller.
Peter Schrager on Justin Fields:

"I spoke with sources in Chicago all week, and he got better from Wednesday, to Thursday, to Friday. And two of the key reasons were because Nick Foles and Andy Dalton were both in every single meeting coaching him up." #Bears pic.twitter.com/aQEDfHrWCM

— Matt Clapp (@DaBearNecess) September 26, 2021
Fields told former Bears' quarterback coach John DeFilippo that Foles was one of the first to reach out after the Ohio State product was drafted, per Adam Jahns of The Athletic. The 33-year-old veteran went 3-5 in eight starts over the last two years with the Bears.
Foles, the Eagles' 3rd-round pick in 2012, spent his first three seasons with the Eagles, going 15-9 and making the Pro Bowl in 2013. He was 4-7 with the Rams in 2015, 1-0 with the Chiefs in 2016, 2-1 with three postseason wins in 2017, 4-1 in five starts for the Eagles in 2018, then 0-4 with the Jaguars in 2019 before joining the Bears. A possibility exists that he could reunite with the Eagles, and though it's pretty late into the offseason, Foles should catch on as a backup somewhere if not with Philadelphia. At some point, he's going to make an excellent coach or coordinator.
Right now, the Eagles have Gardner Minshew backing up Jalen Hurts, and they signed undrafted rookie Carson Strong on Saturday. They also have Reid Sinnett on the roster. There have been rumors that Philadelphia may try to trade Minshew, which would open up a spot for Foles as a backup to Hurts.
Interesting but Useless Trivia: Foles is the only Super Bowl MVP quarterback in history who never started at least 12 games in any season in his career.
According to Spotrac, Foles has earned $78,445,346 in his 10 NFL seasons, including $30.5 million for his four starts in Jacksonville.