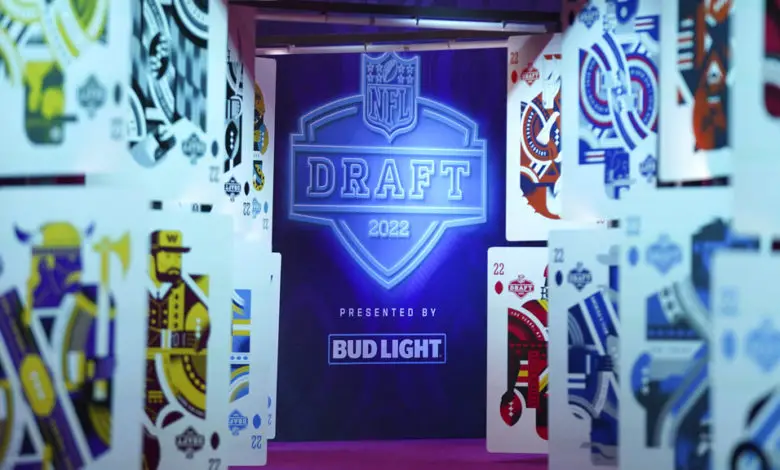 NFL Draft: Round One Live Blog
The 2022 NFL Draft is underway and the Jacksonville Jaguars are officially on the clock with the first selection for the second straight year. Last year the Jaguars chose QB Trevor Lawrence but it looks like this year they intend to upgrade the defense at 1-1. Check back with us for our analysis after each pick as we live blog Round One.
The Bears don't have a first-round pick, but many are expecting this to be one of the craziest drafts ever, so anything is possible I suppose.
One veteran front-office executive this morning: "This is the craziest draft I've seen in 30 years."

— Adam Schefter (@AdamSchefter) April 28, 2022
As far as players Chicago could trade to acquire extra selections, I'd bet that they'll listen to any offers for Robert Quinn and David Montgomery, and GM Ryan Poles may try to push Larry Borom and Nick Foles to another team.
One thing we know for sure is that Justin Fields won't be traded. The second-year quarterback isn't going anywhere.
Before we get started, here is my final mock draft, without any adjustments for potential trades.
Now, onto this year's draft! Teams have ten minutes to make their first-round selections, and I feel like a young Chris Berman!
UPDATE: Three hours in and I'm floored by the insanity tonight. I feel like I am at a fantasy football frathouse draft with a table full of drunk GMs.
UPDATE II: There are just two picks left and I am a combination of exhausted and exhilarated that only football fans would understand. I'm not even upset the Bears have stood pat so far. I don't think the Bengals or Vikings will select a WR, so the Bears could have a shot at one of Watson, Pickens, or Moore tomorrow, and there should be good value in the secondary, at linebacker, and on the defensive line. I'm keeping a close eye on David Ojabo and Boye Mafe.
UPDATE III: The Jets and the Georgia Bulldogs had the best first round.
And with Lewis Cine to Minnesota, Georgia sets the record with 5 defensive players taken in one first round, topping 2006 FSU and 2004 Miami

Travon Walker
Jordan Davis
Quay Walker
Devonte Wyatt
Lewis Cine

— Matt Brown (@MattBrownCFB) April 29, 2022
UPDATE IV: The draft is over, and the top 10 players remaining on the board are Malik Willis, Andrew Booth Jr., Nakobe Dean, David Ojabo, Matt Corral, Boye Mafe, Desmond Ridder, Arnold Ebiketie, Kyler Gordon, and Roger McCreary.
Jaguars – Travon Walker DE Georgia | DOB: 12.18.2000 |6-5 275 lbs. – This is a bit of a surprise to me because I think he's more of a dominant run defender than a pass rusher and I think there are higher-floor guys available with similar ceilings. Walker combined elite athleticism with testing results that have reached unfounded heights. The combination of size, speed, and strength portends a great NFL career from Day 1, though some analysts fear he may be a little too boom-busty. Nevertheless, he shot up the draft boards in the last week due to his upside and versatility.
Lions – Aidan Hutchinson DE Michigan | DOB: 08.09.2000 | 6-6 265 lbs. – Consensus 1.1 choice for most of this draft cycle was the most dominant pass rusher in college in 2021. There are some concerns about his ankle though he had an excellent pro day. Hutchinson brings good overall athleticism, outstanding power, and refined technique off the edge to his game. The hometown kid is drafted by the hometown team and that means trouble for NFC North quarterbacks. Detroit's defense just got a whole lot better.
Texans – Derek Stingley Jr. CB LSU | DOB: 06.20.2001 | 6-1 195 lbs. – Stingley ran a 4.4 at the combine but has been clocked at 4.29 previously. That's fast. On the flip side, he was injury-prone as a collegiate corner missing half his games. He excels in man coverage but will be a waste if he's stuck playing zone. Stingley could be a top 10 pick or he could slide to the end of the first round. A lot of teams need secondary help, so expect him to go somewhere in between. Despite rumors to the contrary, I expected Houston to go defense because they had the 27th-ranked scoring defense in 2021 and I was right, but this is still a shocker.
Jets – Ahmad "Sauce" Gardner CB Cincinnati | DOB: 08.31.2002 | 6-3 200 lbs. – A great pick for the Jets and exactly what this team needs. The junior defensive back tallied 35 tackles with three interceptions, three sacks, and four breakups while leading the FBS with an amazing 26.1 QB rating when targeted. Has the length, athleticism, and temperament to develop into a true lockdown NFL corner, and rocketed up the draft boards thanks to an excellent 4.41 official 40-yard time at the combine. Gardner will be a star in the NFL.
Giants – Kayvon Thibodeaux DE Oregon | DOB: 12.15.2000 | 6-5 258 lbs. – The early run on defensive players continues with a fifth straight selection on that side of the ball. Just after this year's scouting combine, Thibodeaux declared himself the best player in the draft. He's a supreme pass rusher with excellent size and speed though he can get lazy at times. He's versatile enough to convert to LB in a 3-4 scheme, but also needs to prove he can consistently dominate. When he's on, Thibodeaux can win matchups with speed or power. It wouldn't be a shock to see Thibodeaux go as high as No. 2, nor would it be surprising to see him fall out of the top 10. With this pick, and the Jets' selection of Gardner, football just got a whole more fun in New York City.
Panthers – Ikem Ekwonu G North Carolina State |DOB: 10.31.2000 | 6-4 320 lbs. – This is a great pick for Carolina, I had Ekwonu third on my board and the number one tackle in the draft. The sophomore is a nasty blocker who plays violently against the run with excellent power and very good lateral movement. Was named the "most fearsome blocker in the ACC" and projects as an LT at the pro level. Offers elite speed but needs more reps as a pass blocker.
Giants – Evan Neal OT Alabama | DOB: 09.19.2000 | 6-7 350 lbs. – A perfect slot pick and a Day One starting right tackle. Some say Neal is the best tackle in this year's draft due to his combination of outstanding power and pure athleticism. He certainly has the size to make an immediate impact in the NFL. I think he still needs a little work to become an elite pass blocker and Neal may struggle with fast EDGE rushers early in his career. Most scouts view the junior as a "can't miss" prospect. The Giants acquired this pick from the Bears last year in the Fields trade.
Falcons – Drake London WR USC | DOB: 07.24.2001 | 6-5 210 lbs. – A finished product, London is a big, physical receiver who does a lot of things well without any single elite trait. He's been all over the boards since February, but most analysts believe he is a Top 15 selection and should be the second or third pass-catcher selected. He dominated at USC, using his height and strength to outmuscle defensive backs. London lacks explosiveness and struggles to get separation at times though he runs pristine routes. He's another player who could fall out of the first half of the draft if teams are looking for receivers with higher ceilings and some projection left. STILL NO TRADES!
Seahawks – Charles Cross OT Mississippi State | DOB: 11.25.2000 | 6-5 310 lbs. – I thought for sure Seattle would trade down but this is an excellent pick. Cross is arguably the best pure tackle in the draft and should have been a top 6 pick. He offers elite potential as a pass protector, but his upside is as a run blocker because Mississippi State was primarily a running team. The adjustment to pro-style offenses will not be a problem. The sophomore OL was named the recipient of the 2021 Kent Hull Trophy which is awarded to the best offensive lineman in the state of Mississippi. Perhaps the Jets will trade down with the next pick, their second of the first round.
Jets – Garrett Wilson WR Ohio State | DOB: 07.22.2000 | 6-0 188 lbs. – The Jets just got the first, first-round A-grade because they now have the top corner and the top wide receiver in this draft. The preferred of two elite receivers at Ohio State, Wilson is a Justin Jefferson clone that should perform at an elite level as a rookie WR1. The junior offers elite speed (4.38), impressive acceleration, runs perfect routes and has excellent hands. He doesn't have the highest ceiling of the pass catchers in this class, but he most certainly has the highest floor.
Saints (acquired from the Commanders for Nos. 16, 98, and 120) – Chris Olave WR Ohio State | DOB: 06.27.2000 | 6-1 189 lbs. – We have a trade! The Saints just traded up to get this pick and the intrigue surrounding the jump was more than palpable. Olave slipped a great deal in the last two weeks but I wasn't buying that. Though he's a little smallish, Olave is an explosive runner who can dominate downfield. He's a savvy catcher with fantastic hands – possibly the best in the class – a quick first step, and impressive burst. Olave uses his arms well to get separation and makes circus-like catches almost as a matter of routine. Some boards have him slipping to the Bills near the bottom third of the first round. Combining Olave with Josh Allen will likely result in Rookie of the Year honors. It appears the Lions have also made a trade up from No. 32. Stay tuned.
Lions (acquired with the No. 46 overall pick from the Vikings for Nos. 32, 34, and 66) – WR Jameson Williams Alabama | DOB: 03.26.2001 | 6-2 189lbs. – A transfer from Ohio State, Williams was diagnosed with a torn ACL on Jan-11 after suffering the injury in the national championship loss to Georgia. He hopes to make a full recovery in time for the NFL draft. The injury had most analysts dropping Williams out of the first round though at one time he was considered the top wideout in the draft. Should start the season on the PUP list. He's emerged as the premier deep threat in college football and compares favorably to last year's high pick Jaylen Waddle. We have given him our top possible grade for a deep threat meaning he is quite often unstoppable — and he proved as much in the SEC championship.
Eagles (acquired from the Texans for pick Nos. 15, 124, 162, and 166) – Jordan Davis DT Georgia | DOB: 01.12.2000 | 6-3 341 lbs. – It's safe to say Philadelphia jumped up in front of the Ravens specifically to make this pick. Impressive athleticism is Davis' calling card and he proved it at the combine, measuring 6-foot-6 and 341 pounds with 34-inch arms and 10 ¾-inch hands and clocked a 4.78 40-yard dash, 32-inch vertical jump, and 10-foot-3 broad jump. That 40 time was the fastest ever at the combine for a player over 330 pounds since 2006. Davis surprisingly gave up the chance to enter the 2021 NFL Draft, but given his impressive play of late, it looks like it was a smart move. Jermaine Johnson II has really dropped after an early run on EDGE rushers. Maybe he goes next.
Ravens – Kyle Hamilton FS Notre Dame | DOB: 03.15.2001 | 6-4 220 lbs. – The Texans may have got too cute here because I think they were locked in on Hamilton and probably thought he'd fall past the Ravens. Nope. If you were picking on pure athleticism alone, Hamilton would be the consensus No.1 pick. His size and speed give him tremendous versatility. The 21-year-old junior has the ability to play as a linebacker on the edge or in the middle, play as deep zone safety, or even as a corner in a pinch. The blue-chipper can play single-high where he displays excellent range, instincts, and ball skills, or he can play down in the box where he has the strength to take on blocks along with elite tackling skills. Though not as powerful nor as big a hitter, Hamilton will give NFL offenses fits in much the same way Brian Urlacher did when he played for the Bears.
Texans (acquired with picks 124, 162, and 166 from the Eagles for the No. 13 pick used to select DT Jordan Davis) – Kenyon Green G Texas A&M | DOB: 03.15.2001 | 6-4 325 lbs. – Green has as much potential as any player in this draft. He has elite strength, is very quick for his size, and has tremendous drive in the running game. He isn't perfect and isn't an accomplished pass blocker just yet. He'll need development in the pros, but is arguably the best pure guard in this year's class. A poor combine may cause him to drop, however.
Commanders (acquired from the Saints with picks 16, 98, and 120 for the No. 11 pick used to select Chris Olave) – Jahan Dotson WR Penn State | DOB: 03.22.2000 | 5-11 184 lbs. – The Commanders committed highway robbery here, getting Dotson plus three extra picks for the No. 11 selection. Quite possibly the best-kept secret of this year's draft, Dotosn has seen his stock incrementally each week since the NFL Scouting Combine. Dotson creates highlight-reel circus catches on a weekly basis and as a senior, he logged 91 receptions and 1182 yds, and 12 TDs and has emerged as Penn State's most explosive offensive player. He is the draft's second-best deep threat, after Jameson Williams, and is a top-level prospect that could explode at the next level. It looks doubtful now that Christian Watson, Treylon Burks, or Skyy Moore will fall to the Bears at No. 39.
Chargers – Zion Johnson G Boston College | DOB: 11.18.1999 | 6-3 314 lbs. – Johnson is one of, if not THE fastest riser since the NFL Combine. Johnson is a smooth athlete with a wide base, and terrific mobility, staying light and quick on his feet. He has great lateral range, natural shuffle movements, and lower body quickness to mirror speed rushers, and managed to stay injury-free throughout his collegiate career. Johnson is a high-floor mid-level ceiling kind of a prospect who has a great skill set especially as a run blocker who needs to work on his pass-blocking skills.
Titans (acquired with the No. 101 pick from the Eagles for WR A.J. Brown) – Trelyon Burks WR Arkansas | DOB: 03.23.2000 | 6-3 225 lbs. – He'll immediately replace Brown who was traded to the eagles, but he compared more favorably to Deebo Samuel. Burks is a dominating deep threat, especially over the past two years, and a devastating blocker. He has enough upper-body strength and tenacity to be very effective as a downfield blocker. Is not shy about taking on his man, provides some pop, and will open a running lane for his back at the next level. Jermaine Jonson II is still unbelievably available, and no quarterback has been selected so far.
Saints – Trevor Penning OT Northern Iowa | DOB: 05.15.1999 | 6-7 325 lbs. – The next big thing out of the FCS, Penning is a behemoth of a lineman with ideal size and a nasty disposition who has dominated and improved every year while doing so. He has freakish athletic talent combined with solid technique and quickness. He gets knocked for playing outside the FBS. Don't buy it. Barring injury, Penning has the potential to be a first-team all-pro starting this season. The Steelers are up next, and even though they signed Mitchell Trubisky as a free agent, they could become the first team to select a quarterback in this draft.
Steelers – Kenny Pickett QB Pittsburgh | DOB: 06.06.1998 | 6-3 217 lbs. – Pickett jumped onto the national scene and improved his stock with career highs in completion percentage (67.7), total passing yards (4,066 yds), and QB rating (117.4). His season has been spectacular and Pickett was overwhelmingly named the ACC Player of the Year and Offensive Player of the Year. Pitt's fourth-year starting quarterback received 52 of a possible 64 votes for player of the year honors and 54 votes for offensive player of the year. Pickett's ascension has been wild this year – he's gone from being a likely third-round pick to someone who many are saying could be the first QB selected. I'd assume the Patriots are going to be all over Johnson II or linebacker Devin Lloyd.
Chiefs – (acquired from the Patriots for picks number 29, 91, and 121) Trent McDuffie CB Washington | DOB: 09.13.2000 | 5-11 195 lbs. – A surprising pick because I thought KC would take a wide receiver. McDuffie plays much bigger than his size and is a driving hitter. Plays with NFL-level speed, quickness, and explosiveness, and is an excellent red zone defender. The 21-year-old sophomore has all the tools to be an elite prospect who could very easily become a lockdown corner at the next level who excels in both man and zone coverage.
Packers – Quay Walker LB Georgia | DOB: 05.08.2000 | 6-4 240 lbs. – A safe pick instead of reaching for a WR, Walker is an impressive athlete who's performed at an outstanding level in the highest level of college football. He is an elite tackler who rarely misses tackles and will likely be a thumper at the next level. Walker also brings skills as a pass rusher to the table – something you rarely see in an interior linebacker, he, however, lacks skills in coverage and doesn't seem to play to his timed speed, and it remains to be seen if can be a three-down player in the pros.
Bills (acquired from the Ravens for picks No. 25 and No. 130. The Ravens originally acquired this pick from the Cardinals for WR Marquise Brown) – Kaiir Elam CB Florida | DOB: 05.05.2001 | 6-2 196 lbs. – I don't think Buffalo needed to trade up to make this pick, but it's possible the Cowboys made it known they were shopping for corners and Elam was tops on the board at this point. Early in the season, Elam was firmly entrenched in the first round. Some even had him as the No. 1 cornerback taken in the draft. There's no doubt that Elam does have elite athletic ability in terms of speed, quickness, and length – but these traits have often not always translated through into his playing style – and has been a little inconsistent overall. Elam has the height/weight/speed to match up well against bigger players on the outside but quicker players on the outside will be a concern for him.
Cowboys – Tyler Smith OT Tulsa | DOB: 04.03.2001 | 6-5 232 lbs. – Smith is a huge, powerful player with big hands (10 3/4″) and an enormous wingspan (6'11 1/8″). A violent attacker on the run, he is an ultra-aggressive mauler who overpowers opponents with exceptional power and explosiveness. Smith is a little too underdeveloped as a pass-blocker and can be penalty-prone at times but the potential is there and he has the size, strength and high motor most scouts covet. There are some questions regarding Smith's medicals, specifically with his knees and ankles.
Ravens (acquired from the Bills along with pick No. 130 for the No. 23 pick, which was used to select CB Kaiir Elam) – Tyler Linderbaum C Iowa | DOB: 04.07.2000 | 6-3 290 lbs.- Quick hands and a nasty demeanor are Linderbaum's calling cards. The highest-rated center in this year's draft, the behemoth junior had one of the best scouting combine grades of all draft-eligible players. He's quick out of his stance with the footwork to be effective in front of screens. Willing to get out in front of ball carriers to take out defensive backs and linebackers. The only thing holding him back from being a super-elite prospect as opposed to just an outstanding one is his lack of ideal size for the position.
Jets (acquired with the No. 101 pick from the Titans for picks 35, 69, and 163) – Jermaine Johnson II DE Florida State | DOB: 01.07.1999 | 6-5 262 lbs. – Finally! Johnson is one of the best ends in the class and had some late helium entering the draft. The reigning ACC Defensive Player of the Year offers massive upside as a pass rusher and though once projected as a mid-to-late first-round selection, don't be surprised if he ends up as a top 10 pick. Johnson is a very athletic lineman who tends to win most of his battles and will likely draw double teams at the next level. The Jets now have three of the top 10 rated players on the boards through the first round.
Jaguars (acquired from the Buccaneers for picks 33, 106, and 180) – Devin Lloyd OLB Utah | DOB: 09.30.1998 | 6-3 235 lbs. – The star junior is generally considered the best linebacker in the class and should go anywhere from pick 6 -15, but could drop out of the first round due to lack of need at the position. His backfield production in 2021 was phenomenal. In fact, this was his best year yet, and Lloyd ranked third in the Pac-12 with 110 tackles on the season, including a league-leading 22 TFL, he also had eight sacks that led all Pac-12 linebackers, had four interceptions (two for touchdowns), six PBUs, two hurries, and a fumble recovery. He also had an impressive rating in coverage limiting receivers to a 55.3 QB rating when targeted. If Green Bay doesn't take a WR with the next pick I'll be shocked.
Packers – Devonte Wyatt DT Georgia | DOB: 03.31.1998 | 6-3 307 lbs. – Telling Packers fans "to trust the board" isn't going over well and Aaron Rodgers has to be wondering who in the hell he's going to be throwing the ball to in 2022. It was a breakout season for Wyatt where he played in 12 of 13 games, starting in all 12 while logging 34 total tackles, leading interior lineman on the number one ranked Georgia defense, fourth on the team with 22 QB pressures, and added 4 sacks. He has an instinctive set of pass rush skills, combined with elite speed for the position, impressive measured strength, and very good lateral ability as a run defender. Wyatt however doesn't possess ideal length or size and because he needs a great deal of development, could struggle as a rookie. The Packers haven't drafted a WR in Round One since 2002.
Patriots (acquired with picks 91 and 121 from the Chiefs for the No. 21 pick, which was used to select Trent McDuffie) – Cole Strange G Chattanooga | DOB: 07.31.1998 | 6-5 307 lbs. – I have no clue what the Pats are doing here, but stranger things have happened. Strange is the highest-picked player in Chattanooga history. the skills and overall talent to make the jump to the pro game. He's got pro-level skills combined with elite quickness and is said to be one of the most intelligent players in this year's class, but this looks like a reach for a player that may have lasted well into Day Two. At least New England netted two extra picks.
Chiefs – George Karlaftis DE Purdue | DOB: 04.03.2001 | 6-4 275 lbs. – One of the least-sexy edge threats in this year's class, Karlaftis won't blow you away with his sub-4.6 speed at 275 pounds, or jump out of the gym with his average athleticism. If you're a team in need of an uber-physical prospect whose aggressive style of play and high IQ allows him to turn the edge with consistency, however, Karlaftis is your guy. He has everything you look for in a traditional pass rushing 4-3 defensive end in the NFL.
Bengals – Daxton Hill FS Michigan | DOB: 09.29.2000 | 6-0 192 lbs. – It remains to be seen if Hill settles in as a safety or corner, but he has the versatility to play both at a high level and fill a multitude of spots for any defensive scheme. A freakish athletic talent, Hill ran a 4.38-second 40-yard dash, which ranked 14th overall at the combine, a 4.06  20-yard shuttle, and dropped three-cone drill time (6.57 seconds) that was the best at his position.
Vikings (acquired from the Lions with picks 34 and 36 for the No. 12 selection which was used to choose Jameson Williams, and the No. 46 pick) – Lewis Cine FS Georgia | DOB: 10.05.1999 | 6-1 200 lbs, – Cine is a big hitter with long arms who plays with a violent demeanor. He plays best in the box but has excellent deep coverage skills as well. The knock on Cine is that he can be a little undisciplined at times which tends to lead to missed tackles and missed assignments, and can get him in trouble with the officials.
I'll leave you with this:
Rams reaction to Patriots selection of Cole Strange at #29.

This is hysterical. pic.twitter.com/ADzqt4lizQ

— Andrew Siciliano (@AndrewSiciliano) April 29, 2022