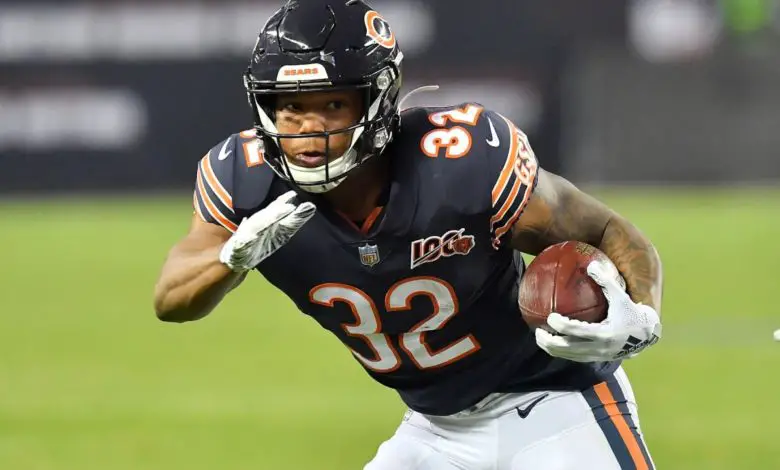 Montgomery Likely to Play Monday Night Against Steelers, Mack Ruled Out
Bears fans looking for some good news ahead of Monday night's tilt will be excited to hear that David Montgomery will likely play against the Steelers. Head coach Matt Nagy told reporters Saturday that the star running back has "a really good chance" to play after he missed the previous four games with a knee injury.
Bears head coach Matt Nagy said earlier today "there's a really good chance" that RB David Montgomery will play Monday night against the Steelers. He's been out since Week 4 due to a knee injury.

— Field Yates (@FieldYates) November 6, 2021
"I think all week long that he's looked really good," Nagy said today. "I would say there's a really good chance, yes, of him being activated.
"[At the] beginning of the week, we wanted to see like, how's he going to look? You have no idea when he gets out there. I think for all intents and purposes, he's looked really good."
Montgomery returned to the practice field Thursday at Halas Hall for the first time since spraining his left knee in the October 3 victory over the Detroit Lions, but his status for Monday's game was unknown until today. The third-year running back went on injured reserve a week later and has not played since.
"He has worked really hard to get to this point," Nagy added. "It probably feels like forever to him, and I know it feels like that for us too. He was having such a great year, so now we'll see where it goes. But it's good timing if we are able to get him back and get him going because he's grown into such a tremendous leader for that offense. … When you're not around as much, the guys, you miss that. And now to be able to get him back in those huddles is great."
Khalil Herbert has handled the bulk of the reps in Montgomery's absence, averaging 86 yards per game. The rookie had a career-best 100 yards in the Week 7 game against the Buccaneers. It's likely Herbert will still be a part of Monday's game plan, spelling Montgomery when needed. Pittsburgh has the seventh-ranked rushing defense in the league.
No Khalil Mack on MNF. Probably no Eddie Jackson either.https://t.co/KfIjkxJuiX

— Patrick Finley (@patrickfinley) November 6, 2021
The news wasn't all great today. Though Montgomery is likely to play, the Bears will be without starting OLB Khalil Mack for the second consecutive game. There were reports that the three-time All-Pro might be placed on injured reserve, but the Bears have thus far resisted. The team has a bye next week and likely hopes that the edge rusher will be ready to go for the Week 11 game against the Ravens. QB Nick Foles, TE J.P Holtz, and RB Damien Williams have all been ruled out as well, and DB Eddie Jackson is listed as doubtful on the final injury report for this week. It's unlikely Jackson will play against the Steelers.