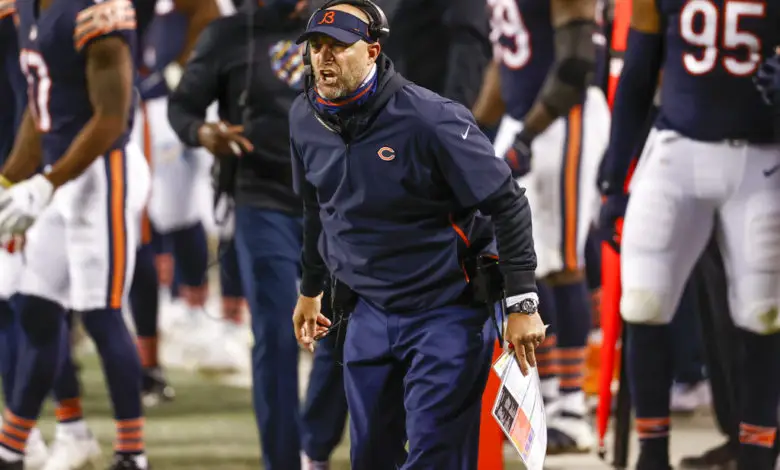 Matt Nagy's Use of Cordarrelle Patterson This Season Going Predictably Wrong
Much has been made of Matt Nagy's play-calling this week and all throughout his tenure as the head coach of the Chicago Bears. Until the Bears offense looks less like a car driving to navigate the interstate with its e-brake engaged, those questions and related issues aren't going away. Nagy has long been touted as an offensive genius and with that talk comes an expectation that the offense should be both more productive and more creative after three years on the job. The problem is, it just isn't.
Sure, there is the issue of changing quarterbacks, but Monday night was not exactly the first time Nagy's play-calling has come under fire. Either he's too stubborn, too predictable, or just thinks he's the smartest guy in the room when he's really just trying to outfox himself most of the time.
Let's take the 4th and 1 play from this past week as the most recent and glaring example of Nagy's follies. Funny thing is, you already know the play I'm referencing without much description. When you saw Cordarrelle Patterson lined up as the sole running back, was there any doubt the ball was going to him? Also, was there any doubt that this play would fail miserably? Of course not.
Patterson being inserted into the offense for certain schemes and plays is a great idea; he's dynamic, elusive, wily, and can be useful in misdirection or trickery. However, it becomes problematic when he's used in very obvious or similar plays the defense has likely scouted.
On Monday night, this was doubly true against a defense that limited the Bears to just 49 years on the ground, including Patterson's one measly yard on three rushing attempts. Setting him up to run left when the ball was already on the left hash with Javon Wims responsible for paving the way with an integral block was a recipe for disaster. It brought back nightmares of Ron Turner and Mike Martz not being able to utilize the most electric Bear this millennium, Devin Hester.
This sort of usage, or misuse, doesn't seem to be an anomaly, either. If you look at Patterson's stats, you'll find a dynamic athlete who just hasn't been put in situations to succeed this season. Coming into this year, Patterson had run for 785 yards on 103 carries in his career for a stellar average of 7.62 yards per rush attempt.
Including Monday's game, Patterson has run the ball 25 times for a whopping 71 yards this season. That's just 2.8 yards per carry with his longest tote going for just 13 yards. This is a guy who's known for ripping off chunk plays in all facets, so what gives?
Using Patterson as they did on that particular play when they could have gone myriad other ways to pick up a crucial first down was just another example of Nagy's inability to call the right play at the right time. So the question remains: Should Matt Nagy reassign play-calling duties or does he still believe he's the team's best option?
I'd like to believe that Nagy knows what he's doing and wants to improve however he can when it comes to putting his team and players in the best position to succeed on every play to win every game. I'm just not sure how much longer we can trust him when the product and outcome tell us something totally different over the course of several seasons.