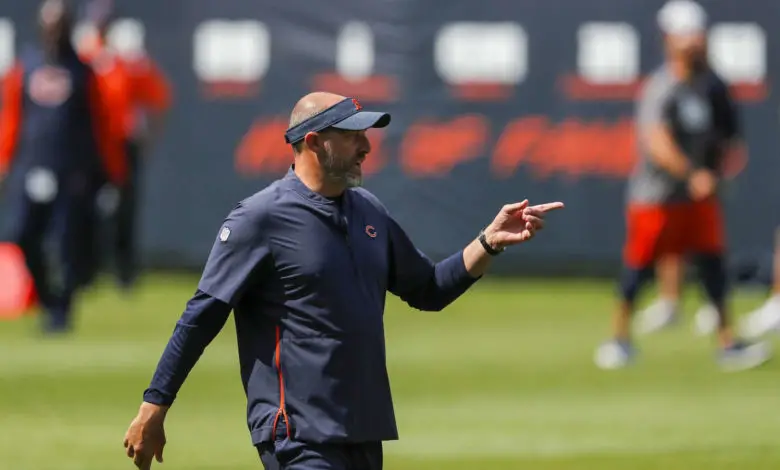 Matt Nagy Should Be Allowed to Finish Season in Chicago
The Bears are so bad and have so many injuries that the local and national media continue to pontificate about the future of head coach Matt Nagy. In fact, Adam Hoge of NBC Sports Chicago speculates Sunday night's game could be Nagy's last in Chicago unless the Bears pull off a pre-Christmas miracle at Lambeau Field. Make no mistake, Nagy is done in Chicago, but he should be allowed to finish the season.
"The point is this: Sunday's game at Lambeau isn't just the most important game for Matt Nagy because it's the next game on the schedule," Hoge said. "It might as well be the only game left on the schedule. And it might be.
Maybe the Bears come to play and pull off a dramatic upset on national television. But if it goes the other way — the way it usually goes against the Packers — you have to wonder if a change could be made as soon as next week."
That's an intelligent observation and it wouldn't be the first time an NFL team made a leadership change after a poor showing on national television, but the Bears have never fired a head coach midseason. And really, what would be the point? An interim coach would be in the same lame-duck situation that Nagy is. Making change for the sake of change will accomplish nothing, and will only stifle the development of rookie QB Justin Fields. Even if GM Ryan Pace wanted to make a change, I can't see Ted Phillips or the McCaskeys allowing that to happen.
I'll rarely agree with Chicago's executives, but the best thing the organization can do for its future is to let this season continue to bleed out slowly. Of course, there's more to it than that, and anything short of completely cleaning house in January should be considered an abject failure. Phillips has to go, Pace has to go, Nagy's coaches have to go. The franchise is in its fourth consecutive decade of mediocrity, something that never would have been tolerated by George Halas.
The Bears need an attitude adjustment the likes of which hasn't been seen in these parts since Mike Ditka replaced Neill Armstrong. Chicago needs discipline, a coach that can successfully make adjustments on the fly, and an offensive system that can best leverage Fields' insane talent. Nothing makes that more clear than Sunday's 33-22 loss to the Cardinals. The Bears dominated every aspect of the game except the score. That's all on Nagy and Pace, and by association, Phillips.
Hoge made sure to point out some sobering statistics in his column:
The Bears are 3-18 against the Packers since George McCaskey took over as chairman in 2011.
Under Pace, Chicago has won just two of 13 tilts against Green Bay in seven seasons.
They're 13-33 against the Packers since Ted Phillips took over as team president in 1999.
Here are a few more I dug up:
From 1990-99 the Bears were 73-87 (.456).
Chicago was 81-79 (.506) in the next decade, which included a 29-17 loss in Super Bowl XLI (2006) to the Colts.
From 2010-19, Chicago won 76 games against 84 losses (.475).
So far this decade, the Bears are 12-16 (.428) and trending downward.
From 1990 until today Chicago is 6-9 (.400) in the playoffs.
Since 1990, the Packers are 314-194 (.618) and are 23-19 in the playoffs (.548)
Chicago has a long way to go if they expect to turn the tables on the Packers anytime soon.
Packers win 24-14 and move to 5-1 on the season.

Aaron Rodgers is now 21-5 against the Bears. Some might say he owns them.

— Stephen Watson (@SWatsonTV) October 17, 2021
The Papa Bear would never allow that type of failure to continue and Ditka might have taken out a reporter or two for even mentioning the Bears could be anything but tough and talented. Losing is one thing, but to be continually owned by Aaron Rodgers and his Packers teammates is sacrilege. It's amazing and indefensible that Virginia McCaskey allows Phillips to continue to make a mockery of the organization. As Nagy's presser ahead of the Lions game proved, Chicago is the laughingstock of the NFL and the butt of most insiders' jokes.
Still, it would be imprudent to fire Nagy at this juncture of the season. They'd still have to pay him, and they shouldn't give Pace any chance to redeem himself while the team is stewarded by an interim coach. It's better to just pull the plug once the season ends January 9 in Minnesota. Chicago needs a complete reset, and the organization has to find a way to return to its roots. The sooner the McCaskey's admit that the sooner the Bears will be toward re-establishing the pride Halas and Ditka would never let wane.