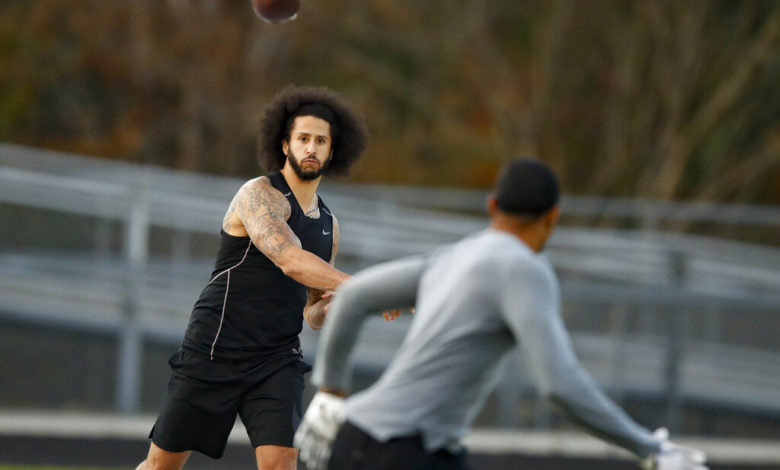 Justin Fields Worked Out With Colin Kaepernick, Who Deserves Another Shot to Play in the NFL
It makes so much sense that it should happen, but it probably won't.
In case you haven't heard, Bears' second-year quarterback Justin Fields spent some time working out with the esteemed former quarterback of the San Francisco 49ers, Colin Kaepernick. Like his trainee, Kaepernick entered the NFL with a tantalizing combination of arm strength and speed and is probably someone that Fields would like to emulate as a player and person.
Kaepernick is in the "best shape of his life," according to ESPN's Adam Schefter. Additionally, several videos of the former second-round pick working out went viral.
Colin Kaepernick is training with Justin Fields, Tyrod Taylor, and Josh Dobbs today 🏈 . #colinkaepernick #justinfields pic.twitter.com/2SszEjm7Ch

— TopFanTV (@TopFanTV) March 18, 2022
Fields has been working hard since Chicago's season ended, traveling to various parts of the country with or without teammates to improve his game. Nobody can doubt his work ethic, and based on comments by GM Ryan Poles, head coach Matt Eberflus, and offensive coordinator Luke Getsy when each was introduced, everyone should be extremely happy with the young quarterback's commitment to excellence and to his team.
The Bears have a bit of a conundrum at backup quarterback this year. Getsy plans to deploy an offense tailored to the strengths of Fields, but as his backup, Nick Foles possesses none of the athleticism of Chicago's QB1. If Fields were to get hurt, Foles could be put into some dicey situations, though as a veteran with a pretty impressive NFL pedigree he should be at least serviceable in any offense.
Do you know who might thrive in an offense suited to be run by an athletic quarterback with a strong arm and even stronger legs? Let me rephrase: Do you know of a quarterback whose strengths are nearly identical to Fields that is available in free agency? How about Kaepernick? I know it sounds absolutely crazy because he hasn't taken an NFL snap since 2016, but by all accounts, he is certainly capable and still just 34 years old.
CK1 is easily the game's most polarizing player, and he's certainly paid a big price since taking a knee in support of racial equality and against perceived police brutality. I say "perceived" because though we see unnecessary aggression often via news clips and the like, too many people tend to look the other way. Kaepernick refused, did something as harmless as taking a knee during "The Star-Spangled Banner," and was bounced from the league in unprecedented fashion. How dearly did he pay? Eli Manning, who is a good comparison statistically, earned $52.5 million from 2016 through 2019.
In 69 career games with the 49ers, Kaepernick threw for 12,271 yards, adding 72 touchdowns and 30 interceptions. He also rushed for 2,300 yards and 13 touchdowns. That's a career QB rating of 88.9, not Aaron Rodgers-like, but still better than Manning, who enjoyed a 16-year career with the Giants. It's hard to say if Kap would be just as good after a five-year layoff, but there shouldn't be that much of a dropoff and as a backup quarterback, those are actually average starter numbers.
When Kaepernick took a knee to take a stand against police brutality, racial injustice, and social inequality, he was vilified by people who considered it an offense against the country, the flag, the national anthem, and the military. It was a quiet but powerful protest no different than USA track and field medal winners Tommie Smith and John Carlos at the Mexico City Olympics in 1968. Both paid a similar price, however.
The NFL and Kaepernick eventually reached a confidential settlement.
Nearly six years later, it seems more people are starting to side with Kaepernick's peaceful protest and are also calling out those who don't understand the intent behind his action. Is it enough to get the former No. 36 overall draft pick back into the NFL? One would think we've matured enough to agree that Kaepernick deserves another chance. It's unlikely he'd find a starting gig anywhere, but he'd sure make a great backup to Fields. And if anyone could smooth Kap's transition back into the game, it's Fields.
That said, Fields shouldn't have to do that. For all of its pro-Black Lives Matter efforts, the NFL astonishingly refuses to give a job to the guy who put the movement into motion back in 2016. Helmets are adorned with messages relating to social injustices, stadiums remind us that indeed, Black lives do matter, and yet the league still struggles with hiring Black head coaches and front-office executives. The Bears have two in Poles and Ian Cunningham. If the McCaskeys really wanted to dump Roger Goodell, who at least admits the NFL falls short in its diversity efforts, and his pack of white cronies for a 15-yard loss, they'd consider signing Kaepernick.
It doesn't have to be a vengeance-motivated acquisition, however. Considering the legalities tied to accusations made by former Dolphins head coach Brian Flores, it would behoove the league to start acting more socially aware and a lot less white than it pretends to be. Plus, if Kaepernick is still good enough to play at a professional level, then he should be in camp with some team right now. It's hard to justify handing out contracts to players like Mike Glennon and Jake Fromm while Kap keeps waiting for a shot to play.
"In the best shape of his life. He wants to play. He's ready to play," one source reportedly told Schefter. "He would be a great fit for teams with QB vacancies to fill who want to win a Super Bowl."
The NFL should no longer be afraid of the PR damage they think is awaiting them in exchange for welcoming the socially aware signal-caller back into the league. Goodell should instead embrace the wave of positive change the league could engineer with a Kaepernick signing.
It's not about commercial success, either. A stand for justice would send a powerful and unifying message to an entire country, if not the world. No ad campaign can produce the PR success that Kaepernick lining up behind center can. The man still wants to play, and it's time to let him, whether it's for the Bears or any other team. It would also send a great message to the disenfranchised that fear of color-biased backlash shouldn't stop young men and women from chasing their dreams.
"Does that guy deserve a second shot? I think he does," Seahawks head coach Pete Carroll told reporters on Wednesday.
Comparing the NFL to slavery probably won't help Kap's cause but it didn't hurt MLB players who had some choice words of their own while they were locked out by league owners for 99 days.  Few of us like our employers anyway, though there are exceptions. At least Kaepernick loves his craft and respects his professional peers, who, for the most part, respect him equally.
I love this game so much. Felt like a kid again yesterday, playing until the sun went down with @drobalwayzopen and his team. Thank you for the work.

Here's the link to the workout. https://t.co/BQRalA2Xjj

Who else is working? pic.twitter.com/gTFvl6LZDy

— Colin Kaepernick (@Kaepernick7) March 17, 2022
On Sunday, Kaepernick tweeted how much he missed throwing routes to professional wide receivers during training. After he openly asked if there were players interested in running routes in a tweet, Seahawks wide receiver Tyler Lockett embraced the opportunity. Fields asked to participate just to get some pro tips from the veteran. Steelers backup quarterback Joshua Dobbs joined, too.
It's doubtful the Bears or any other team will consider signing Kaepernick, and that's too bad. The ready-made excuses are in place, i.e., he hasn't put pads on in five years, the game is a lot faster now, he's too old, etc. Russell Wilson was just traded for five draft picks and three players and he's 33-years old. Rodgers just became the league's highest-paid quarterback at the age of 38. Tom Brady, who will be 45 when this season starts, just unretired and he won a Super Bowl 13 months ago.
Nothing against Foles, who I genuinely like, but I'd love to see CK1 taking snaps wearing a red jersey up in Lake Forest this August. I think it would be great for Kaepernick, great for Fields, a real positive for the organization, and fantastic for the NFL.