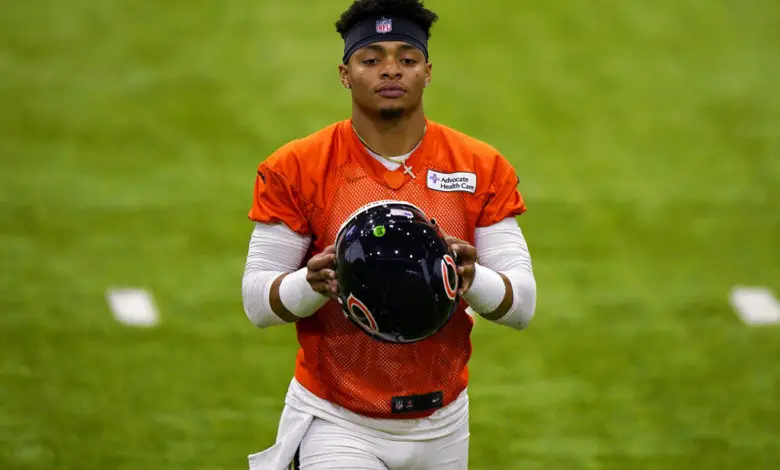 Justin Fields Understands Offense Needs a Lot of Work to Be Game-Ready
After Tuesday's practice, quarterback Justin Fields was asked if he's anxious to start the season and he just chuckled. Of course, it was simply a matter of reporters trying to bait him into an overreaching answer but the second-year signal-caller wasn't biting. Fields understands the offense needs a lot of work to be game-ready, and he wants to be fully prepared once the season starts.
Justin Fields on his eagerness for the season to start: "I'm the type of guy that would like to know I'm prepared. So, right now, I'm just being honest, we're not ready to play a game right now. And when that time comes, we will be ready. Right now, no, not ready to play a game."

— Kevin Fishbain (@kfishbain) June 14, 2022
Don't bite hard on the headline, because Fields is 100 percent correct. Chicago's offense is in the first stages of a complete overhaul, with a new offensive line and new receivers. The only two things that Fields can count on are that he will be throwing passes to Darnell Mooney and handing the ball off to David Montgomery and Khalil Herbert. Other than tight end Cole Kmet, almost every other offensive position is up for grabs between now September 11, when the Bears kick off their 2022 campaign at Soldier Field against the 49ers.
"I'm not ready for the season to start," Fields said Tuesday. "I'm just being honest. We're not ready to play a game right now."
"He's just locking in and knowing what he wants to do with this offense, with this team," Mooney added. "As a quarterback in this league, he wants to take over the league. He wants to be the best in the league, and he's [taking] the strides to get there."
Mooney was also impressed with the speed of rookie Velus Jones Jr.
.@Darnell_M1 on @VelusJr: "He can fly." pic.twitter.com/klwO3I1akC

— Chicago Bears (@ChicagoBears) June 14, 2022
As far as Fields, he's still working on his footwork and release, two things that Chicago's coaches have been impressed with. He's also trying to learn Luke Getsy's playbook while taking the majority of the snaps with an ever-changing first unit. Head coach Matt Eberlus has been mixing things up on the offensive line, and the Bears have nearly a dozen wide receivers in camp trying to secure a spot on the team's eventual 53-man roster.
Regarding the scheme, it's obvious Getsy and Eberflus are still walking through the trial-and-error stage. Timing is a big aspect, and this afternoon Fields was just a touch late on a throw to Tajae Sharpe that was picked off by cornerback Jaylon Johnson and returned for a touchdown. Last year, turnovers were a big issue for Fields, so getting his timing down now is critical, especially for a team that has one returning wide receiver in Mooney.
"Right now, the coaches are throwing a lot at us," Fields said. "They're pretty much throwing the whole playbook at us — which is good. Of course, there are going to be [some] mistakes. But we'd rather have the mistakes come right now than later in the fall or in camp."
To say Fields is under the microscope this year is an understatement. In addition to impressing a new head coach, he also has to earn favor with a new GM and front office. Working with all new receivers and a makeshift line won't help matters. On Tuesday, their first-unit offensive line consisted of left tackle Braxton Jones, right tackle Larry Borom, and interior linemen Sam Mustipher, Lucas Patrick, and Cody Whitehair. Teven Jenkins ran with the twos and though it's probably not time to panic, it is concerning.
At times, Chicago almost resembles an expansion team with its new offense and so many new faces.
"All combinations are open," Eberflus said.
That might mean moving Jenkins to the right guard, Chicago's weakest position. Mustipher is only running with the ones by default, and his competition consists of Dakota Dozier, who's injured, and Willie Wright, who has yet to take an NFL snap since signing as a UDFA with the Browns in 2019.
Despite all the noise, Fields remains patient and optimistic, qualities you want in a young man who is expected to lead the team.
"I'm not in a rush," Fields said. "We still have a lot of time. And at the end of the day, whoever does the job the best is going to be the best fit for us.
"For me, it's just not making the same mistake twice," Fields said. "If you make that one mistake on a play, just don't do it again. And if you ultimately keep getting better and growing, there will be [fewer] mistakes each and every day. And, of course, you'll be right where you want to be."
The second-year quarterback knows the task at hand and seems fully prepared to meet every challenge.