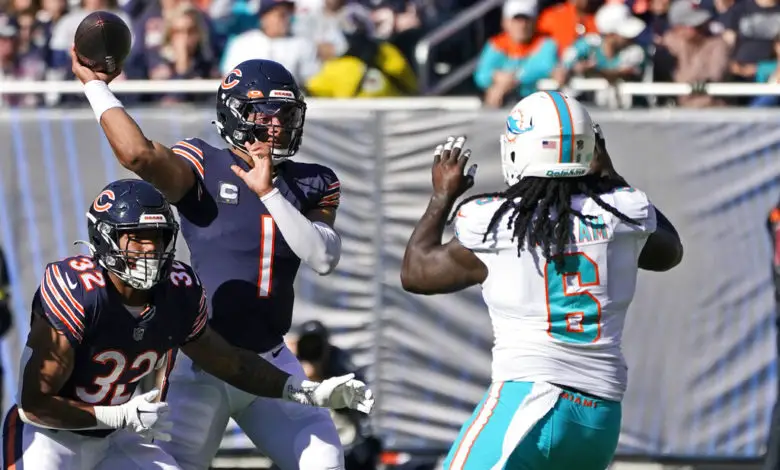 Justin Fields Named NFC Offensive Player of the Week
Bears quarterback Justin Fields was named NFC Player of the Week for his breakout, record-setting performance in Sunday's 35-32 loss to the Dolphins. The electrifying dual-threat rushed for an NFL-record 178 yards while tossing three touchdown passes. Fields finished 17-28 for 123 yards and did not throw an interception. His 106.7 rating was one of the best of his career, and he also scored on a spectacular 61-yard run.
2 mins of Justin Fields 👀 pic.twitter.com/eWce55j2SO

— Hayden Winks (@HaydenWinks) November 8, 2022
The Ohio State alum accounted for the Bears' 10 longest plays from scrimmage Sunday with runs of 61, 17, 17, 14, 13, and 12 yards and passes of 18, 16, 12, and 12 yards.
"I saw speed and his elusiveness and once he gets into the open field, he runs away from pretty much most people and he did it right there," said coach Matt Eberflus. "Darnell Mooney had a really nice, smart shield block on that [touchdown run], and that was good to see."
Fields became the first player in league history to rush for at least 140 yards and throw three or more TD passes in a game since at least 1950. His 61-yard run was the longest by a Bears quarterback, eclipsing Vince Evans' 58-yarder Nov. 16, 1980.
Fields drew accolades from national analysts, and nobody should question if the young man can become a great quarterback. The question we should be asking is "How great can Fields become?"
"Imagine being the best rusher in football in week nine, and having a 106.7 passer rating at the same time. Fields was incredible at Soldier Field Sunday, and after a season of uncertainty about him last year, it's looking like he has a good chance to be a good quarterback of the future for a franchise that so desperately needs one." – Peter King, Pro Football Talk
"He's a dominant player. Everybody knows that. This is not a surprise that he [broke the record] today. He's always running around, trying to make plays for our offense when things break down. He's a great player. [Fields] is going to break a lot more records. So get ready." – Mooney
"The cream is starting to rise to the top among the first- and second-year quarterbacks in the NFL, and after a discouraging rookie season, [Fields] is currently the best of the bunch." – Chris Trapasso, CBS Sports
"The spectacular Fields makes something out of nothing as well as anyone in football. In that regard, he is in a class with Patrick Mahomes and Lamar Jackson." – Dan Pompei, The Athletic
Fields is legit, man. He's a monster." – Jaelan Phillips
"We had different ways to stop him and couldn't." – Jerome Baker
Fields is the first Bears player to win NFC Offensive Player of the Week honors since quarterback Mitchell Trubisky was recognized in Week 10 of the 2018 season. Mitch the Kid passed for 355 yards and three TDs and ran for 18 yards and one TD in a 34-22 win over the Lions in Chicago. The second-year quarterback is also the first player to receive NFL weekly honors this season in a losing effort.
Fields will attempt to build on a string of recent successes this Sunday. The Bears play Detroit, who is ranked No. 31 in overall defense. The Lions have allowed 234 points and 3,338 yards of total offense in nine games. They've given up more touchdowns than any team in the league.