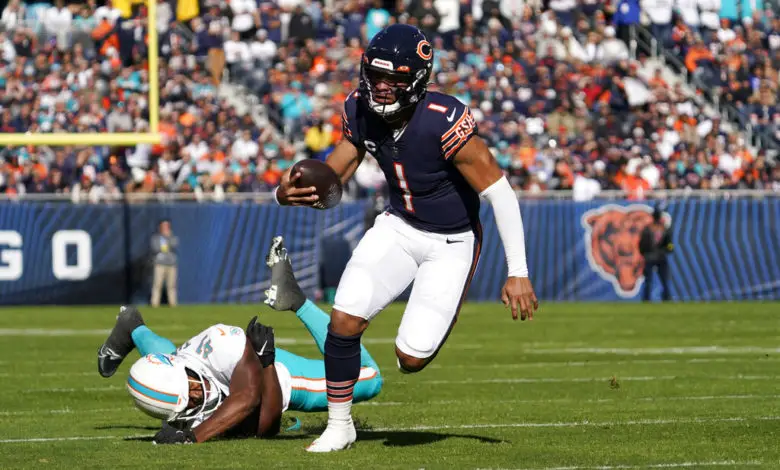 Chicago Bears Score and Recap (Week 9): Dolphins 35, Bears 32 – Bears Lose Despite Fields Awesome Game
The Bears welcomed the Dolphins to Soldier Field on Sunday for a contest that quickly became a shootout. Chicago came up just short despite a record-setting effort by Justin Fields.
Cairo Santos kicked a field goal on the Bears opening drive to give them a lead. Miami answered back immediately driving down the field and scoring a touchdown on a Raheem Mostert run.
Fields moved Chicago right down the field, throwing an 18-yard touchdown pass to Cole Kmet. Tua Tagovailoa responded with a TD pass of his own to Tyreek Hill and the road team forged ahead 14-10.
Then special teams disaster struck when Miami blocked Trenton Gill's punt and Andrew Van Ginkel ran it back for a touchdown. The Bears did not fall apart after this and Justin Fields hit Darnell Mooney for a terrific 16-yard scoring reception right before halftime.
The Dolphins built their lead back up to 11 when Jaylen Waddle caught a touchdown to begin the third quarter. Chicago's second-year quarterback wasted no time breaking out an unbelievable 61-yard TD run which combined with a two-point conversion to cut Miami's advantage to 28-25.
Jeff Wilson would score to bring the advantage back up to 10 points. Kmet pulled in his second touchdown in the fourth quarter and it was 35-32.
The Bears defense was able to hold late but unfortunately the offense just could not get that one more score needed to prevail. A controversial non-pass interference call ended their final drive and the Dolphins won. (Box score)
Why the Bears Lost
The defense just could not contain the explosive Dolphins receivers. Also the key special-teams mistake on the blocked punt turned out to be the difference.
Key Moment
It appeared that new acquisition WR Chase Claypool was interfered with on 3rd and 10 with under two minutes left in the fourth quarter. The play went uncalled and the Bears would fail and fourth down to end the game.
Stats That Matter
What a game for Justin Fields, who ran for an NFL record 178 yards. That's right, no other quarterback has ever run for more yards in a game. Not only that, he also threw for 123 yards and three touchdowns.
Cole Kmet had two touchdowns as he is finally starting to become what the Bears were hoping he would be.
Claypool saw a little bit of action but only had one reception for four yards.
Bottom Line
The result of this game does not mean anything at all. Much more important is the fact, becoming more clear by the week, that Justin Fields is becoming a star quarterback. The Bears offense can really be special if they add some weapons in the off-season.
Next Up
Chicago stays home Week 10 when the Detroit Lions come to town on Sunday, November 13 at 12:00pm CT on FOX.