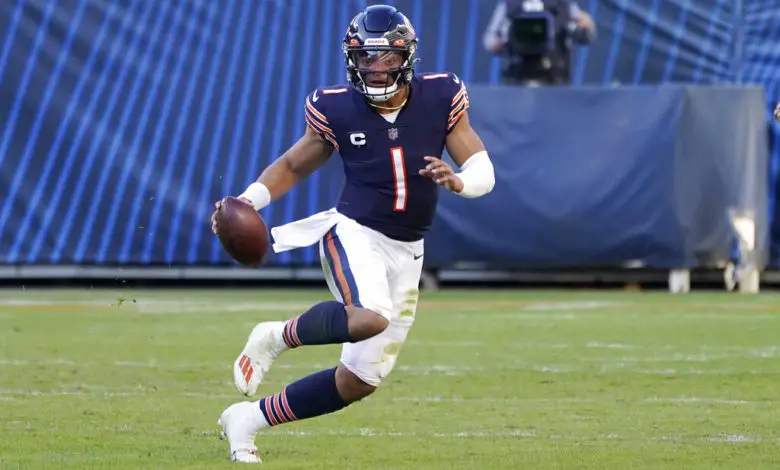 First & Long: Fields Sets NFL Rushing Record, Bears Finally Have a Franchise QB, Brady Reaches Historic Milestone
The Bears lost to the Dolphins on Sunday but it appears they finally have their franchise quarterback. That would be Justin Fields, who was so good against Miami that head coach Mike McDaniel begged for mercy. Well, it wasn't quite that dramatic but it was close. McDaniels' defense had no answer for Fields, so he took matters into his own hands when the second-year quarterback ran out of bounds.
"Stop it!" McDaniels reportedly shouted.
It didn't work. Fields finished 17-of-28 for 123 yards and three touchdowns. He did not throw an interception and was sacked twice, but he wasn't the best passer on the field. That honor went to Tua Tagovailoa, who shredded Chicago's defense for 302 passing yards and three scores of his own on a 21-for-30 day. However, Fields rushed 15 times for 178 yards (11.8 YPC), including a nifty 61-yard sprint for a touchdown. Those 178 yards represent an NFL record. Chicago's offense has hit its stride just as its defense has hit the shitter.
H1STORY pic.twitter.com/Zf6EvZiOQW

— Chicago Bears (@ChicagoBears) November 6, 2022
"I saw speed and his elusiveness and once he gets into the open field, he runs away from pretty much most people and he did it right there," said coach Matt Eberflus. "Darnell Mooney had a really nice, smart shield block on that particular play, and that was good to see."
The Bears' defense couldn't stop a JV team right now, but that offense is a helluva lot of fun to watch, isn't it? Something seemed to click in Chicago's Week 5 loss to the Vikings and their QB1 has been nearly unstoppable since. Athletic prowess aside, Fields looks comfortable and confident, and that's a dangerous combination for the rest of the Bears' opponents. It seems Chicago can now score at will, but so can opposing offenses. Expect a lot more shootouts as the Bears navigate toward a top-ten draft pick in 2023.
In fact, the Bears have scored 93 points in their last three outings but have a 1-2 record to show for it, and they're now 3-6 on the season. Chicago won't make the postseason, and that's a shame because every Bears fan wants to see what Fields can do in the playoffs. And for those who still think the Bears should have kept Mitchell Trubisky, you can turn in your fan card at the door. Fields is elite, and he's only going to get better. Imagine if he had a line that can block and a wide receiver like Tyreek Hill. Exercise patience, and wait until next year. But enjoy every moment that Fields has the ball for the rest of this season.
Bears News & Notes
There's a Flag…On the Play
If the Bears are "going to take the NFC North and never give it back," they're going to have to catch the Vikings instead of the Packers.
This was fun

— NFL Stats (@NFL_Stats) November 6, 2022
Scout Team
Film Room
It's okay if you want to watch this 100 times or more. I have, and it never gets old.
JUSTIN. FREAKING. FIELDS.

📺: #MIAvsCHI on CBS pic.twitter.com/jFMAg0BeH7

— Chicago Bears (@ChicagoBears) November 6, 2022
Northern Exposure
Minnesota – Kirk Cousins really takes post-win celebrations to the extreme. Kick it one time, Vanilla.
Green Bay – The Packers lost 15-9 to the Lions, and they've now lost five straight games for the first time since Rodgers took over as the starter in 2008. The 18-year veteran threw three picks in the game and finished with a 53.9 passer rating. Things are so bad in Green Bay that rapper Li'l Wayne has thrown in the towel and said the Packers should have traded Rogers
Detroit – The Lions fell from No. 1 in next year's draft to No. 5 with their win over the Packers.
NFL News & Notes
Week 9 of the NFL season was chock full of wacky wins and bad beats.
Tom Brady became the first NFL quarterback to reach 100,000 career passing yards on Sunday. That record may never be broken.
The Jets beat the Bills in a statement game on Sunday, and suddenly the AFC East is the NFL's most competitive division.
Bengals running back Joe Mixon scored five touchdowns against the Panthers on Sunday, breaking the franchise record.
The Cowboys could be in the lead to sign free agent wide receiver Odell Beckham Jr.
Several teams tried to trade for Cardinals WR DeAndre Hopkins last week.
Several teams reportedly want the NFL to push its trade deadline back to Week 10 or 12 starting next season.
Three Yards and a Cloud of Dust
Fields reached 20.33 mph on his 61-yard scramble TD, his fourth carry reaching 20+ mph since Week 7. He's tied with Jaguars running back Travis Etienne for most in the NFL.
The Bears quarterback is the first NFL player with 150+ rushing yards and multiple passing TDs in the same regular season game since Walter Payton did it in Week 3 of the 1983 season. Colin Kaepernick did it in the 2013 playoffs against Green Bay.
Josh Allen of the Bills has 34 rushing TDs since 2018, the most by a quarterback during that span.
From the Podium
"It's insane, it's nuts. When you see [Fields] run like that and then be able to execute in the passing game like he did, it's pretty special for sure." – Kmet
"It's so fun watching him move around, make plays, and give the entire offense opportunities to keep driving the ball. It just felt right when he was just controlling the game." – Claypool
"It's special. We are building our football team. We have a young football team. We are building upon that, and the centerpiece of that is the quarterback. That's the way it is in the NFL. Talk about toughness and grit and the ability to persevere through a lot of different things. Obviously [the] start of the season is [Fields] feeling his way, and now the last three games he's really taken off. We are excited about that as a group and we are excited about that for the Chicago Bears and the franchise." – Eberflus
Running out the Clock
The student has become the master, and the Bears have their franchise QB.