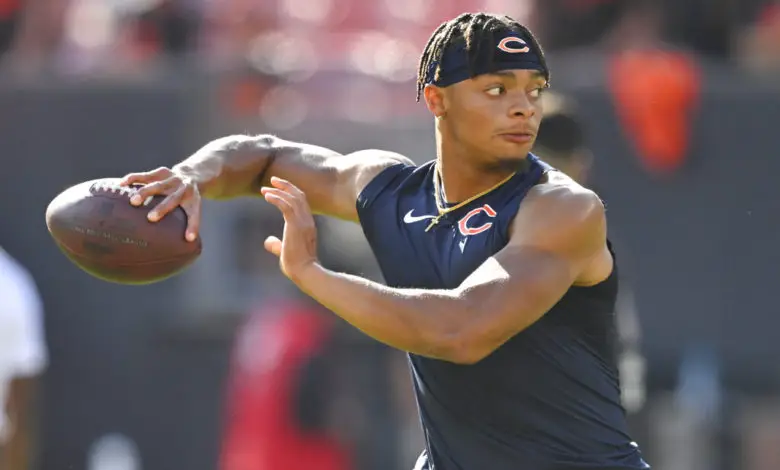 Just How Good or Bad is Justin Fields?
I don't know if an athlete or sports story is more polarizing than Justin Fields and the Chicago Bears. Fields has no middle ground. Bears fans believe he is either a future franchise player or a wasted draft pick. That excludes the few who long for the days of former wasted draft choice Mitchell Trubisky. Jay Cutler is the closest Chicago has had to a franchise quarterback, So which will it be? Is Fields more likely to be the next Cutler or Trubisky?
The real answer is that we don't really know. Until GM Ryan Poles give him some talent to work with, the best grade you can give Fields is incomplete. Even if you judge him strictly by his inconsistent body of work, it's difficult to tell just who the former first-round draft choice is or will be.
.@LaurenceWHolmes is getting increasingly more irritated with how Ryan Poles and the #Bears are failing to support Justin Fields — which is in turn leading to a bad-faith evaluation of him in the big picture.

Listen to full segment: https://t.co/DV4wJOx7Wf pic.twitter.com/Ow3TQx4qo5

— 670 The Score (@670TheScore) October 20, 2022
Peyton Manning knows a thing or two about playing quarterback in the NFL, and he said Bears fans should remain patient.
"I remember my rookie year just hoping the first read was going to be open because I couldn't remember where the second and third reads were all the time," said Manning, who threw a league-high 28 interceptions in 1998. "You only have about 2.5 seconds. But the more you practice those plays and the more you start playing, you're doing it quickly."
Asking Bears fans to be patient is like asking your child to do household chores. Most were ready to write Fields off after a few games last season. I've seen one fan continually compare Fields to former Bears QB Gary Huff (1973-78). I'm not sure I understand that analysis as the two are polar opposites physically and athletically with vastly dissimilar skill sets. As I remember Huff spent more time running out of bounds than he did throwing the pill. You can fault Fields for a lot of things, but he's certainly not afraid to take a hit. And, he's a much better runner than Huff ever was.
Don't look now, but Justin Fields is QB10 over the last two weeks.

Had an iffy penalty not been called on this run, only Josh Allen, Patrick Mahomes, and Joe Burrow would be outscoring Fields over these last two weeks. pic.twitter.com/TA38i6yTZC

— Dave Kluge (@DaveKluge) October 18, 2022
But, Fields does get a little gunshy in the pocket. His offensive line struggles to contain pass rushers, but sometimes the former Ohio State star sees ghosts, too. He tends to scramble before checking down at times. That's not necessarily a bad thing if the run produces positive yards. Eli Manning thinks Fields will run less once he gains more experience.
"I see Justin competing his tail off in every game and making a lot of unbelievable plays when nothing's there," he said. "It's supposed to be a screen to the running back; it's covered; he runs for a first down. I see he's [still] learning, and that takes time.
"The offensive line is struggling, he's getting hit quickly sometimes, [and his] receivers aren't getting a ton of separation at times. So he's having to be creative, but he's not making a whole lot of mistakes. He's not forcing things. He's not throwing interceptions and putting the team at a disadvantage."
The Bears' wide receivers are among the league's worst at separating from their defenders. That's one of the reasons fans would like to see Poles trade for Parris Campbell, Alec Pierce, Michael Pittman, or Nelson Agholor. The Bears have few playmakers, and so far, it's tough to count Darnell Mooney as one of them. The third-year vet has yet to score a touchdown. Cole Kmet has been missing in action all season. If it weren't for the legs of David Montgomery, Khalil Herbert, and Fields himself, Chicago would have no offense.
The offensive line isn't doing Fields any favors, either. After the loss to the Commanders, the struggling QB1 admitted he's wary of the breakdowns in the team's protection packages.
"I felt like later in the game, like my internal clock was speeding up a little bit, just because of maybe the past pockets that I would get in the game," Fields said. I just told them if they feel like I'm getting antsy and maybe leaving the pocket too early when it's there, just remind me to reset. Because there are going to be times when I do have time and I can sit in there… just making sure that just because they got back here fast last play or two, three plays ago, doesn't mean they are going to get back fast [on the next play]."
Fields has a legitimate point. He's been pressured on 50.3% of his dropbacks this season. That's the highest rate among all QBs with at least 100 dropbacks. Daniel Jones is second with a 46.5% rate through six games. Pressure is coming from multiple positions, so it's not like the Bears can simply alter their scheme slightly to help cover up a deficiency in one area. The issue is personnel. Alex Shapiro of NBC Sports provided the following analysis.
"Lucas Patrick has allowed 11 pressures in 57 true pass sets (passes excluding play action, screens, short dropbacks, plays with fewer than four rushers, and plays where the time-to-throw is under two seconds). Sam Mustipher has allowed seven pressures in 69 TPS opportunities. That's the fifth-highest total, and his 10.1% rate is second highest among centers.
"Braxton Jones has been the worst offender with 17 pressures allowed in 69 TPS opportunities. That total is the fourth highest among all tackles, and again, his 24.6% pressure rate is second. Teven Jenkins hasn't been perfect, surrendering five pressures in 52 TPS opportunities, but he's well down the list at guard. Larry Borom has been the best, giving up only four pressures in 69 TPS opportunities."
Fields is a much better quarterback when he has a clean pocket according to Shapiro.
Pressured: 33.3% completion rate, 6.9 YPA, 2 TD, 3 INT, 22 sacks, 43.8 passer rating.
Clean: 65.8% completion rate, 7.9 YPA, 2 TD, 2 INT, 1 sack, 87.6 passer rating.
Neither screams "franchise quarterback," but at his worst, Fields is much better than Huff. Some say part of the problem is that Fields holds the ball too long, and to be fair, that's an honest assessment. Fields can be elusive at times in the pocket so those numbers are skewed a bit higher.
"If we keep him clean or give him a rush lane to sneak out, he's a very special player," said Lucas Patrick. "We need to live up to the standard we have in our room to really help him become the elite player that he is. You can't change my mind that that guy is not a future stud in this league."
Time will tell. The quarterback still has a lot of work to do to improve his game, however. His footwork could be better if I'm being forthright. He also needs to do a better job of finding his receivers when they break pattern. He's capable, as we saw in the Game 1 win over the 49ers.
For most QBs, this is either a throw away or a checkdown.

Justin Fields' athleticism allows him to extend the play, and his movement stretches the defense and gets Dante Pettis open. #Bears pic.twitter.com/20nw9aV1y1

— Jacob Infante (@jacobinfante24) September 11, 2022
The biggest issue facing Fields is his ability to command the pocket. He needs to be better at reading defenses, finding secondary receiving options, and trying to resist the urge to run while the play is still developing. That's a lot to work on for a guy in his second season, but it's not unprecedented. Most great quarterbacks, including both Mannings, took a couple of seasons to establish themselves. Fields has started 16 games. There are a number of concerns, but it seems a bit premature to write him off already.