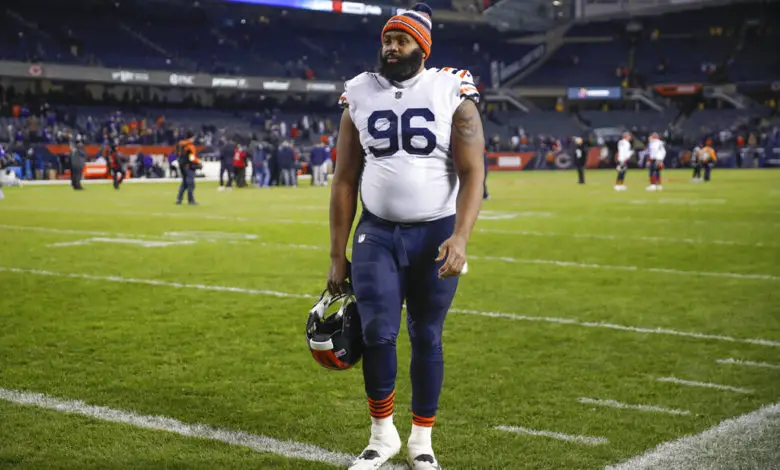 Hicks' Comments an Indictment of Bears' Organization, Not Justin Fields
Akiem Hicks recently signed a one-year contract with the Buccaneers, where he'll play with Tom Brady in an attempt to add a Super Bowl ring to his already impressive football résumé. Make no mistake, Hicks is a great player and was one of the Bears' best free-agent signings of the last decade. He's not leaving town quietly, however, and remarks Hicks made earlier today should be an indictment of the organization rather than quarterback Justin Fields.
Akiem Hicks: "When I came into the league, I had Drew Brees and Tom Brady as my first two quarterbacks. And then I went to Chicago. It wasn't Drew Brees and Tom Brady. I feel spoiled to have somebody on the other side or that bank that can deliver all the time…" pic.twitter.com/0dJaWxrGDx

— Rick Stroud (@NFLSTROUD) June 7, 2022
"It was definitely a draw," Hicks said when asked if playing with an established quarterback was a goal. "It benefits a defense to have a quarterback that can control the clock, the ball, and field position. That's what we have here."
Is that a shot fired at the Bears? You could make a strong enough case to say that Hicks at least hinted so. But was the defensive lineman singling out Fields or Mitchell Trubisky? That's highly doubtful. It does bring up an important point, though, and that's that Fields' success this year will be critical in Chicago's attempts to lure prime free agents next year.
As Fields goes, so will the Bears. That means homegrown players like Roquan Smith and David Montgomery might be more inclined to move on if the second-year quarterback doesn't show marked improvement in the team's new offensive scheme. In fact, it's probably a given particularly with Montgomery.
Granted, Trubisky and Fields aren't Brady and Drew Brees, but that's not the point. Seven other quarterbacks started at least one game during Hicks' six-year tenure in Chicago. That list includes Jay Cutler, Brian Hoyer, Matt Barkley, Mike Glennon, Chase Daniel, Nick Foles, and Andy Dalton. None should be confused with the two certain Hall of Famers. Continuity at quarterback usually portends success. Free agents will get paid, but few teams offer a legitimate shot at a title year in and year out.
The Bears are hoping to reverse course, and Fields is key, as in immediately. Long rebuilds don't really exist in the NFL because they tend to become perpetual. The last time the Bears were a threat to win it all was when they lost to the Colts in Super Bowl XLI back in 2007. I know 2018 was a magical season, but Chicago was a lot further away from a championship than a double-doink missed field goal by Cody Parkey.
The current roster still has a lot to prove but new GM Ryan Poles did add a lot of playmakers, especially in the draft, where newcomers Kyler Gordon, Jaquan Brisker, and Velus Jones Jr. should make an immediate impact. They also have one of the league's easiest schedules and play nine games against teams that have comparable bottom-third talent. A few breaks here and there and a surprise win or two over a contending team could put the Bears in the hunt for a playoff spot.
That may be detrimental to Chicago's long-term plans, however. Poles probably needs a top-five pick in next year's first round and has to continue to avoid overpaying for free agents who are entering the declining phase of their careers. Still, he needs progress from Fields to prove to quality players that the Bears are a team moving toward annual contention. That's where the Chiefs, Bills, and Bengals are, and where the Packers have been for the better part of two decades with Aaron Rodgers.
A franchise quarterback is the best marketing tool a front office has when trying to buy players. In most cases, winning trumps dollars, but the exceptions are the old, downward-trending players who tend to sell more tickets than win games. Bears fans are all too familiar with those types of additions, as that was exactly how Ryan Pace built his roster every year. Sure Hicks was a great signing, but when you supplement similarly strong free agents with players like Glennon, Markus Wheaton, Jeremiah Ratliff, and Pernell McPhee, how much better are you making your team?
That's not to say the pressure is all on Fields this year, but in a way, it is. He should perform a lot better in Luke Gesty's quarterback-friendly offense, but he's going to have to avoid turnovers, read defenses better, and work on delivering the football to his receivers before he is falling backside. If the Bears have to look for their "next" franchise quarterback in the 2023 draft, Poles will be starting over, essentially speaking. Next year's list of potential free-agent signal-callers doesn't have a savior among them.
There is no point in getting angry or frustrated with what Hicks said because it's the truth, and oftentimes that's a tough pill to swallow. Nobody knows if the Bears will win more than the six games they did in 2021, but it is imperative that the team shows signs of eventually being competitive. Who knows? Maybe Hicks will see that kind of improvement and want to return as a free agent after a year in Tampa Bay.