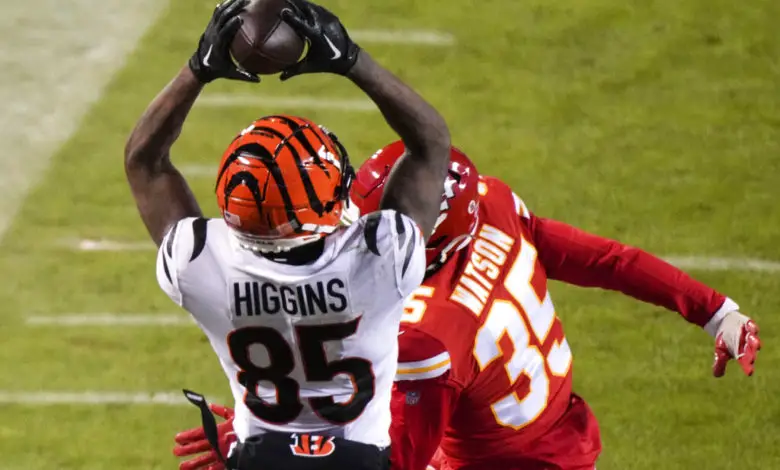 Forget About the Bears Acquiring Tee Higgins
Tee Higgins isn't coming to Chicago, at least not this year. The Bengals' star wide receiver is entering the final year of his rookie contract and has been rumored to be on the move since the season ended. That's not going to happen. Cincinnati Director of Player Personnel Duke Tobin threw cold water on that notion at the Combine last week. How do you feel about 2024 or '25?
"If [other teams] want a receiver, go find your own," Tobin told reporters. "In my opinion, Higgins is a good piece for the  Bengals. The trade stuff is a little ridiculous right now."
The cap hit on Higgins is just $4 million and Cincinnati is well-positioned to contend for a ring next season.  The Bengals could part ways with veteran Tyler Boyd, and would save $8.9 million by cutting him. Head coach Zac Taylor said trading Higgins was never a consideration.
"That's why whenever you see the rumors floating around there, it's nonsense," Taylor said. "At the end of the day, I do get to call the plays and it's fun having [playmakers] out there. You don't really want to give that up."
Poles May Look to the Draft for Playmakers
Jaxon Smith -Njigba on critics saying Justin Fields is just a running back.

"I would say they are not very smart."

"He can do whatever you need." pic.twitter.com/tcR1a9xVLB

— Josh Schrock (@Schrock_And_Awe) March 3, 2023
The Bears are in desperate need of playmakers and Higgins has averaged more than 1,000 yards in his three seasons with the Bengals. Cole Kmet led the Bears in 2022 with 544 yards and six scores. Darnell Mooney led all receivers with 493 yards but missed the final five games. GM Ryan Poles acquired Chase Claypool at the trade deadline but he was a non-factor. Poles gave up Chicago's second-round selection – number 32 overall – to get Claypool from the Steelers.
The Bears jumped the gun to get Claypool because this year's free-agent class is weak at wide receiver. The Bears have committed to Fields as their quarterback in 2023. Poles said he's prepared to trade down from the No. 1 overall pick, and bringing in help at wide receiver is a top priority. 
Fields said he wants to work with Claypool on chemistry this offseason.
"As a receiver, you got to be a playmaker," Bears head coach Matt Eberflus said at the Combine. "We saw it in the playoffs, you saw it in the Super Bowl. Those guys are making plays in critical moments, and that's what we need." 
Chicago won't select a wide receiver with the first pick, but Poles believes a bounty awaits if he remains patient. The second-year GM expects first-round picks this year and next, minimally, for teams to move up to No. 1. The Colts and Texans are the likeliest suitors. The Panthers and Raiders will have a ton of interest, too.
There's Urgency Out There
"I can feel it. There's urgency out there. There's pressure," Poles told Peter King.
He also explained to King he's received calls from three teams. One of the teams, Poles explained, is "further down" the draft order than he thought. He admitted a deal with a suitor at the back of the line will require "more capital" to make said deal happen. The Bears need to trade down and acquire a decent amount of assets to pick a wide receiver on Day 1 or 2 of the draft.
Some rumors indicate Poles could consummate a deal before free agency starts next week. That means the Texans, who hold the No. 2 pick, could be interested in moving up. A trade with Houston would buy Poles time to trade down again, possibly to the Colts.
Don't expect Poles to rush into anything. He's taken a measured approach with everything he does since arriving in Chicago. If he gets the deal he wants, however, he'll pull the trigger.