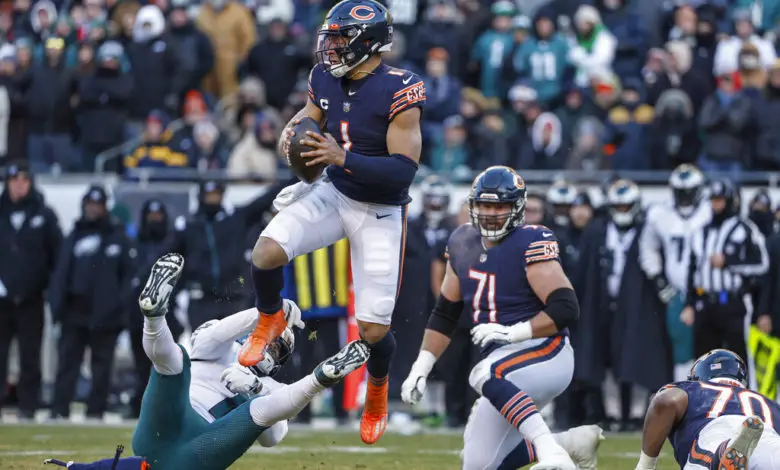 First & Long: Should Bears Tank for Two? Winter is Coming, Herbert Expected to Return From IR
A debate has begun to brew that suggests on one side that the Bears should go into tank mode to ensure they earn one of the top two picks in next April's draft. That, of course, would mean shutting down Justin Fields for the rest of the year. Most analysts feel that Fields has reached the peak of his development this year, especially because the team has little to play for.
That might be a shortsighted move, however.
Fields is a big-play quarterback, and there's no denying that. But he still needs to work on executing the average plays. His footwork needs improvement, and he still holds the ball a little too long. Fields has improved on his checkdowns, but still shows a propensity to run before a play develops. That's typical given his inexperience. Fields has started just 23 games across two seasons. He's improved by leaps and bounds but still needs a little fine-tuning.
If Ndamukong Suh did this to Tom Brady and not Justin Fields he might be leaving the game in handcuffs.

I understand he was a runner but there has to be more consistency with these calls. #DaBears #Bears #ChicagoBears pic.twitter.com/9Hx5prLkHR

— Clay Harbor (@clayharbs82) December 19, 2022
That said, he'll do little in the next three games that will transition to the 2023 season. One thing that would transition to the next season is a devastating injury. Fields takes a lot of hits to the head, in case you haven't noticed. He needs to learn to get lower when he goes into his slide. He also needs a little help from the officials.
"It's just been too many times where I have slid and gotten hit too late and I don't get any flags," Fields said. "I'm going to be on the refs just looking for a call. When I think it's a flag, I'm going to ask the ref. On Sunday, he said he didn't think it was a foul. I'm just going to be begging for those calls and hope that I get one in the near future."
Philadelphia defensive lineman Ndamukong Suh slapped Fields in the head after the quarterback slid and then proceeded to roll over him. Suh was not penalized.
Earmuff the kids for this next part.
"I felt like I was down and I just felt a 300-pound guy come on my back," Fields continued. "Whoa, Pause."
Please don't make me explain the double-entendre.
The quarterback doesn't understand how getting hit by Suh while he was on the ground didn't warrant an unnecessary roughness penalty. It was a blatant non-call by the referee, something that has been happening throughout Fields' short career. The last thing the Bears need is a concussion-prone starting quarterback.
In an NFL era that prioritizes protecting the quarterback, Fields doesn't benefit from the same friendly flags that his peers do. After a Week 11 loss to the Falcons, rookie safety Jaquan Brisker demanded the NFL give Fields the same protection they afford other quarterbacks. When asked why Fields doesn't get the same calls other signal-callers do, Brisker was at a loss.
This is NOT ROUGHING THE PASSER! pic.twitter.com/hP0ospIHE3

— Robert Griffin III (@RGIII) December 12, 2022
"I do not know," Brisker said. "Maybe because he's strong, he's physical. I don't know. He's a quarterback. I feel like he should get the same – it should be equal. Just like everybody else."
The question therefore remains. Should the Bears err on the side of caution and protect Fields by sitting him? Nobody likes to use the "T-word," but Chicago would be punting the rest of the season if Nathan Peterman took over for the final three games. The Peterman to Nsimba Webster passing offense doesn't portend wins at the pro level. Or maybe any level, for that matter. In fact, it's too blatant to pass for anything but purposefully losing. Say it out loud. Do you see what I mean?
Bears News & Notes
Sunday's loss was just about the best possible way to go down. The Bears played well in all three phases of the game and almost won.  The loss also protected their top two draft pick, at least for the time being.
Fields is the only quarterback to throw for multiple touchdowns without an interception against the Eagles this season.
The second-year quarterback is tired of the constant late hits and plans to be a lot more vocal to referees when he feels they miss an infraction.
Fields is the third quarterback to rush for 1,000 yards in a single season, hitting that mark with 15 carries for 95 yards on Sunday. He is 206 yards away from an NFL record.
Linebacker Jack Sanborn was placed on the IR with an ankle injury and will miss the remainder of the season.
Khalil Herbert will make his return from injured reserve this weekend. Teven Jenkins is in danger of missing the rest of the season due to a neck injury he suffered in the loss to Philadelphia. The second-year guard barely avoided a very serious injury.
Cairo Santos has a bad case of the yips, but the veteran placekicker may have already found the remedy.
The loss to the Eagles bumped the Bears up to No. 2 overall in next April's draft, but…
Thanks to a league-high strength of schedule (.574, per Tankathon), the Bears are in a tenuous spot. The NFL uses strength of schedule as a draft-order tiebreaker, but flips it — a lower number picks ahead of a higher number. And since the Bears also are in the midst of a brutal closing stretch (Buffalo, at Detroit, Minnesota), they'd almost certainly lose out on any such tiebreaker ($). Chicago does control that pick if they lose out.
Speaking of Tankathon, their latest mock draft is up, and the site projects the Bears will select EDGE Will Anderson Jr. of Alabama at No. 2 overall. Of course, a raging debate over a defensive selection vs. an offensive lineman or wide receiver will continue from January through April.
Head coach Matt Eberflus would like GM Ryan Poles to select a three-technique at the top of the draft. Keep an eye on Jalen Carter of Georgia or Bryan Bresee of Clemson (if Chicago trades down).
If the Bears win one game of the remaining three, the worst draft pick they would receive is No. 4. This is because, of the three, four-win teams, two of them (Rams and Broncos) play each other once before the season ends, forcing one of them to move to five wins.
There are no plans to move Saturday's game to a neutral site despite predictions of blizzard-like conditions.
There's a Flag…On the Play
Things that make you go "Hmmmmm…"
In 2020, Bears President/CEO Ted Phillips emailed Chicago officials about opportunities for sports betting at Soldier Field. City emailed 7 months later saying no. Ted emailed again in 2021. City never responded.

2 weeks later, Bears bid on Arlington Park.

(Via @nbcchicago)

— Daniel Greenberg (@ChiSportUpdates) December 21, 2022
Scout Team
Film Room
Do we ever tire of watching Fields? We do not, do we?
Justin Fields with his weekly run that's absolutely ridiculous 🔥

— NFL Stats (@NFL_Stats) December 18, 2022
Northern Exposure
Minnesota: The Vikings clinched the NFC North thanks to the biggest comeback in NFL history. Minnesota trailed the Colts 33-0 before erupting for 39 second-half points.
Detroit: The Lions are in the thick of the NFC wildcard race and their late surge has teammates "fully" believing in each other. With three games remaining, the Lions have a 29% chance to make the playoffs, according to ESPN Analytics. Detroit hasn't reached the postseason since 2016.
Green Bay: Aaron Rodgers and the Packers believe they can win out and make the playoffs despite a 4-8 start. The Packers play the Dolphins in Miami on Christmas Day and then finish with home games against the Vikings and Lions.
Apropos of Nothing
Do we still call it "Bear Weather" if the team is 3-11? We do not, do we?
Football weather? Bills-Bears is the coldest game of the weekend, with wind chills in Chicago approaching -20 below zero. How 12 NFL teams are bracing for arctic temp games Week 16: pic.twitter.com/JaRG0qMmXx

— Michele Steele (@MicheleSteele) December 21, 2022
NFL News & Notes
Google/YouTube TV has emerged as the favorite to land the NFL's "Sunday Ticket" package of out-of-market games, but the sides have not finalized a deal, according to multiple reports.
There are 19 teams that could be looking for a new starting quarterback next season, though the Bears aren't one of them (a subscription to ESPN+ is required to access content).
Jalen Hurts was injured in Philadelphia's win over the Bears, and that may give Patrick Mahomes an edge in the NFL MVP race.
The Ravens claimed wide receiver Sammy Watkins on waivers to replace starter Devin Duvernay, who was placed on IR. Watkins was waived by the Packers earlier this week.
Rams quarterback Matthew Stafford is suffering from a spinal contusion that he says will not force him into retirement.
Thanks to the trade that sent Stafford to the Rams for Jared Goff, the Lions are in a position to get a top-five draft pick even if they make the playoffs. The Seahawks are also in a similar position after trading Russell Wilson to the Broncos.
The Rams tied the 1999 Broncos for the earliest elimination from playoff contention by the previous season's Super Bowl winner. Coincidentally, the teams will play on Christmas Day, and their biggest television markets will be in Detroit and Seattle.
In what may have been the wildest NFL week ever, 12 games were decided by one score.
No team suffered a worse loss than the Patriots.
The Steelers and Jets are among the fringe playoff contenders who might be better off missing the postseason.
Three Yards and a Cloud of Dust
Kayvon Thibodeaux of the Giants

is the only NFL player in the last 30 seasons (rookie or not) to have a game with 12 or more tackles, 3 or more TFLs, a sack, a forced fumble, and a score.

Patrick Mahomes had an 87.8% completion rate on Sunday night, giving him the best completion percentage by a QB with 40+ attempts in a game.
The Bears have lost 313 yards on 48 sacks this season, a significant reason they have been stuck at 32nd in the NFL in passing offense, now averaging 137.1 yards. For context, over the past 25 seasons, only 10 other teams have averaged fewer than 140 passing yards. The 2000 Bengals had the least productive passing offense in that span, averaging 121.6 yards. That team used Akili Smith and Scott Mitchell as its starting quarterbacks with Peter Warrick as the leading receiver. Two of the other nine teams resided at Halas Hall: the 2004 Bears (137 YPG) and the 2005 squad (125.1).
From the Podium
"We call [the three-technique] the engine that makes everything go because in the running game, you can't run at the three and you can't run away from him, so it's hard to really dictate where you're going to run the ball, number one, and it creates a lot of free lanes for your linebackers to run through. Typically your best offensive linemen are on the outside and if you have your best player on the inside, that's certainly an advantage for you" – Eberflus
"Justin [Fields] has impressed the world. That's not a question. With Justin, you never know what you're going to get. I grew up watching Michael Vick and he moves just like him. You never know." – Byron Pringle
"[Fields] is extremely dangerous. And he's got a good arm as well… He's not just a one-dimensional quarterback. I think you have to look back a little bit and see some of the things we did against Lamar Jackson. They're similar in a lot of ways. You do reflect a little on some of the things you've done in the past." – Leslie Frazier
"[Justin] can make dynamic plays. But we want to see the ordinary plays also — the check-downs, the easy passes. Take what the defense gives you. All those types of things that he thinks he needs to improve on." – Eberflus
"I don't plan on rushing for 1,000 yards every year. But I'm going to improvise and try to do whatever I can to put as many points on the board as possible." – Fields
Running Out the Clock
Are we sick of this song yet? We are not, are we?