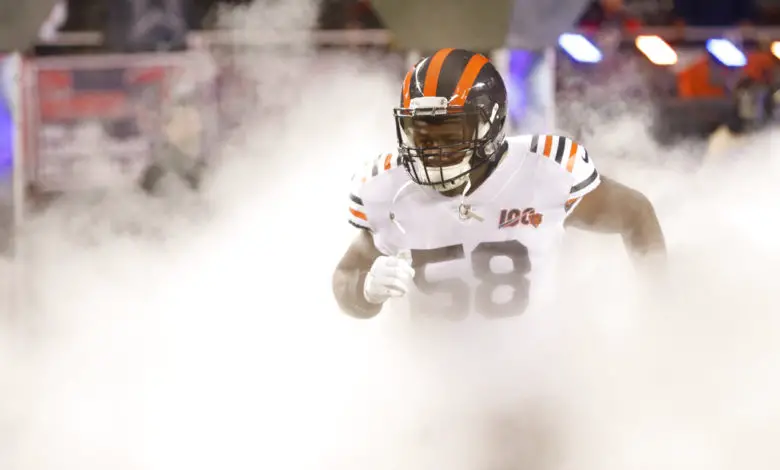 First & Long: Roquan Smith Poised to Become Bears' Next Great LB, Team Confident Goldman Will Play, O-Line Could Be Strength
The Bears' next great player is going to be…. Roquan Smith.
Sure he had a breakout season last year, so I'm cherry-picking. He didn't make the Pro Bowl though, and it's quite possible he can still get much, much better. After a season-ending pectoral injury in 2019, the linebacker came back with a vengeance. He was easily the Bears' best defensive player in 2020, and the lack of recognition seems a little shortsighted. At the very least, it should serve to motivate him this season.
Smith dominated opposing offenses with a career-high 139 tackles, including 96 solo tackles, second-best in the league behind Avery Williamson. He also had six quarterback hits, four sacks, seven pass defenses, two interceptions, one forced fumble, and one fumble recovery. His 18 tackles-for-loss led all inside linebackers and ranked second in the NFL to Steelers outside linebacker T.J. Watt. He's entering the final season of the four-year contract he signed in 2018, and barring injury, should expect a big payday in 2022.
It's almost unfathomable that Seahawks veteran Bobby Wagner and Rams linebacker Fred Warner won Pro Bowl spots ahead of him, as Smith easily outpaced both statistically. Perhaps he just doesn't have the reputation his peers do, or maybe he is simply overshadowed by fellow linebacker Khalil Mack. Either way, the rest of the league will probably pay more attention to Smith this year.
Since Week 6, Roquan Smith's 81.5 grade is fourth-best in the NFL 😤pic.twitter.com/JsV3DILgIv

— PFF (@PFF) November 17, 2020
There were times in the past where the coaches and fans may have doubted Smith's commitment. The fourth-year linebacker had an unidentified personal issue that cost him a game against the Vikings in 2019 before that upper-body injury. This year, he attended all of the team's OTAs, the only defensive player to do so besides Tashaun Gipson.
That dedication and commitment could push Smith to the next level and certainly shows that he wants to lead Chicago's defense this season. Matt Nagy has certainly been impressed.
"He doesn't think he knows everything. He's extremely motivated internally," said the Bears' head coach. Time will tell, but Smith may well be on his way to being mentioned alongside the great linebackers of the storied franchise, including Dick Butkus, Mike Singletary, Brian Urlacher, Doug Buffone, and Bill George.
Bears News & Notes
There's a Flag…On the Play
I'm going to take "the field" on that wager.
ICYMI: Vikings LB Anthony Barr: "We have a Super Bowl winning team this year"https://t.co/eRCPa4ytKh pic.twitter.com/hfv4rxM4Ec

— Around The NFL (@AroundTheNFL) July 13, 2021
Northern Exposure
The Packers have a new defensive coordinator this year and hope Joe Barry will fare better than Mike Pettine, whose defenses ranked No. 18 overall the last two seasons.
Right tackle Brian O'Neill has been named the Vikings' most irreplaceable free agent.
The Lions announced that Ford Field will be back to full capacity for all of Detroit's home games this year.
NFL News & Notes
Peyton Manning doubts that the Broncos will attempt to trade for Aaron Rodgers.
Green Bay remains "hopeful" their three-time MVP quarterback will report to camp and play this season.
Retired Redskins QB Alex Smith believes Dallas signal-caller Dak Prescott is poised for a "huge, huge" bounceback.
Cincinnati was recently ranked as the NFL's worst destination city, and Bengals fans are a bit unhappy.
Broncos linebacker Von Miller wants to play until he is 40 years old. The Pro-Bowler is entering his age-32 season.
The future of Cowboys head coach Mike McCarthy may be in doubt per ESPN reporter Jordan Raanan.
Pre-1982 sack statistics are still unofficial, but they are finally accessible thanks to Pro Football Reference.
Seven NFL teams have hit the league-recommended 85% vaccination rate and that 70% of all NFL players have received at least one shot.
Three Yards & a Cloud of Dust
Titans RB Derrick Henry rushed for 2,027 yards last season, becoming the eighth rusher in the history of the league to eclipse 2,000 yards in one season.
There were no 5,000+ yard passers last season for the first time since 2017. Had the NFL gone with a 17-game schedule in 2020, the league might have seen three passers eclipse that mark: Deshaun Watson, Patrick Mahomes, and Tom Brady. That's been done just once, in 2011, when Brady, Drew Brees, and Matthew Stafford all hit that rarified benchmark.
Bills WR Stefon Diggs had 127 total receptions in 2020, which ranks sixth all-time. That said, his 1,535 reception yards rank just 36th all-time.
Forward Progress
Believe it or not, the Bears' OL may actually be a strength this season, especially given it was the team's biggest weakness midway through last season.
Picking up where we left off.

Position Preview: OLhttps://t.co/mQes9r9qmU

— Chicago Bears (@ChicagoBears) July 12, 2021
From the Podium
"What I'm feeling right now and I'm seeing it is now for [Roquan Smith] going into his fourth year is you're really feeling him continue to be an unbelievable leader, but really be that guy on defense, which is what we need, that guy in the center." – Matt Nagy
"I'm feeling more motivated than last year, in my honest opinion. I'm not too focused on last year. That was last year and my thing is I don't care about all the postseason accolades and different things like that. That's for others to decide on. My job is to go out there and show them that I'm best at doing what I'm doing. So that's my thing." – Roquan Smith
Two-Point Conversion
An eight-year-old Bears fan Craig Glattly has launched his own YouTube channel, providing in-depth football analysis that includes big-name interviews.