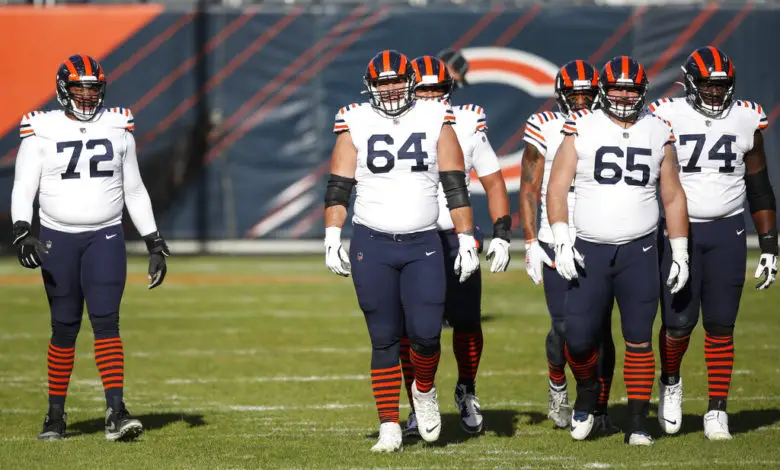 One Big Difference for Bears May Lead to Much Better Offensive Production Against Vikings
The last time the Chicago Bears played the Minnesota Vikings in Week 10 they were out-gained by 236 total yards. The Vikings accumulated 385 yards while the Bears managed a season-low 149 — getting just 108 yards passing and 41 rushing.
Matt Nagy has struggled to make good decisions all season long, but one of his worst hasn't gotten a lot of press. Struggling with injuries to the offensive line, the Bears opted to start Rashaad Coward instead of Alex Bars for five games this season. The result was a total disaster, with the Bears losing four of the five games Coward started.
The last of those came against the Vikings.
Since then, the Bears have excelled on offense. They've averaged 383 yards per game, including 240 yards passing and 143 yards rushing. With Coward in the starting lineup, the Bears averaged a mere 61 yards rushing per game.
Mitchell Trubisky played his best game of the season last week against the Houston Texans when he put up a 126.7 QB rating. In comparison, Nick Foles' passer rating against the Vikings — his last game as the starting QB — resulted in a 51.1 that was his lowest of the season.
With Trubisky in at QB, the Bears will have more mobility at the position than they did in their first matchup against the Vikings. Add to that the fact that the offensive line appears to be playing much better and there's plenty of reason for optimism heading into Sunday's game.
The good news is that Nagy seems to be figuring things out. The bad news is that it may be too little too late for the Bears to make the playoffs. However, with a win on Sunday over the Vikings, their path to the playoffs becomes easier than you might think.