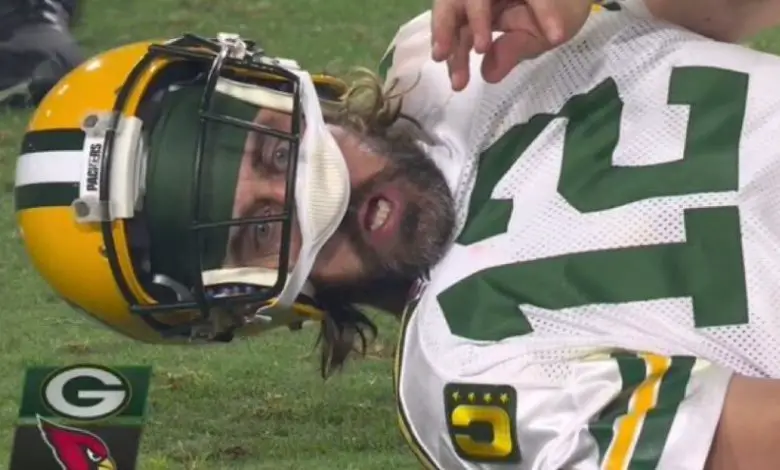 First & Long: Rodgers Staying in Green Bay, A-Rob Not Returning, Russell Wilson Blockbuster, NFL Announces 2022 Salary Cap
If the Bears are going to take back the NFC North and never give it back, they're going to have to go through Green Bay, Aaron Rodgers, and Davante Adams. Rodgers announced Tuesday on Twitter that he will return to the Packers for the 2022 season, and team and player are said to be working on a four-year deal that may pay the reigning MVP as much as $50 million annually while lowering the Green Bay's cap hit. No deal has been formalized as of yet.
"Hey everyone, just wanted to clear some things up," Rodgers tweeted. "YES I will be playing with the Packers next year, however, reports about me signing a contract are inaccurate, as are the supposed terms of the contract I "signed". I'm very excited to be back."
Green Bay's Super Bowl odds improved from 15-1 to 12-1 on Tuesday at Caesars Sportsbook, which also listed the Packers as the favorite in the NFC North. Any indifference or hard feelings that may have carried over from last season seem to have been cleared up. Rodgers listed those grievances last summer.
"I just want to be involved in conversations that affect my ability to do my job,"  said Rodgers last August.
Green Bay GM Brian Gutekunst brought wide receiver Randall Cobb back to the team at Rodgers' request, and it was the beginning of improved relations between the quarterback and the front office. In fact, throughout the season, Rodgers offered unprompted praise for moves Gutekunst made, including the signing of veterans such as cornerback Rasul Douglas and pass-rusher Whitney Mercilus. The Packers finished the season with a record of 13-4 before losing to the 49ers in the divisional round of this year's playoffs.
After the season ended, Rodgers said he did not want to be part of a rebuilding process, so he must have received reassurances from Gutekunst that that would not be the case. It might even include bringing back Adams, who is an unrestricted free agent. Green Bay exercised their right to apply a franchise tag to their top wide receiver on Tuesday.
The Packers were going to exercise control of Adams, who was set to become a free agent next week, regardless of any agreement with Rodgers. By tagging the All-Pro, the Packers can continue to negotiate with Adams on a long-term deal. Gutekunst will have until July 15 to reach an agreement with the star receiver, but he now has the safety net of retaining Adams.
The franchise-tag total of about $20.1 million for Adams will count on the Packers' already overloaded salary cap as soon as free agency begins. Rodgers's deal will have a significant impact, too, though it is expected it may cut Green Bay's hit by as much as $20 million, or almost just enough to retain Adams. Green Bay is currently $29.8 million over the cap having already restructured the contracts of Aaron Jones, Kenny Clark, and David Bakhtiari.
Bears News & Notes
There's a Flag…On the Play
Bears fans tend to refer to the Packers quarterback as Karen Rodgers, and though his tweet about the pending contract probably wasn't meant to upstage anybody, it didn't help the cause.
https://twitter.com/RekedFantasy/status/1501284233188462592
Northern Exposure
There's a good chance the Packers will trade backup quarterback Jordan Love rather than have him sit behind Rodgers until his rookie contract expires. The Falcons and Commanders are the likeliest destinations.
The Lions and wide receiver Josh Reynolds have agreed to terms on a two-year extension.
The next big move in this year's quarterback carousel might come from Minnesota, where the Vikings are said to be exploring the market for Kirk Cousins.
NFL News & Notes
The league announced the salary cap will be set at $208.2 million per team for the 2022 season, an increase of approximately $26 million.
The Seahawks traded veteran QB Russell Wilson and a 4th-round pick to the Broncos in one of the biggest blockbusters of all time. Seattle will receive two first-round picks, two second-round picks, a fifth-round pick, QB Drew Lock, DE Shelby Harris, and TE Noah Fant to Seattle for Wilson.
After trading Wilson, the Seahawks cut linebacker Bobby Wagner, a 10-year veteran with the team.
The Rams could be a team of interest for Wagner.
In addition to Adams, the following players received a franchise tag ahead of yesterday's deadline: OT Orlando Brown (Chiefs), TE Mike Gesicki (Dolphins), TE David Njoku (Browns), S Jessie Bates III (Bengals), OT Cam Robinson (Jaguars), TE Dalton Schultz (Cowboys), and WR Chris Godwin (Buccaneers).
The Chargers have agreed to terms on a three-year extension with WR Mike Williams that is worth $60 million.
The NFL's flagship website ranked its top 101 free agents after yesterday's deadline to tag players.
Jerry Rice believes he would double his numbers in today's pass-happy NFL.
Three Yards and a Cloud of Dust
Wilson has been sacked 179 times since 2018, most in the NFL.
Rodgers has won back-to-back MVP awards since the Packers drafted Love in 2020.
31 players ran a sub-4.40 40-yard dash at this year's NFL combine, the most ever.
Taking a Knee
This is a great honor for The Grobber.
Friday is Les Grobstein Day in Chicago! What an incredible honor and testament to his impact. pic.twitter.com/jZhTrQiz5d

— Danny Parkins (@DannyParkins) March 9, 2022
From the Podium
"What I've always loved [about the second tier of free agency] is … you're going to have some players that, they're motivated, they got a chip on their shoulder, and they want to get back into free agency and go at it again. So they play with a purpose. And I've mentioned this before, but it's very hard to stay super motivated. You got to be a special human being to be in that first wave (of free agency) and keep going. You want your name etched in the stadium. That's what kind of mentality you got to have. So I definitely think there's a lot of good value down there, plus … the mentality comes with it." – Poles
Running Out the Clock
That Was a Crazy Game of Poker (Live at Red Rocks) by O.A.R. – We are at the precipice of free agency, and it's going to be interesting to see how Poles counters the latest moves in Green Bay.