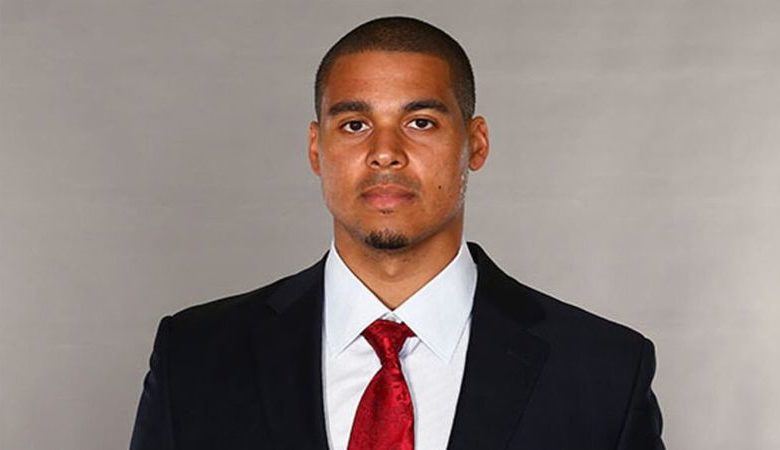 Expect Assistant GM Ian Cunningham to Play a Big Role in Roster Construction
On January 29, Ian Cunnigham was named the first assistant general manager in Chicago Bears team history. Cunningham brings 12 years of experience to Chicago's front office, including the last five in Philadelphia. He started with the Eagles in 2017-18 as the team's director of college scouting before being promoted to assistant director of player personnel in 2019. Last season, Cunningham served as Philadelphia's director of player personnel.
Ryan Poles sees Cunningham in a role that sounds much more like co-GM. He said Cunningham has already "played a huge part" in helping the senior executive settle into his new job.
"Getting pulled in so many different directions, that's very new to me," Poles said. "Having him out in front and working with our staff if I get pulled out of a meeting, he keeps the ball rolling, keeps a list of players that I need to get caught up [on]. All systems are always moving, and we don't get stalled out for all of the things that are going on."
Cunningham also comes with a long history of scouting. As Poles' first official front office hire, the AGM will be tasked with helping to build Chicago's next postseason team. While with the Eagles, Cunningham was directly responsible for Philadelphia's college scouting staff while also doing crossover work on the pro personnel side. He spent time in Indianapolis last week serving as a general scout and right-hand man to Poles at the NFL Combine.
Poles said in January that he was a big admirer of how the Ravens built their team under Ozzie Newsome, with whom Cunningham worked. The new Chicago GM also liked that Cunningham's move to the Eagles gave him a different type of experience on an analytics-focused staff. The Bears front office expects to be more metrics-driven moving forward.
"[The new attention to analytics] allows us to grow where we can pair all of our experiences together," Poles said. "That's going to be powerful. … Every general manager I've had gets pulled in so many different directions. We'll be meeting. Something will pop up. 'Hey, I've got to go talk to the owner.' They pop out and everybody just sits there.
"So part of Ian's job — and we talked about it — [is to] keep the ball rolling. Make the list of guys I missed. I'll catch up on my own., but keep the process going so we're not pausing."
More football minds in the mix mean less meddling by the McCaskeys. Though it may be tough for the NFL's first family to cede personnel interests over to experienced executives, they must realize that doing business the way they have for the last 30 seasons has been a massive failure. A cap guru to take over for Phillips would go a long way in making believers of the team's fanbase. Matt Feinstein, who was hired as director of football operations last week, might be that guy.
Feinstein replaces Joey Laine, who was Ryan Pace's director of football administration. It is widely reported that Laine was Pace's lead contract negotiator and cap manager.
Poles has really grown into his new role, and as he stated, Cunnigham has a lot to do with that. The rookie GM seems more at ease in interviews than when he was hired six weeks ago. Guys like Cunnigham and Feinstein are important because most of the Bears' scouts are holdovers from the previous regime. The scouting/personnel season tends to run from June 1 to May 31 — as do their contracts — so even if Poles wanted to make changes immediately, it would be nearly impossible.
"In terms of the front office, we spent a lot of time meeting," Poles said. "We were behind for about two weeks and we've been able to catch up and go through the free-agent process.
"That took about eight to nine days, and then we flew our college (scouts) in and we watched a ton of tape, and we went through that process and kind of got – what I call – the board pinned down."
Poles came away "pumped" about his group of scouts and their evaluation processes. The most important part of evaluating draft prospects and free agents is the games they played last season. Poles will have to rely on Ryan Pace's staff for at least this year, so it's a net positive that a synergy formed so quickly.
"The meetings were incredible, and before we broke, I told them all how proud I was," Poles said. "Because as a new GM you come in, you're like, 'All right, you're evaluating them, you're evaluating the evaluators.' At the end of it, the thing that stood out to me is there's a group of really, really good people that worked really hard this fall to gather the information.
"Now my style was a little bit different, our meeting structure was different. It was a culture of candor. It's open. We have an order in the way we watch the tape. But after that everyone can speak their mind. If I see something different than you, then I bring it up to the room and we work through it. You can tell me where you saw it differently and we'll go find it. That group effort I think was refreshing to everyone."
While Poles and Cunningham have spent recent weeks reconstructing Chicago's front office, the reality is the biggest changes and most important work is yet to come. Free agency starts next Wednesday, and the draft is about six weeks after that. Internal evaluations are complete, so the focus will be on making the right personnel decisions before the 2022 roster hits the field for the first time at the team's mini-camp in April.