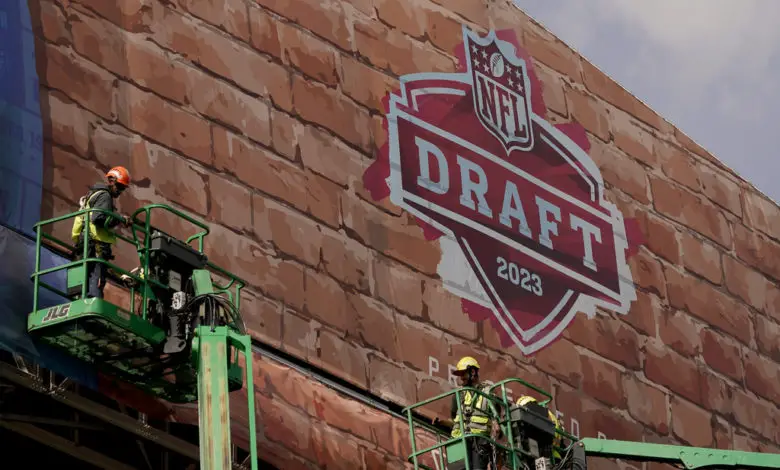 Bears Assistant GM Ian Cunningham Provides Key Draft Night Insight
I've said it many times since the 2022 season ended, but the Bears are going to draft the best player available rather than reaching for need this weekend. The team needs playmakers more than it needs to plug holes, and it's delusional to think otherwise. Why? Because Poles has been consistent in his messaging since his first press conference at Halas Hall.
He intends to build through the draft.
He intends to get as many playmakers in the upper rounds of the draft as possible.
He and his staff have their own draft board, and they will pick whichever player is available at the top of that list or they'll trade down.
It doesn't get much more transparent than that, and Assistant GM Ian Cunningham doubled down on the team's draft mission today.
Ian Cunningham says the Bears have anywhere from '6 to 8' players they would consider taking at No. 9. Those are not players with 'first round grades' on them, per Cunningham, who says the team uses value/role to evaluate where they would take a player.

— Courtney Cronin (@CourtneyRCronin) April 25, 2023
That tweet by Courtney Cronin needs a little bit of deciphering due to character limitations on Twitter, but the gist of it is that the value-to-role ratio takes precedence over the consensus first-round grades. In other words, Chicago has its own grading system, and positional value is a big part of the equation. That shouldn't be confused with positional need, however. Certain positions simply have more in-game worth than others, and most teams understand that.
Most front offices rank position groups in tiers, and though they change a little bit as the game evolves, they remain pretty standard year-to-year. For instance, running back used to be a Tier One position group, but that's no longer the case. The breakdown this year probably looks a lot more like this:
Tier 1: Quarterbacks – There is a reason why Bryce Young, C.J. Stroud, Will Levis, and Anthony Richardson have been discussed more than any other prospects since January. Quarterback is the top group, but the Bears probably aren't going to select a signal-caller in the first round. That means you can take those four players off of Chicago's board.
Tier 2: Pass Rushers and Offensive Tackles – Whether it comes from a 4-3 defensive end or an edge linebacker, rushing the passer is instrumental to sustained success in the NFL. Rarely, if ever, do teams piece together quality regular seasons or win Super Bowls with a lackluster pass rush. The Bears were 3-14 last season and had 20 sacks, the worst in the league.
On the opposite side of the football are the big uglies. If the quarterback is the most important position to a team, then protecting him has to be similarly important. Offensive tackles have tremendous positional value in the draft due to the direct impact they often have on the quarterback position.
Tier 3: Wide Receivers and Defensive Backs – Again, if your quarterback provides the most value to your team, you need someone equally skilled at catching the ball. On the flip side, you need ball-hawking playmakers in the secondary to neutralize your opponents' passing game.
Tier 4: Interior Defensive Linemen – The Bears rank defensive tackles higher than most other teams because of their scheme. Jalen Carter is the best of the group, but the only other first-round option is Calijah Kancey.
Tier 5: Tight Ends – This is a very deep draft for tight ends, and though the Bears have Cole Kmet and Robert Tonyan, they should be able to find high Day 2 value on Day 3. Expect the front office to select a tight end at some point this weekend. That said, it's doubtful Poles will select one in the first round.
Tier 6: Linebackers – Like running backs, a true linebacker was once one of the more sought-after positions in the draft. Specialization has put the best pass rushers on the edge, and those players are often lumped together with all pass rushers. The Bears signed Tremaine Edmunds and T.J. Edwards, and they'll join incumbent starter Jack Sanborn, who signed as a UDFA last year. That means Chicago will not draft a first-round linebacker.
Tier 7: Centers and Guards – A lot of fans, including myself, are hoping the Bears do not select Peter Skoronski Thursday night. He loses a ton of positional value if he has to move from left tackle to left guard.
Tier 8: Running Backs – With countless late-round ball carriers emerging as productive feature backs, taking a running back early is widely considered a waste of a pick, or at least, a supreme luxury. To some, Bijan Robinson is the best player in this draft class but he may have to wait until the lower third of the first round to hear his name called Thursday night. The Eagles, who have few needs, are in a prime position to take B-Rob at No. 10 overall. They have two first-round picks Thursday evening, which makes selecting him a little easier.
However, Cunningham wouldn't rule out taking Robinson with the ninth pick.
Asked for his personal belief on drafting running backs in the top 10 of the draft, Cunningham said "Yeah, I think it's worth it."

— Courtney Cronin (@CourtneyRCronin) April 25, 2023
It sounds more like a bluff to me, all things considered. However, the Bears went against conventional wisdom last year when they selected Kyler Gordon and Jaquan Brisker. Everybody was convinced the Bears would instead use those picks on a wide receiver and offensive tackle.
With all that in mind, what might Chicago's big board look like? The picture gets a little clearer once you eliminate the quarterbacks and tight ends and order prospects by best player available regardless of position.
Using the positional values above, Robinson would fall to the bottom of the board, and if Chicago believes Skoronski will have to play guard, he'll drop too. Carter will fall a little, but Smith, Smith-Njigba, and the four tackles of the apocalypse will get all get a boost.
It's fair to say that most of the players at the top eight of Chicago's board will be available when Poles makes his announcement on Thursday night. That means the second-year executive will be working the phones in an attempt to trade down and acquire an extra second or third-round pick. If their clear No. 1 is available, that's who they'll select. Assuming Chicago does not trade down, you'd have to believe that their top six are Anderson, Wilson, Witherspoon, Gonzalez, Smith, and Johnson. If none are available, and that's entirely possible, especially for Anderson, Poles will trade down for extra value. Robinson, of course, is the wildcard, if only because Cunningham made him so.