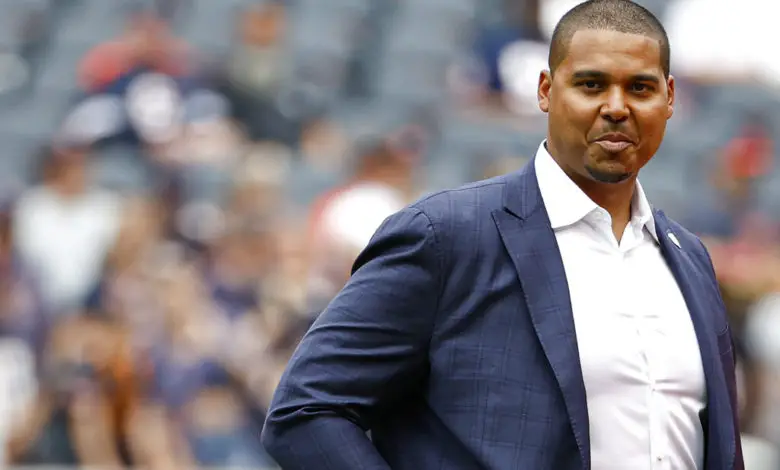 Aaron Rodgers Trade Could Benefit Bears on Draft Night
The Packers and Jets have finally agreed on a trade involving four-time MVP QB Aaron Rodgers. The early indication is that Green Bay smoked New York in the deal, but we don't know that yet. Flags fly forever, and if the Jets win the Super Bowl this year, the juice was well worth the squeeze. If the Packers don't draft well, and they have 11 picks right now, they could be looking at some pretty lean times.
.@AdamSchefter had everyone SHOCKED on NFL Live as he broke the Aaron Rodgers trade on live television 😳🍿 pic.twitter.com/NH0Wmk1ve4

— NFL on ESPN (@ESPNNFL) April 24, 2023
To recap, in exchange for Rodgers and for swapping a fifth-rounder for a sixth-rounder, the Packers moved up two picks in the first round, gained a second-round pick in this year's draft, and get at least a second-round pick next year as well. Jordan Love is the incumbent, but he's not going to outproduce Rodgers. Few if any, will match his eventual first-ballot Hall of Fame career.
Green Bay head coach Matt LeFleur has not publicly expressed a great deal of confidence in Love. Last month, LaFleur had a lukewarm assessment of how he expects Love to perform during his first season as a starting quarterback in the league.
"We all have to kind of temper our expectations for him," LaFleur said. "It's different when you're going into a game versus when you're starting a game. It's going to be a process, but it's going to be exciting for him, and for us.
"Like I said, it's going to be a progression, and hopefully we can surround [Love] with enough people to help him perform at the best of his ability, and then we've got to do a great job as a coaching staff."
If LeFleur is looking for the next Rodgers in this year's draft class, he could try to leverage some of those selections to get Will Levis. Check out the draft profiles for Rodgers and Levis, and remember that two decades ago scouting was not the science that it is today.
Rodgers – He has outstanding arm strength and one of the strongest arms in this year's quarterback class. Has great zip on his deep route and shows the ability to fit the ball into tight spots. Rodgers has terrific fundamentals and mechanics. He works best in a pro-style passing attack. Rodgers also gets set quickly and does a fine job of seeing the entire field. His ability to make progression reads and look off receivers has improved greatly. Has good scrambling quickness within the pocket. He is not, however, a threat to take off and run on a consistent basis. There is no denying his arm strength, accuracy, and game-management skills. 
Levis – One of the most physically gifted quarterbacks in the draft. There are warts in his game, however, that might not be easily corrected. Levis has prototypical size and operates best in a pro-style passing attack. He is also an athletic passer, with the ability to zip off-platform throws with plus velocity from a compact release. Has the arm to beat coverages at all three levels, but inadequate placement and accuracy have resulted in a high number of uncatchable throws. Levis is also a capable runner outside the pocket. However, he lacks consistency when throwing on the move. Levis's talent is well worth an investment but could require a talented quarterback coach and a patient plan to tighten up his mechanics, rebuild his confidence and explore an offensive scheme that best suits him.
If the Packers don't try to jump the pack for Levis, they'll probably be interested in one of Peter Skoronski, Paris Johnson Jr., Broderick Jones, or Darnell Wright. The Bears have the ninth selection, and if Green Bay is enamored with Skoronski, they may have to move ahead of Chicago via trade. Likewise, the Jets need a tackle to protect Rodgers. They could try to jump Green Bay, making the Bears' pick attractive.
There's one problem, however. New York only has five total selections in this year's draft, so they're probably not interested in depleting those assets. The Jets will likewise lose their 2024 first-round pick if Rodgers plays 65% of the team's snaps this year. The Packers get New York's second-round selection if he does not meet that benchmark.
Despite the dearth of picks, the Jets are obviously all-in this year. Otherwise, why trade for a past-his-prime quarterback? Granted, an average Rodgers is better than a third of the quarterbacks in the NFL, but he's not going to play forever. So don't discount any potential aggressiveness by New York on Draft Night. The Jets could also trade down, but they'd be competing with the Bears for teams looking to move up.
Who knew the Jets would be such good friends to the Bears. First, they took Zach Wilson over Justin Fields, allowing Fields to end up in Chicago. And now, because of that decision, they yank Aaron Rodgers out of the NFCN! Thank you, Jets. Thank you. pic.twitter.com/1AmHidCKFr

— Bryan Perez (@BryanPerezNFL) April 24, 2023
You also have to consider Ryan Poles' desire to stick it to the Packers whenever he gets the chance. Last year he lured Luke Getsy, Lucas Patrick, and Equanimeous St. Brown from Green Bay. He also picked off the Packers by acquiring Chase Claypool from the Steelers in November. The second-year GM could force Green Bay to pay dearly to move up Thursday night.
Imagine if Levis and Skoronski are still on the board at No. 9. Would Green Bay GM Brian Gutekunst have the stones to call Poles about a potential trade? Probably not. That means other teams could force Gutekunst to overpay to leapfrog Chicago if that looks like a realistic scenario.
The possibilities are as intriguing as they are endless. This year's draft is expected to be full of surprises. The Texans could pass on a quarterback at No. 2, a possibility we mentioned back in December. Bijan Robinson could be the first running back selected in the top 10 since Ezekiel Elliott in 2016. Jalen Carter, once the consensus top pick in this draft, could fall out of the top 10, and five defensive players could be selected ahead of him.
What if Green Bay swung a trade with the Texans for the second pick Thursday night? They'd have their pick of a successor to Rodgers or the top-rated defensive player, Will Anderson Jr. It probably won't happen, but it shouldn't be shocking either. And if Poles got wind of it, might he warn Houston that he'd trade the No. 9 pick to a team looking for a quarterback? Whatever happens Thursday, Poles remains the central figure in all of it. Should be a lot of fun.