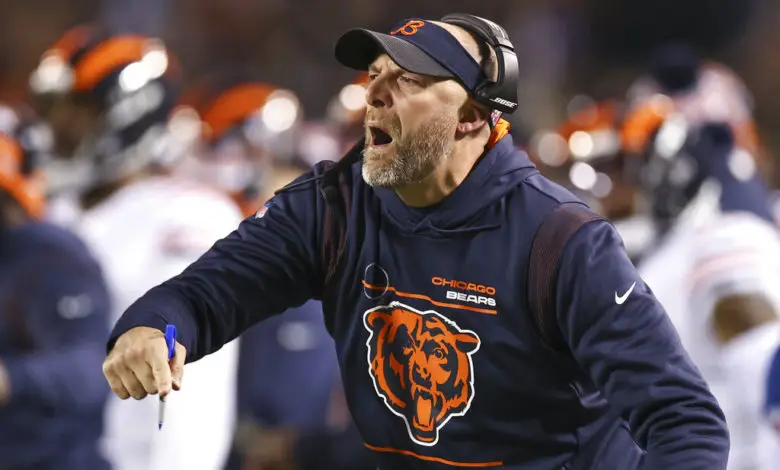 First & Long: Mood Has Changed Drastically Since Firings, Harbaugh Interviews With Vikings, Brady Sort Of Un-Retires
"The greatest trick the devil ever pulled was to convince the world he didn't exist." – Verbal Kint, The Usual Suspects
Does anybody know if Tom Brady has truly retired?
More on that in a bit, but the Bears continue to keep stealing headlines from the National Football League during one of its greatest postseasons ever. Thankfully we'll have the conference championship games to take our minds off of that tornado that has swept through Halas Hall all week. Still, the mood has changed drastically since the Bears fired Matt Nagy and Ryan Pace.
While other teams are still looking for general managers and head coaches, Ryan Poles and Matt Eberflus genuinely have their pick of the best assistants available. Yesterday they poached Luke Getsy from the Packers and they may convince O-Line coach Bill Callahan to leave the Browns and come to Chicago. Poles is a former offensive lineman, so it makes sense he'd want the best for his new team. Callahan might see a way to parlay success with the Bears into a head coaching gig of his own in the future.
In the meantime, Getsy, who was considered for some of the open head coach positions, has become sort of a polarizing subject with Bears Nation. He lacks experience calling plays, but he did help design Green Bay's current offense. Admittedly, it's tough to fail with Aaron Rodgers, and though backup Jordan Love has had little success so far, he's still inexperienced and could be getting a bum rap from Packers' and Bears' fans alike.
I have a different take: Maybe Love just isn't any good, was a first-round reach, and Getsy did the best he could with him. We'll find out soon enough if Green Bay head coach Matt Lafleur is ready to die on that hill, but even he admitted Love needs more seasoning before he can replace Rodgers.
My understanding is that Luke Getsy had a larger role in the Packers' passing schemes than he gets credit for. According to @AdamSchefter, Getsy is the #Bears' new OC.

My column on a bold move by new head coach Matt Eberflus:https://t.co/8oUR2lSWP3

— Adam Hoge (@AdamHoge) January 30, 2022
In the meantime, we should give Getsy the benefit of the doubt. He's well respected, was a hot hire, and had his pick of several opportunities throughout the league. Perhaps he sees something in Justin Fields that convinced him Chicago was the right destination.
Lafleur basically said the same thing.
"I think he's a great communicator," LaFleur said about Getsy. "He's got great command. I think people believe in him. He's genuine. He's a good person. He cares about people. He's got all the qualities that you look for [in a hed coach] when you think about a leader."
Chicago's new OC could parlay a successful season into a head coaching job of his own in 2023, and Bears fans should be hoping that happens. That would mean, of course, that Fields had a breakout season. Who Getsy and Eberflus bring in as the team's passing game coordinator should be telling. The possibility exists that that coach could earn a promotion in 2023 if things go well.
Who might that be? Pep Hamilton is the name most often mentioned but with eight new NFL coaches taking the reigns this year, he'll probably want to hold out for a bigger role elsewhere. The Bears already have an excellent internal option in John DeFilippo. The chances are good, however, that Eberflus and Poles will look outside the organization. One guy to keep an eye on is Parks Frazier, currently the assistant QB coach with the Colts.
Frazier previously served as the team's offensive quality control coach (2020) and assistant to the head coach (2018-19). In 2020, he assisted with an Indianapolis offense that ranked in the top-10 in the league in points per game (28.2, ninth), rushes of 10-plus yards (64, sixth), and first downs per game (22.8, tied-10th). He worked with quarterback Philip Rivers, who completed 369-of-543 passes for 4,169 yards with 24 touchdowns and 11 interceptions for a 97.0 passer rating. Rivers' completion percentage was the second-best mark in single-season franchise history and ranked eighth in the league.
For now, the Bears are quickly putting all the pieces in place so that they can start evaluating talent. Decisions will have to be made on current members of the roster. Chicago also has 24 unrestricted free agents, so Poles will be a busy man in the next few months. The new GM also has to make a decision on whether to keep, trade or cut Khalil Mack, and Roquan Smith will be looking for a big payday soon. The draft is about 90 days away, Chicago has five selections, and needs help at wide receiver, in the defensive backfield, and on the offensive line. Don't expect the Bears news cycle to slow down anytime soon.
Bears News & Notes
There's a Flag…On the Play
Nick Foles would like Poles and Eberflus to know one thing…
Only one Bears quarterback defeated Tom Brady pic.twitter.com/Kwcsdzt1VN

— Kevin Fishbain (@kfishbain) January 29, 2022
Brady Street
Brady has 15 million reasons to delay his retirement announcement. According to Spotrac, the one-year extension that the quarterback signed last March with the  Buccaneers included a $20 million signing bonus, with $15 million to be paid on Friday. So though he probably will retire, it's not officially official, if that makes sense.
He could choose to play another year, too. Nobody knows except the GOAT himself.
Don Yee, the seven-time Super Bowl champion's agent, may have alluded to the situation in his comments about Brady's reported retirement on Saturday.
"He knows the realities of the football business and planning calendar as well as anybody, so that should be soon," Yee said.
Tom Brady called the Bucs late this afternoon to inform them he's not even close to making a decision about retirement, according to a source.

— Jeff Howe (@jeffphowe) January 29, 2022
Northern Exposure
Jim Harbaugh is under consideration to become the next coach of the Vikings. The current Michigan coach and former Bears quarterback had an exploratory conversation about the team's head coaching vacancy Saturday.
Though there has been much talk of Rodgers requesting a trade after 17 seasons with the Packers, the potential NFL MVP could be plotting a path that keeps him in Green Bay for at least another season.
The Lions' offense is trending upward and could be much better next season.
NFL News & Notes
The last time the Bengals played in a championship game (1989), then-commissioner Pete Rozelle changed the rules regarding quick snaps outside of the two-minute warning one hour and 50 minutes ahead of kickoff. That nullified the no-huddle offense Cincinnati ran all season long, and in the playoffs leading up to the AFC championship game.
Defensive lineman Damion Square has a chance to make NFL history by playing for two different teams in the same postseason. Square played for the Raiders in their loss to the Bengals in the wild-card round. He was signed to Cincinnati's practice squad afterward and has been elevated to the active roster for the AFC Championship Game.
Former Los Angeles running back Eric Dickerson is taking advantage of the Rams NFC championship berth to stay relevant.
One NFL star is not buying any of the Brady retirement talks.
Even SNL joined in on the debate over Brady's alleged retirement, airing a skit that included Peyton Manning.
The NFL has fined Tyreek Hill for a taunting infraction that went uncalled in last week's game against the Bills.
The Packers are promoting offensive line coach Adam Stanovich to offensive coordinator.
Three Yards and a Cloud of Dust
The NFL is down to the final three games of its season, with conference championships and a Super Bowl berth on the line today for the Rams, 49ers, Chiefs, and Bengals.
In eight career home playoff games, Kansas City QB Patrick Mahomes has thrown 23 touchdown passes and only 1 interception.
The Bengals have covered the spread in their last six games (dating back to Week 15), four of them as underdogs. In addition to covering, they won five of the games outright. Cincinnati is listed as a 7-point underdog today.
From the Podium
"Luke Getsy… he's about a month younger than me, so that's pretty awesome for him to be getting an opportunity. But he's been around the game for a long time, the QB room, the receiver room, then he went down to college and was an offensive coordinator in the SEC, and then came back. He's been in our room for three years now, and he's a fantastic coach. He's a really good teacher of the game. I'm excited for him." – Rodgers