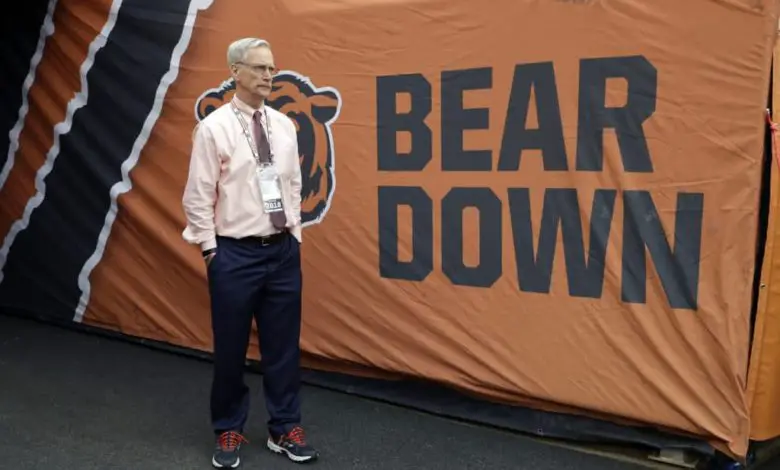 First & Long: Bears Head Coach Opening Might Be Tough Sell, Fields Placed on COVID-19 List, Rodgers Favored to Win MVP
Leave it to the son of Bears legend Walter Payton to add a new, if not unexpected, twist to Chicago's upcoming reckoning. According to Jarrett Payton, the search for a replacement for Matt Nagy could be quite difficult if the McCaskeys retain Ryan Pace at GM as expected.
I talked to a former #NFL head coach last night & he said the #Bears will have no chance of hiring any big named HC if Ryan Pace is the GM or President of football ops. cc @WaddleandSilvy

— Jarrett Payton (@paytonsun) January 6, 2022
Of course, the possibility exists that Nagy may not be dismissed after Sunday's game, contrary to a report by Boomer Esiason earlier this week. Assuming Nagy will not be asked to return next season, the younger Payton makes a valid point regarding the way things are generally run at Halas Hall. Most organizations would jettison a GM/head coach duo with the track records of Pace and Nagy, but the McCaskeys reportedly love the executive charged with running Chicago's football operations since 2015, despite a number of missteps during his tenure.
Pace has hired two head coaches, John Fox and Nagy, who have underperformed.
Justin Fields is the executive's second franchise QB after Mitchell Trubisky failed to reach the elite level he was saddled with when drafted in 2017.
To acquire the two signal-callers, Pace has surrendered eight draft picks, including Chicago's first-round picks in 2017, '21, and '22.
Nagy was hired based on his alleged ability to develop quarterbacks, something he failed with Trubisky. The jury is still out on Fields, but bringing in a new head coach means waylaying a full year of growth for the rookie.
More alarmingly, Nagy did not properly prepare Fields to take over as starter as soon as he did. Andy Dalton took the bulk of the snaps in camp, and Pace should have directed the coaching staff to better prepare the rookie.
Pace has paid out $83 million in guaranteed money to Mike Glennon, Chase Daniel, Nick Foles, and Dalton as insurance policies for Trubisky and Fields.
The Bears are 48-64 (.429) since Pace was hired with one playoff appearance. The Packers are 72-39-1 (.647) in those seven seasons.
The biggest factor for potential head coaches is that unless the Bears extend Pace's contract, he will be entering 2022-23 as a lame-duck executive. If the GM is let go after next season, a new GM will likely want assurances that he can hire his own coaching staff.
If we are to believe the rumors that the Bears will only let Nagy go this year, one would assume that Pace would garner an extension commensurate with whatever contract is given to the next head coach. That will probably upset a lot of Bears fans, but the McCaskeys have always been a pretty loyal family. You need to look no further than Ted Phillips, whose performance rating would have resulted in dismissal years ago by almost every NFL franchise.
The idea that having a strong defense, running game, and a potential franchise quarterback already in place may not be enough to sway the better head coaches to come to Chicago. If Pace stays, the Bears may try to recruit Saints head coach Sean Payton. He has one year and $9 million left on his deal, though I'm sure Chicago and New Orleans could work something out if Payton wanted to join the Bears. It would probably take five-year deals for the coach and GM to get that done.
Bears News & Notes
There's a Flag…On the Play
I can't tell if Aaron Rodgers is that cool, middle-aged buck-the-establishment guy or just an unrelenting boor.
ICYMI: Aaron Rodgers on future: "Grass is greener where you water it"https://t.co/zKA5y4lXmt pic.twitter.com/YNb6m4zx9X

— Around The NFL (@AroundTheNFL) January 7, 2022
Northern Exposure
The Lions are just 2.5 underdogs for their season-ending home game against the Packers. That's probably because it's a meaningless game and head coach Matt LaFleur might rest some of his starters. Still, I'm tempted to bet the house on Green Bay.
Vikings fans are pretty much finished with head coach Mike Zimmer and GM Rick Speilman and would like to see the organization clean house immediately after Sunday's game against the Bears.
Oddsmakers think Rodgers is a near-lock to win the MVP award this year.
NFL News & Notes
The Al Davis Torch will be lit by members of the John Madden family before Sunday's Raiders game in Las Vegas.
Former NFL running back Clinton Portis was sentenced Thursday to six months in federal prison and six months of home detention after pleading guilty in September to conspiracy to commit health care fraud, part of a scheme involving more than a dozen ex-NFL players.
Paul Sullivan of the Chicago Tribune wrote that Hub Arkush should recuse himself from MVP voting in the wake of comments Arkush made about Rodgers.
The Falcons and WR Calvin Ridley may part ways after this season.
The Buccaneers have officially parted ways with WR Antonio Brown.
Three Yards and a Cloud of Dust
Buccaneers LB Devin White has the most targets against him this season (73) without allowing a TD.
The Saints set an NFL record with 58 different starters used this season because of injuries, COVID-19 protocols, and player suspensions.
The Giants are the only team in the NFL to not have a record above .500 over the past five seasons.
Two-Point Conversion
If you follow me over at Cubs Insider you're familiar with the Walk-Up Song of the Day, a staple of my column there for nearly five years running. I'm not going to copy that here, but if you are a Spotify user and a fan of blues and the various modern-day offshoots of Western Swing, I've got a great playlist for your daily commute. Happy New Year from all of us here at Bears Insider.
In Honor of Coach
Boom! pic.twitter.com/sBxabRksbl

— Michael Canter of Cubs Insider ✨ (@MEdwardCanter) January 6, 2022
From the Podium
"Overcoming a terrible season is pretty easy compared to being 17, lying in a hospital bed and thinking you might not make it. Football's football. Life is a little more important to me." – Quinn
"I don't know who may be here next year, so I'm just getting that one last game with those guys in and just not taking any of it for granted. I could just sit out the last game and just get ready for next season, but every opportunity I get to play the game I love, I'm going to go and do it." – Fields