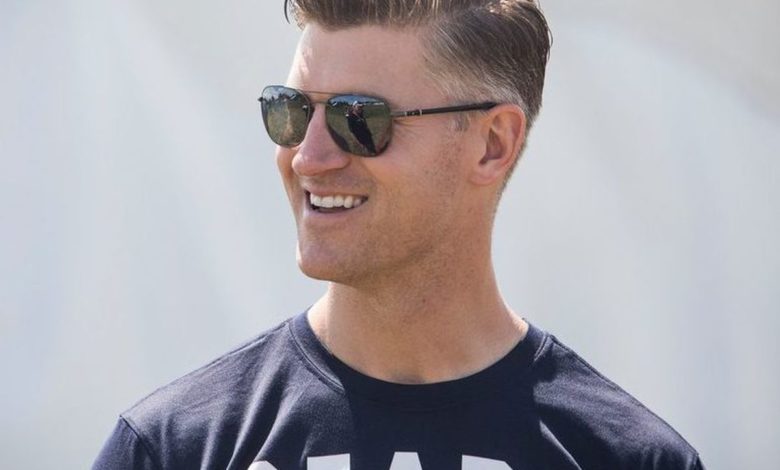 First & Long: Nagy Refutes Rumors, Pace May Get Stay of Execution, T.O. Wants Some P.T. With T.B.
If you've come to bury Matt Nagy, he's not looking for praise, but he would like you to pump the brakes just a bit, at least for now. After Boomer Esiason reported that Nagy would be fired after Sunday's game against the Vikings, the beleaguered Bears' head coach stood his ground in this morning's presser.
Matt Nagy says he has not been told Sunday's game will be his last as #Bears head coach.

"I'm a pretty good source to ask," he says.

— Adam Hoge (@AdamHoge) January 5, 2022
At best, Nagy turned his imminent demise in Chicago into a dirty little not-so-secret as he forced reporters to talk about his team and the upcoming final game of the season, and good for him. The head coach makes a lot of mistakes, but you have to give him credit for putting his team first no matter the situation. Halas Hall can become a circus at times, and kudos to Nagy for not allowing anyone to make him its sideshow attraction. His deflection skills are preeminent among the game's 31 other head coaches.
If anything, the Bears would like to give Nagy a parting gift in the form of a three-game winning streak, something they can do with a win in Minnesota. Nagy will enter the game with a career record of 34-30, which isn't bad until you realize he's been 22-26 since going 12-4 in his rookie season. A missed game-winning field goal by Cody Parkey painfully referred to as a "double doink" kept the Bears from advancing to the divisional playoff.  The loss to the Eagles and the disparaging term actually have their own Wikipedia page.
The bigger reveal by Nagy was that Justin Fields will start Sunday's game after missing the last two. Bears fans will hold their collective breaths that the rookie QB won't get hurt, and one would expect the two to pull out all the stops to ensure the Bears beat the Vikings. Things got a little chippy when the two teams met a few weeks ago, the game in which Fields hurt his ankle.
If you're looking for progress, keep an eye on Fields' secondary reads and his ability to limit turnovers. Success in either or both of those areas will likely mean a victory for Chicago. The dual-threat QB will also have to become a better pocket passer if he intends to get to an elite level after this season.
Bears News & Notes
Though Nagy will likely be dismissed Monday morning or soon thereafter, Brad Biggs of the Chicago Tribune wrote that GM Ryan Pace is likely to survive for at least one more season. That jibes with Nagy's quote, as it's unlikely the McCaskeys would make a commitment to firing Nagy until they have decided whether or not to retain Pace.
It could be that George McCaskey is simply playing his cards close to the vest with regard to Pace, though that would be a little tough considering the number of leaks that come from Chicago's front office.
In announcing that Fields will start Sunday's season finale, Nagy confirmed that Fields has done everything the team has asked to be fully prepared for Minnesota.
Defensive end Robert Quinn provided a refreshing take on dealing with the media.
Quinn and Akiem Hicks did not practice today because of injuries, though both are still expected to play this weekend.
Now that Quinn holds the single-season team record for sacks, he'll try to break his personal record on Sunday. The defensive tackle had 19 sacks with the Rams in 2013.
The Chicago chapter of the Pro Football Writers Association has renamed its annual Good Guy Award in honor of longtime ESPN Bears reporter Jeff Dickerson, who died last week of colon cancer at age 43.
There's a Flag… On the Play
Hub Arkush started a firestorm by saying in a radio interview on Tuesday that he wouldn't vote for Aaron Rodgers for reasons unrelated to his on-field performance.
Of course, Rodgers had a response.
"I think he's a bum. I think he's an absolute bum," the MVP candidate said. "He doesn't know me. I don't know who he is. No one knew who he was, probably, until yesterday's comments. And I listened to the comments. But to say he had his mind made up in the summertime, in the offseason that I had zero chance of winning MVP — in my opinion, that should exclude [him from] future votes.
Arkush admitted today that he "made a big mistake" in revealing his voting intentions.
The NFL has not responded to comments made by Arkush or Rodgers.
Northern Exposure
Vikings WR Justin Jefferson needs 124 receiving yards to set the single-season team record, which currently belongs to Randy Moss. The Bears have the NFL's No. 3 pass defense, allowing just 189 yards per game, and held Jefferson to 47 yards two weeks ago.
The Lions have the NFL's most promising rebuild.
The January 6 attack on the Capitol was allegedly called "The Green Bay Sweep."
NFL News & Notes
The Washington Football Team will be announcing their new team name and logo on February 2. It couldn't be the Groundhogs, could it?
For a few hours today, the website www.washingtonadmirals.com actually redirected to the football team's website, though now it forwards to The Giving Kitchen. Was it a programming error, hack, or accidental leak? Inquiring minds want to know.
The league has issued a memo indicating that teams may be docked draft picks and face major fines if it's determined that their representatives act unprofessionally in interviews with draft prospects. The NFL is also eliminating the Wonderlic Test.
The Giants announced on Tuesday that they have released OT Isaiah Wilson for sleeping during a meeting.
Hall of Fame wide receiver Terrell Owens, who is 48 years old, wants to come out of retirement to help the Buccaneers win their second straight Super Bowl. He and Tom Brady would be a combined 92 years of age if that happens.
A game where every single play is a quarterback kneel might not be fun to watch but it could secure a playoff berth for the Chargers and help them avoid any injuries.
Browns quarterback Baker Mayfield was ruled out for Sunday's season finale as the team is eliminated from playoff contention. He was placed on the injured reserve list and will undergo surgery on his injured left shoulder.
Three Yards and a Cloud of Dust
Ben Roethlisberger has the most 500-yard passing games in NFL history with four. Roethlisberger is also the only QB in NFL history to have consecutive six-touchdown games.
In 15 seasons as a head coach of the Steelers, Mike Tomlin has never had a losing record.
Quinn has 11.5 sacks in his last seven games, which would have led the Bears in 13 of the last 14 seasons. Khalil Mack registered 12.5 in 2016.
Hail Mary
The Nos. 6 and 7 seeds in the AFC are still in play heading into the final week of the season. The Colts and Chargers have the upper hand but the Raiders have a legitimate shot at unseating one of them and the Steelers are still hanging by a thread.
In the NFC, the 49ers and Saints are fighting for what will be either the No. 6 or 7 seed, depending on how each does Sunday. If the 49ers beat the Rams, they finish 10-7 and get the No. 6 seed. If the 49ers lose and the Saints beat the Falcons, New Orleans squeezes into the final slot with the Eagles bumping up to No. 6.
Got that?
He Could Go All the Way
Devin Hester is on the 2022 Hall of Fame ballot and has a good chance of being inducted as a first-ballot candidate.
RETWEET if you believe that Devin Hester should be enshrined in the Pro Football Hall of Fame. pic.twitter.com/VhqbaXamJa

— GO 'CANES! (@83_87_89_91_01) December 31, 2021
From the Podium
"A man's got two things: His words and his nuts. And you don't want to lose either." – Quinn
"I'm very honest and open with you all. That has not been told to me. There's gonna be reports that come out this time of the season. Anything that is said or reported by anybody is just that. I haven't been told anything. I'm a pretty good source to ask, so I would say you're doing a pretty good job asking me." – Nagy