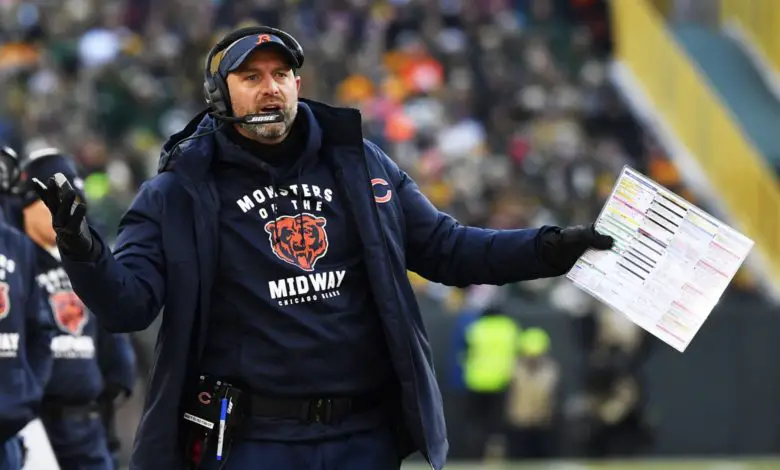 Matt Nagy Reportedly Dismissed As Jim Harbaugh Slides Into Head Coaching Mix
Though it's not much of a shocker, Matt Nagy has been reportedly told he will be dismissed after Sunday's game at Minnesota, and it could be that Jim Harbaugh has a shot at coaching the Bears next.
Whenever the Bears have a head coach opening, inevitably ex-Bears will work their way into the mix. It's probably due to the success of Mike Ditka in the 1980s, but for some reason, fans of the NFL's charter franchise love those glory days players-turned coaches. In the past, Chicago has had dalliances with Mike Singletary and Jeff Fisher. This year, Leslie Frazier has popped up on everyone's radar. So has Trace Armstrong, though he has been mentioned as a potential president of football operations or in some similar capacity.
You can add Harbaugh to the mix, apparently.
Before getting into that, it seems almost absurd that everybody is talking about who will replace Nagy when the entire front office needs an overhaul. It would behoove the McCaskeys to get their house in order before selecting a head coach, but we're talking about a family who seldom does things to best position their franchise for the future. Selecting a coach should be the decision of whoever replaces GM Ryan Pace, and his replacement should be chosen by Ted Phillip's successor. The problem is, nobody knows who's leaving or staying, and the McCaskey family is probably just as clueless as the rest of us.
We are certain Nagy is toast after Sunday, however. Credit Boomer Esiason, who broke the news on WFAN Radio,  with the scoop.
Boomer has been told that Matt Nagy has been told that he will not return as Head Coach of the Chicago Bears

— Morning Show with Boomer & Gio (@WFANmornings) January 5, 2022
Getting back to Harbaugh, The Athletic's Bruce Feldman wrote that the possibility of the Michigan coach leaving Ann Arbor for a return to the NFL is "real (subscriber content)."  Naturally, the former Bears QB who once played under Ditka was immediately linked to the potential opening in Chicago. Feldman indicated a position with the Raiders is Harbaugh's most likely destination, though not before adding "the Bears could be an option."
That may or may not excite Chicago's fan base, and Harbaugh did have great success with the 49ers, going 44-19 over four seasons, including an NFC championship in 2012. He doesn't seem to be the right fit for the Bears, though that's just a gut feeling on my part. Personally, I'd like to see the McCaskeys make a bold move and build a real front office with an experienced GM before deciding which head coach they intend to set up to fail.
Then again, Harbaugh has stated previously that coaching the Bears would be a dream come true. That's got to be music to Virginia McCaskey's ears, and might be enough for Ms. McCaskey to issue a directive to hire Harbaugh. But would it be fair to hire a GM after a head coach is in place? Somebody has to have a clue about the order of operations at Halas Hall, but that may just be wishful thinking.
After Sunday's 29-3 win over the Giants, Nagy has a chance to leave Chicago with a 35-30 record and a three-game winning streak if his troops can beat the Vikings in Sunday's meaningless game. Nagy also has the support of many of his players, despite earlier rumors he had lost the locker room. It would seem odd if the Bears fired Nagy and retained Pace, but again, we are talking about a befuddled first family calling the shots.
With Nagy out of the picture, we should find out about Pace's future after Sunday's game. I do believe he will be dismissed, but again, it is just a gut feeling. If that's the case, one would hope the team gets its front office in order before making any decision on who should coach next year's team.