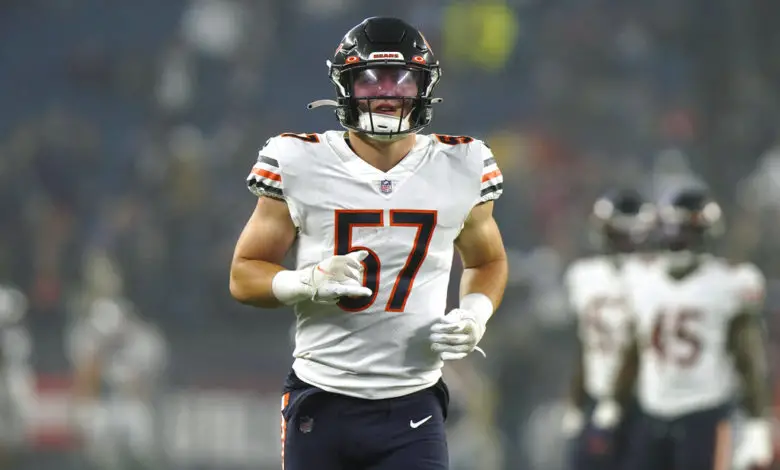 Jack Sanborn Ready For His 'Holy Sh*t' Moment
Jack Sanborn has not been officially anointed as the guy who will replace Roquan Smith, but the rookie linebacker will be ready if/when his number is called. He should see plenty of action on Sunday against the Dolphins. Smith will play for the Ravens this week. The Bears traded the All-Pro linebacker to Baltimore on Tuesday.
It would be foolish not to expect a drop in production among the linebackers. Smith leads the team in tackles. He also has two interceptions and a forced fumble. Sanborn has mostly played on punt and kickoff coverage teams thus far, although he did see 13 snaps on defense last week against the Cowboys. The undrafted free agent out of Wisconsin by way of Lake Zurich is ready to ball. Sunday should have all the feels of a homecoming game for the rookie. He won't outperform Smith, but it's not going to be due to lack of want-to.
"Right off the bat, it's a holy shit moment," Sanborn said. "Jeez, Roquan's gone… He was such a big part of this place. He was a great player, but also a great guy. [It was] a lot of fun to be around him the last few months. That's the first reaction you have. Then it's, OK, where do we go from here? How do we improve? How do we keep going?"
Bears defensive coordinator Alan Williams said Sanborn will see an increased workload at linebacker, and he's in consideration for the vacant WILL role vacated by Smith. The Bears could also move Nicholas Morrow to the SAM, rotate Joe Thomas and Sterling Weatherford on the weak side, and then put Sanborn at the MIKE. The rookie is a traditional middle linebacker with outstanding instincts and a high football IQ. He's also a natural leader on the field.
Sanborn established himself as a fan favorite during Chicago's first preseason tilt, where he was all over the field on defense and special teams. He finished with an interception and a fumble recovery. The two takeaways fueled the Bears' 19-14 win over the Chiefs. Head coach Matt Ebrflus stresses turnovers as part of his HITS philosophy. That likely means Sanborn has been on the coach's radar since day one.
Reminder

Jack Sanborn went undrafted.#Badgers pic.twitter.com/tJ0wbYzhLn

— Evan Flood (@Evan_Flood) August 13, 2022
The middle linebacker is the captain of most NFL defenses. That said, Sanborn is ready for whatever Eberflus and Williams throw at him. He is talented and intelligent enough to assume that responsibility. Sanborn also knows his limitations. Morrow and Eddie Jackson are the logical leadership successors of Smith and Robert Quinn. Jackson is Chicago's captain. He earned that honor in the wake of the Quinn trade.
"I believe I'm a smart player and I understand what the goal of the defense is — where I'm supposed to be, doing my job," Sanborn said. "Once that's good, try and do some more. I'm not going to do anything crazy. I'm going to try and be myself."
Chicago's goal will be to limit touchdowns on Sunday. The unit gave Dallas seven of them a week ago, and that was with Smith in the lineup. The Bears' newly-minted high-efficiency offense kept the game reasonably close. That said, Chicago can't beat anybody if they let opposing offenses score at will. Sanborn doesn't play at Smith's level, and he knows that.
You've got to come in every day and be a professional," Sanborn said. "That's what it's about. It's different than college, and it's different than high school. There's more to it. "There [are] more expectations. You're doing it for not only yourself, but a lot more people — everyone that works here, and [you're] doing it for Chicago.
"So a lot more goes into it. It's definitely bigger. But it's still football."
Sanborn will quickly become a fan favorite, especially if he plays as well as he handles his interviews. Chicago loves its linebackers and always has. Dick Butkus, Doug Buffone, Mike Singletary, Otis Wilson, Wilber Marshall, Lance Briggs, and Brian Urlacher are still held in reverence among the team's fanbase. Smith also belongs in that group, too. Time will tell if Sanborn joins them. Whatever happens, the young man is certainly ready for his 'holy shit' moment.