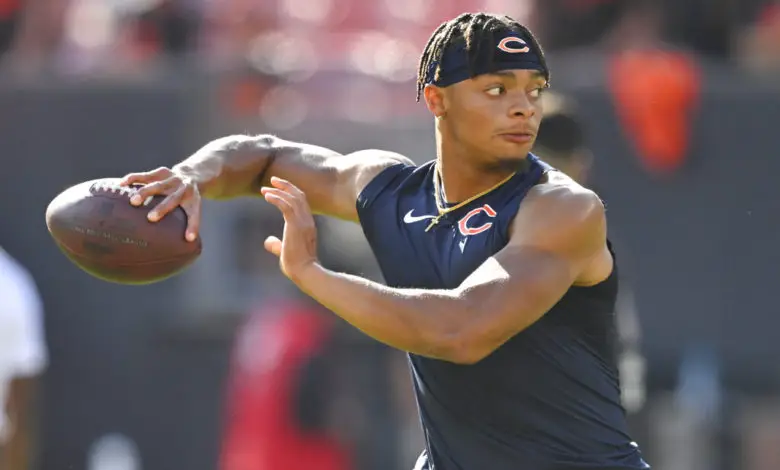 First & Long: Fields Garners National Praise, Bears Claim Six on Waivers, Saints and Eagles Complete Big Trade
This week leaves a lot to unpack if you're a Bears fan. Chicago's roster is nearly set, and for a team that's predicted to win between five and seven games, several players have been on the receiving end of national accolades. Justin Fields has been the obvious target of praise in NFL circles.
"You know what he [Fields] has that I just picked up on?" Keyshawn Johnson rhetorically asked on the Keyshawn, JWill, and Max Show. "Does he got a little Patrick Mahomes in him? I'm just talking about his ability to move around and throw the football."
Hall of fame WR Keyshawn Johnson sees a little Patrick Mahomes in Justin Fields 👀.

The biggest difference I see from Fields this year is when he scrambles his eyes are downfield. You can make a TON of big plays that way. #DaBears #Bears pic.twitter.com/ilJSLW99bO

— Clay Harbor (@clayharbs82) August 29, 2022
While the physical attributes are certainly there, the real similarity could lie in the second-year progression of both quarterbacks. Mahomes started one game in 2017 as a rookie with the Chiefs. The four-time Pro Bowler won the MVP Award in 2018 and was chosen as the AP Offensive Player of the Year. He also led Kansas City to the AFC Championship Game that season by throwing for 5,097 yards with 50 scores.
You're saying "Canter, pump the brakes," and you should.
Fields is probably not going to win this year's MVP Award, nor is he going to match Mahomes statistically. Even if Fields was that good, he simply doesn't have the weapons that the Chiefs had that year. But, the Bears' second-year quarterback should be remarkably better in 2022. Getsy designed the new offense to attack all three defensive zones on any given snap. His offensive line is better, and he also has a more diversified group of wide receivers. Additionally, Fields has offensive coordinator Luke Getsy and QB coach Andrew Janocko. When Ryan Poles said he was going to give his quarterback the tools he needs to succeed, those two coaches were precisely what the GM was talking about.
Fields' talent has never been in question. He came out of Ohio State with a big arm. He was accurate, managed the pocket well, and possessed elite athleticism. Both Bill Lazor (last year's OC) and Getsy envisioned Fields as a mobile rocket launcher. Getsy is intent on giving the quarterback easy throws that will lead to yard-after-catch opportunities. The TD pass to Cole Kmet on Saturday night is a great example of what happens when the offense works as designed.
brb watching this on repeat all night 😍

📺: #CHIvsCLE on FOX32 pic.twitter.com/AaUR2qn3D1

— Chicago Bears (@ChicagoBears) August 28, 2022
Head coach Matt Eberflus praised Fields' deep ball accuracy. That's an added bonus to the more strategic and deliberately designed attack that Getsy is deploying.
The second-year quarterback worked all offseason to improve his footwork, release the ball more quickly, reduce turnovers, and develop better pocket presence. Fields proved he put in the required work by dismantling the Browns on Saturday night. It's also proof of potential, though the impeccable stat line is meaningless. The next step is translating that into regular season games against first-string defenses.
Bruce Arians mentioned Fields when he was asked to name the next group of superstar quarterbacks.
"Mahomes [is] already… at that [Peyton Manning-like] level, as well as Justin Herbert, Josh Allen, [and] Fields."
Fields has yet to receive that type of praise as a pro that is that significant in nature. I know what Johnson said, but he's a celebrity and sometimes a studio analyst. Arians has scouted players previously. He's also a former head coach and talent evaluator. Oh yeah, he also beat the Chiefs in Super Bowl LV.
Fields will be a much-improved quarterback this season. Whether he takes his game to an elite level – as Arians implied- is entirely up to him.
Bears News & Notes
There's a Flag…On the Play
Ouch.
Raiders: "We'll trade you Alex Leatherwood"

Raiders: "No."

Raiders: "Damn" https://t.co/6c1NqHo3Rq

— Alex Barth (@RealAlexBarth) August 30, 2022
Northern Exposure
Green Bay: Matt LaFleur believes backup QB Jordan Love is "ready to win a game" if he has to fill in for Aaron Rodgers.
Minnesota: The Vikings waived rookie QB Kellen Mond, and he was quickly picked up by the Browns. His fate was sealed last week when the Vikings acquired quarterback Nick Mullens in a trade with the Raiders.
Detroit: The fact that the Lions are getting "Super Bowl attention" is everything that is wrong with HBO's NFL documentary series Hard Knocks. You're looking at a five-win Lions team in 2022, trust me. Since the series rebooted in 2007, the 15 teams featured in the preseason drama have gone 123-112-6 against the spread and 119-121-1 straight up. Eight of them went over their win total, and six made the playoffs.
NFL News & Notes
In an absolute cut-down day shocker, the Saints traded versatile safety Chauncey Gardner-Johnson and a seventh-round selection in the 2025 NFL Draft to the Eagles in exchange for a fifth-round selection in 2023, and the worse of Philadelphia's two sixth-round picks in 2024.
Mond gives the Browns a third quarterback on their active roster behind starter Jacoby Brissett and backup Joshua Dobbs. Deshaun Watson will serve an 11-game suspension for violating the NFL's personal conduct policy.
ESPN has a continually updating roster tracker for all 32 NFL teams.
Asked Tuesday to reveal the winner of Pittsburgh's summer competition between Mitchell Trubisky and Kenny Pickett, head coach Mike Tomlin said he'll announce his starter at his leisure. Trubisky has the edge over Pickett.
Defensive end Steve White, who spent seven seasons in the NFL with the Buccaneers and Jets, died Tuesday of lymphocytic leukemia. He was 48.
Three Yards and a Cloud of Dust
The Bears have never had a quarterback throw for 4,000 yards or more in one season.
Fourteen players have had their numbers retired by the Bears, including running backs Bronko Nagurski, George McAfee, Willie Galimore, Walter Payton, and Brian Piccolo. The only quarterback whose number has been retired by the NFL's oldest franchise is Sid Luckman.
The Bears would have finished their inaugural professional season in 1920 undefeated except for a 7-6 loss to the Cardinals in Week 12.
From the Podium
"We feel good [about the receivers group]. Obviously, it doesn't look good out there. We had some guys that were out. We only had three or four guys out there today [at practice], but we feel good where they are in terms of coming back and being available to us shortly. We're in a good spot." – Eberflus
"When guys make plays – when they make plays in games and they're instinctual – you always take a look at those guys. [Sanbporn] is good in the open field and [at] making open-field tackles in special teams. So we're excited about where he is in his development, too. [Linebackers coach] Dave Borgonzi has done a great job getting him into position and letting him flourish in that spot." – Eberflus
Running Out the Clock
Eight days until the start of the 2022-23 NFL season!