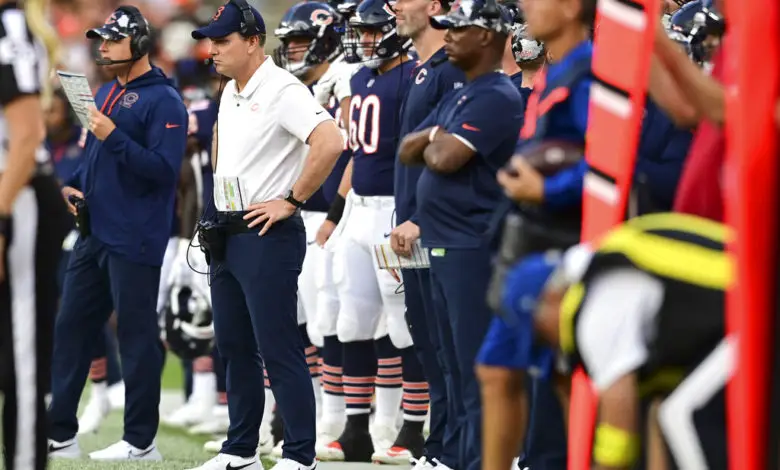 Chicago Bears Announce 53-Man Roster
Ryan Poles and Matt Eberflus had to cut their roster down to 53 players by 3:00 PM CT this afternoon, and there weren't many surprises. Thomas Graham Jr. and Michael Schofield were the biggest names to be cut, though neither announcement generated seismic waves among fans and analysts. The Bears announced their 53-man roster after the league-imposed deadline.
Undrafted free agents Kevin Shaa, Jon Alexander, and Corey Dublin were asked to turn in their playbooks yesterday as the Bears dropped from 79 to 76 players. Today's cuts were announced in small waves, and that's how I'll break them down.
Quarterback Nathan Peterman was the first cut of the day, but Chicago intends to sign him to their practice. That makes a whole lot of sense. Peterman joined the Bears in May specifically to follow Justin Fields and Trevor Siemian on the depth chart. The journeymen quarterback has been in the NFL since 2017 and has a working knowledge of Chicago's new offense. If Siemian or Fields gets injured, Peterman will be a passable stopgap.
The Bears released De'Montre Tuggle next. Frankly, the Bears are set at halfback with David Montgomery, Khalil Herbert, and Trestan Ebner. Additionally, Luke Getsy is carrying a fullback as part of Chicago's offense this year. The addition of Khari Blasingame meant the Bears would carry one less running back. Tuggle had 21 carries for 71 yards in three preseason games but lost a fumble in Saturday's win over the Browns.
TE Chase Allen took the axe next, though he's another practice squad candidate. The Bears will open the season with Cole Kmet as the starter, and Ryan Griffin gives them an experienced TE2. Allen caught two passes for six yards in exhibition play. James O'Shaughnessy was placed on the non-football injury list.
The Bears released DeMarquis Gates next. Gates joined the Bears after stints in the AAF, XFL, the Spring League, the CFL, and the USFL. He played well, but he was never more than camp depth. Gates had 11 tackles, including three for a loss, and forced a fumble. He'll have a chance to catch on with another team.
A pair of defensive linemen hit the waiver wire next. The Bears announced Mario Edwards Jr. and Trevon Coley as cuts. Edwards is an eight-year veteran who played two seasons in Chicago. Coley is a four-year vet and had a superb camp. He signed a little over three weeks ago and had three sacks, six quarterback hits, and two passes defended. He's likely to find work elsewhere. Poles also placed Sam Kamara and Charles Snowden on waivers.
Chicago also announced the cuts of Schofield and fellow offensive lineman Lachavious Simmons. The Bears signed Schofield to be a starter. Then Eberflus and Getsy moved Teven Jenkins to right guard, and he immediately stood out as the team's best offensive lineman. The seven-year veteran became expendable once rookie Ja'Tyre Carter started working with the second unit. The Bears are high on Carter and they're still building for years beyond this season. Simmons could be a practice squad candidate, though that seems unlikely. Without any fanfare, Dieter Eiselen and Shon Coleman got their walking papers, too.
Chicago has a very strong secondary, and that made roster candidates Greg Stroman Jr. and Davontae Harris fodder for the cut list. Stroman had a big interception against the Browns and has 20 NFL games under his belt. Harris had a decent camp, too, but the opportunities just didn't exist. The Bears also released AJ Thomas. Their exits allowed Jaylon Jones and Lamar Jackson to make the final roster, at least for now.
The Bears announced they were sticking with Tajae Sharpe and Dante Pettis when they waived wide receivers Isaiah Coulter and Nsimba Webster. The duo played in all three preseason games. Coulter had eight catches for 112 yards in preseason play, while Webster — also a punt and kick returner — had six catches for 46 yards. The Bears asked Chris Finke to turn in his playbook, too. It looks like Pettis will handle punt returning duties. Ebner and fellow rookie Velus Jones Jr. will handle kickoffs.
The final cuts were the toughest. In addition to Graham Jr., the Bears waived defensive tackle Micah-Dew Treadway and running back Darrynton Evans. They also placed Tavon Young on injured reserve.
The Bears submitted their final 53-man roster as follows. Poles retained all of his draft choices as well as a couple of undrafted free agents.
Quarterbacks (2): Fields and Siemian.
Wide Receivers (7): Darnell Mooney, Byron Pringle, Equanimeous St. Brown, Harry, Jones Jr., Pettis, and Sharpe.
Tight Ends (2): Kmet and Griffin.
Running Backs (3): Montgomery, Herbert, and Ebner.
Fullbacks (2): Blasingame and Jake Tonges.
Offensive Linemen (9): Lucas Patrick, Cody Whitehair, Braxton Jones, Sam Mustipher, Larry Borom, Riley Reiff, Zachary Thomas, Jenkins, and Carter.
Defensive Linemen (8): Robert Quinn, Trevis Gipson, Al-Quadin Muhammad, Dominique Robinson, Justin Jones, Khyiris Tonga, Mike Pennel Jr., and Angelo Blackson.
Linebackers (6): Roquan Smith, Nicholas Morrow, Joe Thomas, Jack Sanborn, Matthew Adams, and Caleb Johnson.
Defensive Backs (11): Jaylon Johnson, Kyler Gordon, Jaquan Brisker, Eddie Jackson, Kindle Vildor, DeAndre Houston-Carson, Dane Cruikshank, Duke Shelley, Elijah Hicks, (Jaylon) Jones, and (Lamar) Jackson
Special Teams (3): Cairo Santos, Trenton Gill, and Patrick Scales.