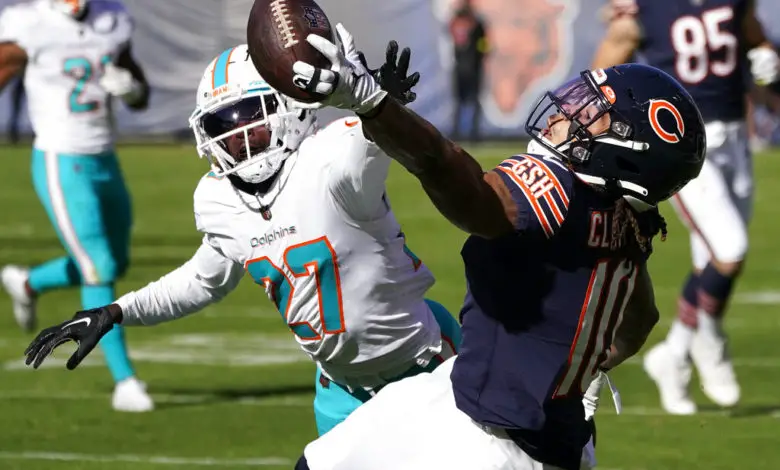 First & Long: Claypool Getting Comfortable With Bears' Offense, Lions Struggling Against Dual-Threat QBs, NFL Goes to Germany
Chase Claypool is making the transition to WR1 and the Bears expect the 6-foot-4 pass-catcher to see more action against the Lions on Sunday. The third-year wide receiver has picked things up quickly, and the coaching staff has put more on his plate this week. Head coach Matt Eberflus said Claypool is already comfortable in Chicago's offense.
"He's getting more comfortable," Matt Eberflus said Friday. "We are expanding the package for him. He's doing a lot of different things for us there. Different spots, different locations. So I think it's healthy. It's growing at the right pace. We're excited to see where it's going to go."
Claypool's biggest play last weekend was a blown pass interference call on a 28-yard pass late in the 4th quarter. The league admitted earlier this week that the official erred. The former Notre Dame standout caught two passes for 13 yards against the Dolphins ins a 35-32 loss.
Eberflus and offensive coordinator Luke Getsy limited Claypool to mostly screens last Sunday, though the big-bodied receiver proved he is a downfield threat, too. Expect Getsy to get creative in the way he uses Claypool, just as he has done with Darnell Mooney and Dante Pettis this year.
"He is super smart and understands the offense," Eberflus said of Claypool. "And he's getting a better feel. Now, it's just about getting the feel and experience with the other players. How do I play off the quarterback? How do I play off the tight ends? The route running and combinations. That's just experience and time that will help him with that."
Claypool admitted earlier this week that he loves the potential of Chicago's offense, and sees a bright future with the Bears. He received a standing ovation after catching his first pass last week, even though it gained just two yards. Bears fans are obviously desperate for a No. 1 wide receiver. But, Claypool is still learning.
"The biggest thing is that I have a different route tree now," Claypool said. "So, like all year, I haven't caught these certain routes. We're getting just a little bit of extra work with that. That's the only adjustment, I feel like, in terms of what's different.
"You can look at the playbook for X amount of hours or whatever. But walking through it helps a lot. I just think that having that full week of practice, understanding what's going on rather than looking at it and seeing people running around and stuff. Now that I look, 'what's the play?' I don't have to be in there, it's more mental reps."
The Bears acquired Claypool at the trade deadline, giving the Steelers their 2nd round pick in next year's draft. Chicago had an extra pick in round two after trading Roquan Smith to the Ravens. His acquisition will take a lot of the double coverage off of Mooney. The Lions are allowing 7.8 yards per passing attempt. Chicago's receivers have a legitimate opportunity to dominate on Sunday.
Bears News & Notes
There's a Flag…On the Play
The Cowboys are prohibitive favorites on Sunday against the Packers. Green Bay has five straight losses with upcoming games against the 5-3 Titans and undefeated Eagles before they meet the Bears at Soldier Field on December 4.
Are Micah Parsons' Cowboys poised to hand Aaron Rodgers' Packers a sixth(!) straight loss? Who'll win a California clash between the 49ers and Chargers? @greggrosenthal makes his picks for every Week 10 game.https://t.co/vgEKlZcEqn pic.twitter.com/i85jrOWSIN

— Around The NFL (@AroundTheNFL) November 13, 2022
Scout Team
Film Room
Green Bay's vaunted secondary left Shane Zylstra wholly uncovered. By the way, the Packers have really imploded this year.
The @Lions strike right before halftime!

📺: #GBvsDET on FOX
📱: Stream on NFL+ https://t.co/NERF3hGPfV pic.twitter.com/6f7ZLafY8u

— NFL (@NFL) November 6, 2022
Northern Exposure
NFL News & Notes
The league does not agree with Tretter and said statistics show that there are just as many injuries on grass as on synthetic turf.
DE Jerry Tillery is almost too good to be on waivers. Chargers coach Brandon Staley said it had grown increasingly apparent that the team and the defensive lineman were no longer compatible. Multiple teams made offers for Tillery, 26, ahead of the trade deadline, but none intrigued the Chargers enough to move the fourth-year vet.
Cowboys edge rusher Micah Parsons is the league's highest-rated second-year player per PFF. Fields did not make the top 10.
Bills QB Josh Allen is expected to start on Sunday despite a bad elbow.
Patrick Mahomes is the current leader for MVP. Of course, it won't be Rodgers, who's won back-to-back. Hurts and Allen trail Mahomes.
Jeff Saturday is catching a lot of heat for accepting the interim coaching position with the Colts. The Rooney Rule does not apply to interim hires, but the team must comply with the rule at the conclusion of the season and before a permanent coach is named. Saturday's previous head coaching experience was at the high school level.
This Sunday, the NFL makes its German regular-season debut on Sunday morning with a game between the Buccaneers and Seahawks at Allianz Arena in Munich.
A recent survey found that American football is the second-most-popular sport in Germany, behind soccer.
The NFL will play at least four games in Germany through 2025 according to commissioner Roger Goodell.
The Jaguars meet the Texans in Week 17, and the two teams could be playing for the top pick in next year's draft.
Three Yards and a Cloud of Dust
Trevon Diggs has had an unbelievable 14 interceptions since the start of last season.
Cooper Kupp has 18 100-yard receiving games since 2021, the most in the NFL. Justin Jefferson trails Kupp with 12.
The Chargers, Jets, Chiefs, and Vikings all won 20-17 last week. It's the second time in NFL history that four games ended with the same final score on the same day. The other came on October 5, 1924, when 4 games ended 3-0.
From the Podium
"[It's] tough when you give up that many points in that short of a period, especially when early on we were eliminating touchdowns and down on points. But I'm trying not to overreact to, hey, two ballgames and still [remain] cognizant of what we're trying to get done, where we're going." – Alan Williams
"I think what you're seeing [with Fields] is somebody that's more comfortable in calling a play, and more comfortable in understanding what the play means. So you're able to do more things." – Luke Getsy
"Me personally, my standards are really high for myself. I feel like I could have [done] better, but that's why it's practice. Just keep working, perfecting your craft. Make sure I get a lot of work after practice with JUGS, and, you know, lock into the game plan mentally as if I was playing." – Jones Jr.
Running Out the Clock
Jagger does Chicago blues as well as anybody.