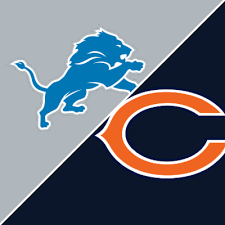 Chicago Bears vs Detroit Lions – Week 10 Game Preview: Overview, Keys to Game, Insights
Quarterback Justin Fields continues to rapidly improve on the field but the Bears (3-6) continue to lose games. Last week, they made a spirited effort against the Miami Dolphins before being overwhelmed by the dynamic receiving duo of Tyreek Hill and Jaylen Waddle. Chicago has a good chance to get back in the win column when they welcome the Lions to Soldier Field this Sunday.
It has been yet another tough year for Detroit (2-6) who have just two victories so far in 2022. Offensively they have been decent, scoring 23.5 points a game and sitting in the top 10 in the league in yards gained. Unfortunately, they've been forced to come back from behind often due to problems on defense.
The Lions defense has been a complete nightmare in 2022. Former Pro-Bowl cornerback Aaron Glenn overseas a unit that has given up 29.3 points and 417.3 yards per contest, both numbers are dead last in the NFL. Those figures are even more stark when compared to the second-worst Cardinals who give up 26.8 points and 368.9 yards a game.
Detroit is usually down but never out of games this season and quarterback Jared Goff is capable of having a big game at any time. He can, of course, also be a complete train-wreck some games becoming a turnover machine at times. Dan Campbell's team is definitely a high variance opponent and it is very hard to know which version of the squad you will get.
This should be a chance for the Bears to continue to improve on their recent offensive success. The Lions did just beat the Packers so they may be feeling a bit more confidence, although beating Green Bay isn't that much of an accomplishment lately. It would be nice to see a complete Chicago victory, hopefully, it will happen.
Where to Watch/Listen
Sunday, November 13 at 12:00pm CT on FOX, WBBM Radio (English), and WRTO Radio (Spanish).
Keys to Victory
Here are my keys to Sunday's game. If these things happen, the Bears should have a shot to win.
Stick with the running game against Detroit's horrible run defense. The Lions have the second worst run defense in the NFL so the Bears should use their top ranked ground attack to exploit that.
Make Jared Goff move around in the pocket. Detroit's quarterback is one of the worst in the league when under pressure but if he is given time to throw he can be very dangerous. The Bears really struggled to get pressure on Tua Tagovailoa last week and it would be helpful to avoid that this week.
Try to slow down Jamal Williams and D'Andre Swift at running back. Swift and Williams are combining for over 100 yards rushing a game. That could be a problem for a struggling Chicago defense.
Don't take your foot off the gas with a lead. More than one team in 2022 has let the Lions climb back in to a game after going way ahead. If the Bears are able to jump ahead early they can't let up.
Don't Tell Me the Odds
Chicago is favored by three points at home against Detroit and oddsmakers expect some offense with an over/under set at 48.5.
It's Football Weather
It's going to be a chilly 40 degrees Sunday afternoon at Soldier Field with sunny skies and northwest wind at 10 to 15 miles-per-hour.
My Prediction
The Bears offense continues to improve and they will be very successful against the Lions. Detroit will commit a couple of key turnovers and Chicago will take home a 31-21 victory.
Official Bears Preview
Here are Bears analysts Jeff Joniak and Tom Thayer with their preview of the Bears' upcoming Week 10 matchup.