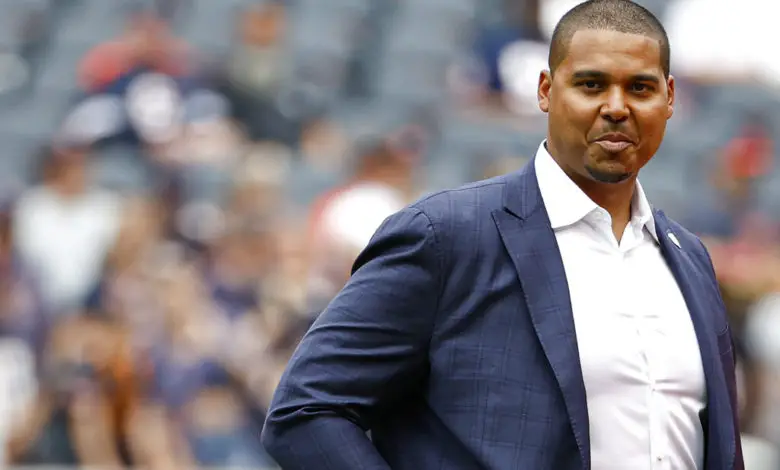 Watch: Ryan Poles Takes Bears Fans on Scouting Trip
Whether you like GM Ryan Poles or not, you can't deny that he's the most transparent executive in Chicago since Theo Epstein ran the Cubs. On the latest episode of 1920 Football Drive, Poles and assistant GM Ian Cunningham take Bears fans on a scouting excursion in search of toughness and leadership. The pair visited historic stadiums and watches some of the NCAA's best rivalries. In addition to scouting players, Poles and Cunningham build relationships with the schools they visit.
According to the video, the two scouted six teams during three different college visits in a span of 48 hours. Poles and Cunningham traveled to the southeast to watch Virginia take on Georgia Tech in Atlanta. Then the duo traveled to Memorial Stadium in Clemson to watch the Tigers take on the Orangemen of Syracuse. They closed their trip in Tuscaloosa, watching Alabama defeat Mississippi State at Bryant-Denny Stadium.
Poles prefers to scout off-tape and he got a firsthand glimpse of many of tomorrow's NFL stars. The GM  said the goal was to see 45 potential draft picks in 48 hours. Mission accomplished. Poles also likes to get his players involved in the process. Last April, he and Justin Fields watched the tape of Velus Jones Jr. and other pass catchers ahead of the draft.
"Obviously on tape, you can see how guys play," Poles said. "But sometimes the body type is misleading on video. Getting up close and seeing how they're built… what frame do they have… and what is the growth potential?
"And when you see that in person, with pads on, it helps you really get some context."
Cunningham also prefers off-tape scouting.
"When you're [watching] in person you get to feel the power," Cunningham added. "When you see a receiver run by you, you can feel the horsepower that he puts into the ground. You can feel the energy and hear the hits. And you can also see the passion with which they play. The ability to get [that kind] of information is critical when you're a scout."
Traveling is not new to either gentleman. Poles spoke about how the two met, and  Cunningham joked that he's spent the equivalent of four years in Marriott hotels while on the road. It's obvious the two work together, and share a relationship that goes beyond scouting. I wouldn't complain about that private jet, though.
"Since I've been hired here and we've been working together, he's like a brother to me," Poles said. "When we first showed up, we lived together, drove together, [and] spent a lot of hours [together]. He is a true right-hand man that will always be truthful. He's gonna tell you how it is. That's important to me because I've never wanted someone in that role that's just gonna say 'yes' to everything I say."
Check out the latest edition of Chicago's excellent docuseries below. Jeff Joniak provides the narration. The Bears should provide more scoring videos. This episode is one of the more interesting of the season, and Poles is the polar opposite of his predecessor, Ryan Pace.