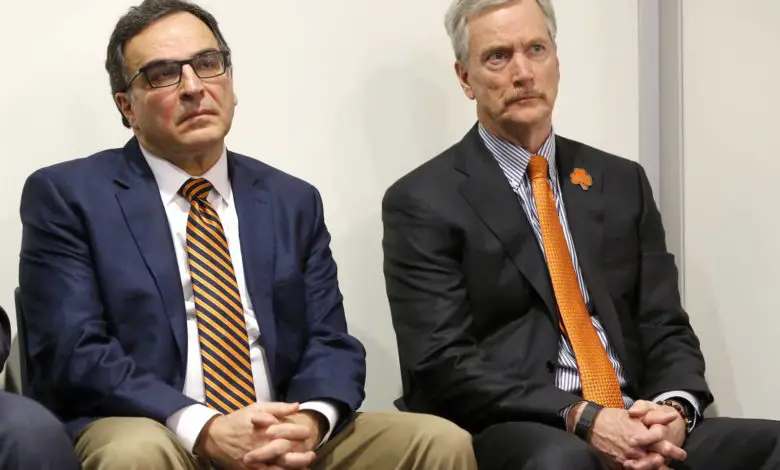 First & Long: Bears Issues Start at Top, Cowboys Spectacularly Implode, Roethlisberger Retires, Chicago Sports Radio Icon Les Grobstein Passes Away
The Bears owned the newsfeed this weekend like they believed that postseason football is nothing more than a myth. Interviews for the head coach opening took place or were scheduled, with careless disregard to some dramatic postseason football, as were conversations with executives to potentially replace GM Ryan Pace. Let's hope George McCaskey gets this one right. Chicago has become the place where head coaches and GMs come to die, as most Halas Hall castoffs don't usually find new jobs with other NFL teams. Just ask Marc Trestman and Jerry Angelo.
That says a lot about the hiring process at the Bears' Lake Forest offices. George McCaskey admitted as much last week when he professed to not knowing much more about football than the casual fan, which is telling considering his blind trust in Ted Phillips. The two are an unlikely front office combination and prove that nepotism has been just about the only qualification for executive positions with the storied franchise. Yes, a new GM will come in and say all the right things, but ultimately, it is puppetmasters McCaskey and Phillips who will have the final word.
"I'm just a fan, not a football evaluator"

– this was literally just said by George McCaskey, who is the chairman of the FREAKING CHICAGO BEARS

— Matt Eurich (@MattEurich) January 10, 2022
It's hard to imagine someone actually wanting to work under those guidelines, but that's why Chicago usually hires inexperienced men to staff those positions. There are just 32 GM and head coaching jobs in the NFL, and each carries prestige, even if it means working for the Bears. Having Justin Fields doesn't hurt the recruiting process, but ultimately, the countdown to the next epic failure usually starts as soon as that first presser introduces Chicago's newly-minted hires. Smiles turn to anguish and frustration pretty quickly with this organization.
None of that will change until McCaskey moves Phillips away from football operations. We can wait for Phillips to retire, but as evidenced by the team's matriarch, their chairman, and the long Halas/McCaskey family legacy, retirement is usually not an option. It's morbid to say, but those positions don't usually open up until someone dies.
In the meantime, it's more of the same old same old for the NFL's first family. It's almost frightening to see so many interviewees attempt to hitch their wagons to Chicago's, er, star. Since McCaskey took over football operations in 2011, the Monsters of the Midway are a very pedestrian 79-102 with just two postseason appearances, both losses. Though the nucleus for a good-to-great football team is in place, there are few who can stop the Bears' front office from self-destructing.
Maybe this time it will be different. Maybe.
A Sad Note
Longtime Chicago reporter Les Grobstein passed away Sunday. He was 69 years old. Grobstein covered Chicago sports for five decades and was the overnight host for WSCR-670 AM. Godspeed.
Bears News & Notes
There's a Flag…On the Play
What in God's name was Cowboys coach Mike McCarthy thinking on the final play of yesterday's loss to the 49ers? The Cowboys' head coach actually defended the play call after the game.
Here's how the #49ers–#Cowboys game ended: Per NFL rules, Dak can't spot the ball on his own and snap it. Ball must be spotted by the ref. By the time that happened, clock reached triple zeroes. pic.twitter.com/NY9H7IHmsD

— Ari Meirov (@MySportsUpdate) January 17, 2022
Northern Exposure
There's a good chance that the game-time temperature for this weekend's Packers-49ers game could be among the coldest in NFL history. The wind chill factor is expected to reach 20-to-30 degrees below zero, though forecast models may change.
Thanks to the Bengals beating the Raiders on Saturday, the Lions are now proud owners of the longest streak without a postseason win. Detroit has gone 30 years since their last playoff win when they beat the Cowboys 38-6 on January 5, 1992.
The Vikings could pursue Seahawks QB Russell Wilson this offseason if they part ways with current QB Kirk Cousins.
NFL News & Notes
The NFL will honor the legacy of Rev. Dr. Martin Luther King Jr. all day today and before tonight's Rams-Cardinals tilt.
It looks like Ben Roethlisberger will choose retirement now that the Steelers have been eliminated.
Pittsburgh head coach Mike Tomlin had a difficult time finding the right words to describe his quarterbacks' final game.
Raider interim head coach Rich Bisaccia penned thank you letters to each of his players after their season-ending loss to the Bengals.
The Cowboys have transformed from America's Team to a perpetual version of Next Year's Team since the heady days of Troy Aikman, Emmit Smith, and Jimmy Johnson.
ESPN's Stephen A. Smith savagely trolled McCarthy and the Cowboys after yesterday's loss.
The NFL will be offering a customized NFT, marked with each fan's seat number, to all ticketed attendees at this year's Super Bowl.
Sunday's Wild Card MVPs
Patrick Mahomes – The Chiefs QB shook off a sluggish start to finish 30-of-39 for 404 yards and five touchdowns, all coming in a span of just under 11 minutes.
Travis Kelce – The Kansas City tight end caught five of seven targets for 108 yards and a score, and threw a touchdown pass of his own to boot.
Three Yards and a Cloud of Dust
As mentioned above, Mahomes threw five touchdown passes yesterday in a span of 10:30 of game time. It's easily the fastest span in NFL postseason history.
The Cowboys have not made it out of the divisional round of the postseason since 1996.

Rams quarterback Matthew Stafford has 323 career TD passes but has never won a playoff game. He'll try to break that dubious streak against the Cardinals tonight. 
From the Podium
"[The Ryan Pace hiring] stunk. It's a good ol' boy thing. Pace was a recommendation from [Saints GM] Mickey Loomis. Loomis and Ted [Phillips] are tight. [Saints coach] Sean Payton wanted Pace to be a GM. [Ernie] Accorsi and Payton are connected. There was a reason that Pace interviewed last." – Unidentified Bears staff member
"Every move [the front office] makes has to be directed at developing Justin Fields. Because what you have right now is a young quarterback, if I'm a coach, with traits that I cannot teach, who has natural gifts at the position, who has the ability to take over football games, once he develops in this league. That's why you drafted him because he brings a play-making element to this position that you cannot teach and — if I'm a coach [or] a general manager — that is exactly what I want because I'm going to do everything I can to put him in a position to develop, be productive and be an All-Pro. That has to be the goal for him: to be an All-Pro." – Matt Bowen