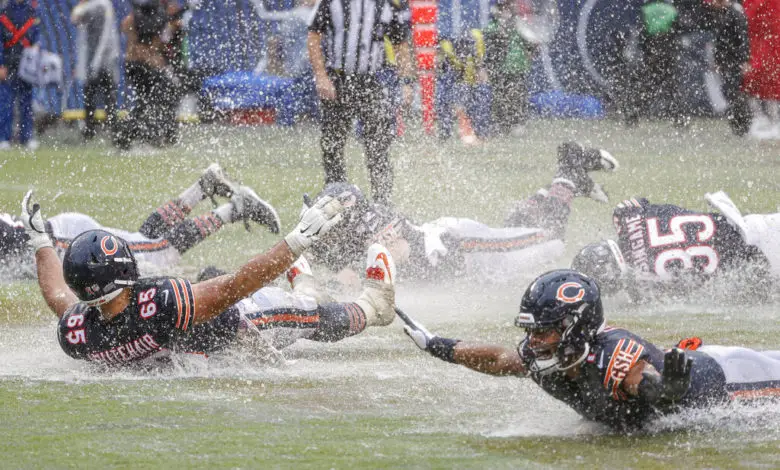 First & Long: Bears Give Eberflus First Win and Game Ball, Rain Showers Define New 'Bears Weather,' Vikings Toast Packers
Justin Fields and the rest of the offense summed up yesterday's 19-10 victory over the 49ers perfectly with a 30-foot wet slide. As I hinted at in my Game Day article Sunday morning, both teams started conservatively. But as the weather got worse, Luke Getsy took the reins off of Fields and opened up Chicago's attack. The result was three straight scores and a win.
SLIDING TO VICTORY! @ChicagoBears pic.twitter.com/mruoqtVrkC

— NFL (@NFL) September 11, 2022
Give credit to the defense, too. They played a spectacular game, particularly rookies Dominique Robinson, Jaquan Brisker, and Kyler Gordon. San Francisco chipped in as well. The 49ers were penalized 12 times for 99 yards, including three 15-yard personal fouls. Discipline, it seems, is a great equalizer for alleged superior talent. The Bears took just three flags, won the turnover game, and outperformed their opponent in the red zone. As a result, they got an upset win.
The turning point was a 51-yard touchdown pass in the third quarter from Fields to Dante Pettis. The second-year quarterback escaped a sack attempt by defensive tackle Arik Armstead and then avoided defensive end Charles Omenihu. Fields then lofted an "eephus" pass to make it easy to catch. Pettis had 16.2 yards of separation from the nearest defender when he caught it according to NFL NextGen stats, the third-most on a touchdown pass over the last three seasons.
"The ball felt like it was in the air forever," Pettis said. "I was just waiting there, caught it basically like a punt, and just took off."
The defense played spectacularly at times. Eddie Jackson intercepted his first pass since 2019, putting the Bears in great field position ahead of their third touchdown. Jaylon Johnson looked like the ghost of Charles Tillman, peanut-punching a ball from the hands of Deebo Samuel in the first quarter. Brisker recovered it, thwarting a potential touchdown drive. Robinson had 1.5 of Chicago's two sacks, sharing the second with Roquan Smith.
"I knew I couldn't truly make the tackle, so I was like, 'How can I really try to make this play?'" Johnson said. "When he cut inside, I saw the ball and was like, 'I might as well punch.'
"I honestly feel like we have the pieces. We just have to keep building in the right direction and not get too far ahead of ourselves. There's still a lot to prove."
Rookie head coach Matt Eberflus won his first game, one in which the players performed as an extension of their leader's personality. The team just kept grinding and forcing the issue, even when things weren't going so well.
"If you just hang in there on defense and you keep pounding the rock, good things will happen," Eberflus said. "That's what happened."
He never mentioned the critics who believe Chicago will be one of the league's worst teams this year. In fact, he's letting the team's play do all the talking. That's a nice change of pace for Bears fans. In the meantime, Eberflus and the Bears will look to make it two in a row next week. They'll play what looks like a very vulnerable Green Bay team on Sunday night at Lambeau Field.
There's a Flag…On the Play
Getting a game ball as a young quarterback is a big deal, but giving a game ball away is even bigger. Fields, only in his second season and first as the Week 1 starter, gave game balls to Eberflus and GM Ryan Poles. That's leadership, and I love the unity. Anybody who says that Poles and Eberflus aren't 100% behind Fields knows nothing about football. Full stop.
Via @ChicagoBears, Justin Fields gave out two game balls after the win: One to head coach Matt Eberflus and one to GM Ryan Poles: pic.twitter.com/onhMskG8F8

— Adam Hoge (@AdamHoge) September 12, 2022
Let's hope that Christian Watson still has the drops on Sunday night and that Rodgers continues to be disgusted about it.
Christian Watson dropped a 75 yard touchdown on the first play of his career

Aaron Rodgers is disgusted

— Eric Rosenthal (@ericsports) September 11, 2022
Green Bay: Watson's failure to stick the landing may have hurt his relationship with Rodgers. The quarterback did not target the rookie receiver again until late in the fourth quarter.
Minnesota: The Vikings have the fourth-best odds of winning the Super Bowl after butt-whipping the Packers yesterday.
Detroit: Stupid penalties cost the Lions a shot at upsetting the Eagles yesterday.
NFL News & Notes
NFL Football is back! Celebrate accordingly!
There were four double-digit comebacks on Sunday. There were also five missed game-winning kicks.
A record number of non-white quarterbacks started for NFL teams during the opening week of the season. In addition to Fields and Lance, Lamar Jackson, Kyler Murray, Patrick Mahomes, Jacoby Brissett, Dak Prescott, Jalen Hurts, Jameis Winston, Geno Smith, and Russell Wilson were all designated QB1 on Sunday. Tua Tagovailoa and Marcus Mariota are both of Samoan descent, and each started Sunday, too.
Prescott hurt his thumb on his throwing hand on Sunday, needs surgery, and will miss 6-8 weeks while recovering.
NFL legendary wide receiver Michael Irvin took offense and eviscerated the idea of Colin Kaepernick replacing Prescott.
"Let's just stop. Kaepernick's been out of football for what five years now," Irvin said. "Come on, man. Let's stop all of [the] sudden thinking we can go resurrect Kaepernick and he's going to come and resurrect a football team. Besides, I'll take my chances with Cooper Rush."
The Chiefs and Tyreek Hill really don't miss each other, but it sure looks like Rodgers misses Davante Adams.
After one week, the AFC South looks like the league's weakest division. Again, it's been one week.
Gisele Bündchen is "frustrated" with husband Tom Brady's decision to unretire, multiple sources told People Magazine.
Three Yards and a Cloud of Dust
Three kickers missed field goals in overtime yesterday. That tied for the most on a single day covering the last 45 seasons.
Mahomes is the fourth quarterback since the merger to have 300+ pass yards, five or more passing TDs, and 0 INTs in a Week 1 game. The other three – Dan Marino (1984), Peyton Manning (2013), and Jackson (2019) – all went on to win the MVP award.
Khalil Mack had three sacks in his debut with the Chargers.
"The guys did a nice job in training camp and all the way back seven months ago of laying the foundation. They laid the foundation of what we talk about, about playing hard and being intense, taking the ball away, and then playing some smart ball. And those guys did that. The coaches, the players, we have something to stand on." – Eberflus
"Coach always says it's mental and physical stamina, who can play the longest, the hardest, and just play every play. And, I think we won this game with mental and physical stamina. I'm proud of the defense, proud of the O-line, just proud of everybody." – Fields
"We've been training our whole lives for this. This is our profession. It's our job to make plays and catch the ball. Wherever the doubt comes from, it doesn't bother us. We know what we can do. I knew we were resilient as a team. In the media, there were a lot of doubters going in. But we knew what we had to do. We knew we were going to win the game. It's not a surprise to us at all." – St. Brown
"What you think [Lance] did? He ain't do shit. We made him play quarterback. We know he hurt us in the run game with his feet, and everybody knows at some point he's going to run and make a play. But I feel like we had to really make him play quarterback." – J. Johnson
Running Out the Clock
The Bears and Vikings are tied for first atop the NFC North. The Packers are tied for last. Small sample sizes, of course.