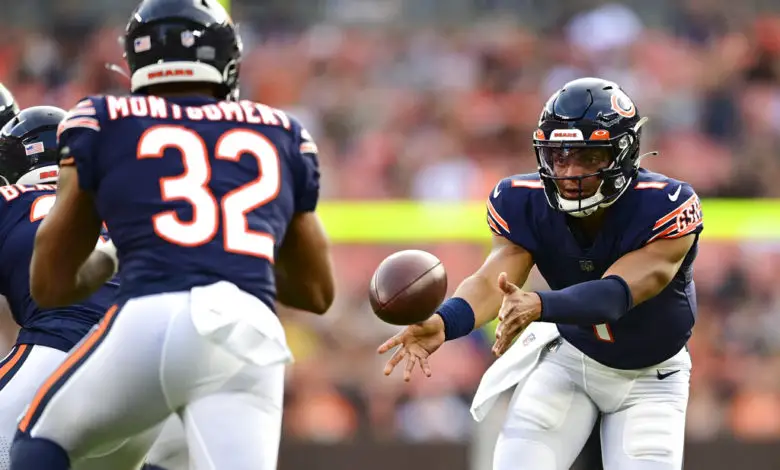 Bears Game Day: Weather Will Affect Sunday's Outcome
The 49ers entered the week as 6.5 favorites over the Bears at Soldier Field, and the line has remained pretty steady. The over/under is 40.5 as of this writing, and today's weather could affect conditions and keep the score low. In Vegas, more bets are being placed on San Francisco but more money has been placed on Chicago. Both teams are going to start the game conservatively.
Expect Chicago and San Francisco to run the ball quite a bit. Both offenses are relying on unproven second-year starters, though Justin Fields has more game experience than Trey Lance. The 49ers have one of the best defenses in the league, which will make things tougher for Fields. Chicago's defense is improving, and look for them to get after Lance, who's making his third NFL start.
Field Conditions
Expect waves of rain, cooler temperatures, and gusty winds this afternoon. Rain will become more widespread as the morning moves along, and by the time the Bears kick off at noon, it's likely that showers will be impacting the game. Additionally, winds out of the north will be increasing throughout the day and could cause problems for kickers Cairo Santos and Robbie Gould.
Trends
This is the first game of the year for both teams. The Bears capped an undefeated preseason with a 21-20 win over the Browns on August 27. The win was significant because Fields led the first team offense to three scores in one half of play. The second-year quarterback threw touchdown passes to Dante Pettis, Cole Kmet, and Ryan Griffin.
The 49ers won their first two exhibition games before bowing to the Texans 17-0 on August 25. Lance was 7 for 11 for 49 yards on three scoreless drives. Two of the drives ended in punts and one ended on downs. Lance was sacked once and had to leave the pocket on nearly every one of his passing attempts.
Why the 49ers Will Win
The 49ers' defensive line is ridiculously good, and Nick Bosa is one of the best players in the NFL. Bosa pressured opposing quarterbacks 75 times last season with 15.5 sacks and 21 TFLs. He'll line up against rookie Braxton Jones all game. Bosa is joined by Arik Armstead (11 QB hits, 42 hurries), Javon Kinlaw, and Samson Ebukam. The 49ers play a base 4-3 defense and will try to take advantage of a Bears' offensive line that has limited experience playing together. If they can continually pressure Fields it's going to be a long game for Chicago.
Expect Lance to struggle, so the Bears are going to have to stop running back Elijah Mitchell. The second-year back had his best game of the 2021 season in Chicago, rushing for 137 yards on 18 carries (7.61 avg.) with a score.
Why the Bears Will Win
Rumors abound that San Francisco's coaches are just not that confident in Lance. Some have said his teammates lack confidence in the second-year signal-caller, too. If Chicago can pressure Lance into turnovers, the Bears can steal a victory. Expect a lot of swarming to the ball, and Robert Quinn needs to have a big game against Trent Williams. The 49ers will be without TE George Kittle, and the weather should help to neutralize Deebo Samuel. That said, San Francisco relied on short passes and a strong running game to beat the Bears 33-22 last year.
Getting to Lance is key. He's prone to sacks, makes bad decisions, and isn't as accurate a passer as Jimmy Garoppolo. I expect Fields to be the superior quarterback by a wide margin. The Bears are lucky to draw the 49ers so early in the season. Lance is not the typical Kyle Shanahan-type quarterback, and it's fair to wonder how long the head coach will stick with him if things start to go south.
David Montgomery could have a big game but expect San Francisco's secondary to key on Darnell Mooney. Equanimeous St. Brown is listed as WR2 on the latest depth chart, N'Keal Harry is out, and Velus Jones Jr. is listed as doubtful after missing Friday's practice. Byron Pringle has been cleared to play, however.
Injury Reports
Bears – Jones Jr. is listed as doubtful due to a hamstring injury. Dominique Robinson is questionable due to a knee but he participated in practices on Friday and Saturday. Lucas Patrick is sporting a soft cast on his injured right thumb but is expected to play.
49ers –  Offensive tackle Daniel Brunskill is out. Kittle is dealing with a groin injury and is listed as questionable, but is unlikely to play.
Predictions
Sean Holland previewed the game on Friday and predicted a 21-9 win by the 49ers. I predicted a 31-20 win for Chicago, but that was 12 days ago. I'm still taking the Bears, but the weather will be a big factor in Chicago's 14-6 win. Look for punter Trenton Gill to have a big game, with field position and a couple of misses by Gould helping the Bears pull off the upset.