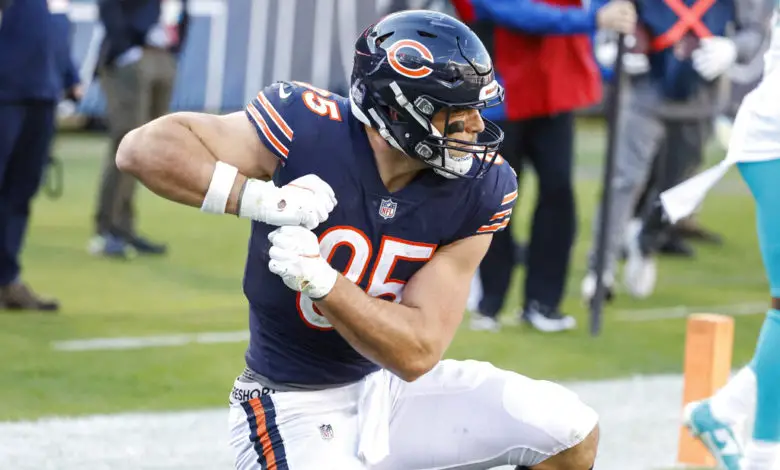 First & Long: Bears Fun to Watch Despite Losses, Claypool Excited About Future, Packers Ranked in NFL's Bottom Five
How about a break from watching election results for some football news? Though no votes are tabulated, Justin Fields has seen as big a resurgence among Bears fans as he has with his play. The quarterback is a lot less polarizing than he was after the Bears lost 12-7 to the Commanders. In hindsight, Fields was more than capable that night. Poor play from his receivers and a pedestrian offensive game plan cost Chicago a win in that one.
But here we are, a few weeks later, and Fields is arguably the hottest player in the NFL. Check out some of the accolades:
"Imagine being the best rusher in football in week nine, and having a 106.7 passer rating at the same time. Fields was incredible at Soldier Field Sunday, and after a season of uncertainty about him last year, it's looking like he has a good chance to be a good quarterback of the future for a franchise that so desperately needs one." – Peter King, Pro Football Talk
"He's a dominant player. Everybody knows that. This is not a surprise that he [broke the record] today. He's always running around, trying to make plays for our offense when things break down. He's a great player. [Fields] is going to break a lot more records. So get ready." – Darnell Mooney
"The cream is starting to rise to the top among the first- and second-year quarterbacks in the NFL, and after a discouraging rookie season, [Fields] is currently the best of the bunch." – Chris Trapasso, CBS Sports
"The spectacular Fields makes something out of nothing as well as anyone in football. In that regard, he is in a class with Patrick Mahomes and Lamar Jackson." – Dan Pompei, The Athletic
"That kid is going to be the best quarterback of that [draft] class. In fact, I think he already is. Tell me I'm wrong." – Mike Greenberg, ESPN
Justin Fields was undoubtedly the best Quarterback in the @NFL this weekend.pic.twitter.com/765NYcjQDz

— Emmanuel Acho (@EmmanuelAcho) November 8, 2022
Miami players offered similar praise of the quarterback's performance on Sunday. It's pretty difficult to say anything bad about a guy who set a new NFL record against the Dolphins.
Still, and unbelievably, there remains a decent-sized contingent of Bears fans who believe Fields was a wasted draft choice. Expectations are usually high in Chicago, particularly when it comes to the starting quarterback. But nobody has had to fight through negativity the way Fields has. It's almost unfair. It shouldn't be lost that the young quarterback's biggest leap in productivity coincided with his 17th career start. In his last two games, Fields is 9-of-10 in the red zone with five TDs. I'd say he's arrived.
The biggest changes are not as noticeable. He's more comfortable in the pocket and as a result, Luke Getsy is showing more confidence in Fields. Chicago's offense has been able to score almost at will against the Cowboys and Dolphins, and the team is averaging 385 yards of total offense over the last four games. That's elite. If the Bears' defense can figure out a way to stop its opponents the NFL's newest star might be able to notch a few wins.
For three straight games, Fields has been the best player on the field. The Bears aren't winning, but they've become can't-miss viewing. Perhaps the young quarterback will stop being compared to Gary Huff on social media.
Bears News & Notes
There's (No) Flag…On the Play
The worst part about this non-call is that it happened right in front of the referee. The view was unobstructed, and the penalty was obvious. Credit Fields and Claypool for taking the high road.
justin fields, chase claypool & the chicago bears got robbed pic.twitter.com/lPmBgmaK4e

— DOM (@DOM_Frederic) November 6, 2022
Scout Team
Film Room
Jenkins is a beast, and he has a bright future with this team, Don't put any stock in the rumor mill. If Ryan Poles wanted to trade the tackle-turned-guard he would have had plenty of suitors.
Tevin Jenkins once again was the Bears highest graded Offensive lineman. There are many plays just like this throughout the game.

Jenkins has become one of the Best Guards in the entire NFL. #DaBears #Bears #ChicagoBears pic.twitter.com/MlMdilJ7dZ

— Clay Harbor (@clayharbs82) November 8, 2022
Northern Exposure
Minnesota: Hockenson apparently learned the entire Vikings offense in four days.
Green Bay: There is nothing more disappointing than playing "remember when." Despite a 3-6 record and five straight losses for the first time since 2008, Aaron Rodgers declared himself the "reigning, defending, two-time MVP." He's right, but who cares?
Detroit: The Lions have the NFL's No. 31-ranked defense. Detroit has allowed 234 Pts and 3,338 yards of total offense. They've given up more touchdowns than any team in the league.
NFL News & Notes
NFL data shows that recent injury rates are the same on grass as on artificial turf.
The Packers are a bottom-five team according to the most recent NFL power rankings. They're still ahead of the Bears, however.
Actor Matthew McConaughey could end up butting heads with Amazon billionaire Jeff Bezos in an attempt to buy the Washington Commanders. The asking price is expected to go as high as $7 billion.
It's possible that the 2023 quarterback draft class could be overhyped.
The NFL pendulum has switched to defense, except, of course, when the Bears are playing.
The Colts announced they have fired Frank Reich after a 3-5-1 start, and have named Jeff Saturday as interim head coach.
Saturday's hiring drew a lot of criticism from ESPN studio analysts Luis Riddick, Ryan Clark, and Stephen A. Smith.
Hall of Fame quarterback Peyton Manning said he was "surprised" to learn the news that his longtime teammate was chosen for the interim head coaching position with the Colts, but expressed hope that the former player could help the team "get turned around."
Indianapolis owner Jim Irsay defended the hire. "[Saturday] is fully capable."
Three Yards and a Cloud of Dust
The Seahawks have allowed the fewest yards per play and the second-lowest QBR in the NFL during its current four-game winning streak.
The Phillies may have lost the World Series, but the Eagles are 8-0 behind Jalen Hurts and they're the NFL's lone undefeated team. Hold the phone, though. Since 2010, 11 teams have started the season with a record of 8-0 or better, and none have gone on to win the Super Bowl. Always a bridesmaid, never a bride.
Rodgers threw three red zone interceptions in Green Bay's loss to Detroit.
From the Podium
"I still think that if I look at myself last year, and I know people don't love talking about the run-game stuff, but my… blocking has been great this year and I've been really proud of what I have been doing on film in that regard. My separation on routes has been great. Not all the time has it really worked out where we have been able to hit it for whatever reason, but that has been going well for me. I think at the end of the day, as we've been getting more comfortable in this offense, you can see guys starting to execute better in the red zone and things like that." – Kmet
Running Out the Clock
Fields has been the real deal in the last three games. The future looks bright for the quarterback and the team.