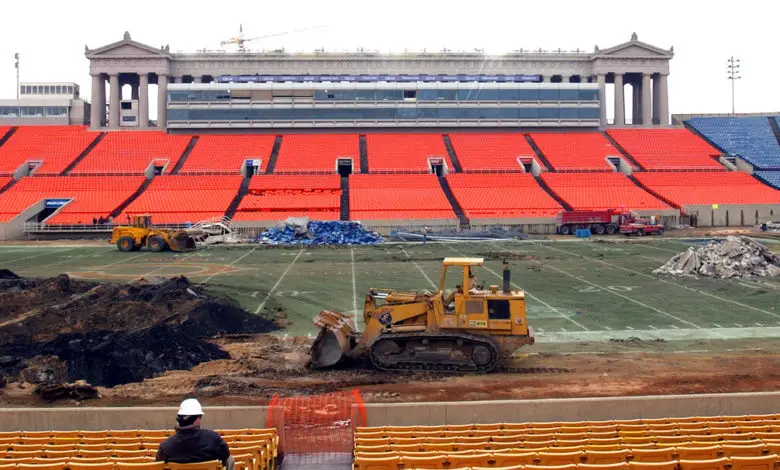 Village of Arlington Heights Approves Plan for New Bears Stadium
Today is election day, but last night, the Arlington Heights Village Board approved plans for the Bears' new stadium. The plan is a non-binding "framework" agreement between the village and the Bears defining how issues like zoning and taxation would be worked out for the proposed project.
There are still a few hurdles to clear, but the NFL's charter team is inching closer to owning its very first stadium. The Bears have played at Wrigley Field or Soldier Field since 1921. Memorial Stadium in Champaign, IL was home while Soldier Field was renovated in 2002-03.
The Bears presented their plans for the property at the former Arlington Park race track site as part of a pre-development agreement to city council members in October. The plans include residential and retail space, including bars and restaurants. Some trustees are concerned the new facilities would compete with the downtown Arlington Heights area.
The Bears are expected to close on the property early next year. A new stadium has been a foregone conclusion since the McCaskey family agreed to purchase the site. The Bears have called Soldier Field "home" since 1971. The stadium (and surrounding property) is owned by the city of Chicago, however.
Chicago Mayor Lori Lightfoot has fought to keep the Bears in Chicago and offered three stadium renovation proposals. Lightfoot vowed to make Soldier Field a "year-round destination." The first proposal would put a dome over the stadium. Backup proposals would prepare the stadium for a dome or tailoring Soldier Field for soccer.
"We are doing what we believe is making a compelling case for the Chicago Bears to stay in Chicago," Lightfoot said. "They want a tier one stadium environment to maximize revenues — and we agree. And we are going to keep making the case to the Bears, the NFL and the public that a revitalized Solider Field makes the most economic sense for that storied franchise."
Video courtesy of CBS News Chicago.