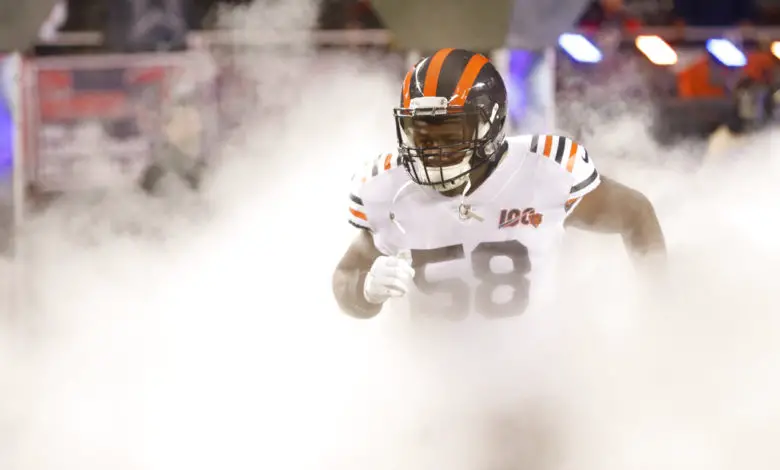 Roquan Smith Thanks Bears Fans
Roquan Smith made his debut with the Ravens on Monday night, and before playing his first game for Baltimore, he made sure to thank his fans in Chicago. The former Bear was traded to the Ravens last week. Smith had five tackles in a 27-13 win over the Saints in his debut with his new team.
The Bears acquired 2023 second-round and fifth-round picks in exchange for Smith, and it was a move that many saw coming as Smith and GM Ryan Poles "couldn't find common ground" on a contract extension. I did not see it coming, however. Life happens.
Roquan Smith can do a little bit of everything on the field. @Ravens got a good one. 💪pic.twitter.com/6YmzcrIGaK

— NFL (@NFL) November 1, 2022
Smith's trade was the second of three midseason moves by Chicago. The Bears traded Robert Quinn to the Eagles a few days prior. The second-round selection acquired from Baltimore allowed the Bears to trade their own pick for wide receiver Chase Claypool. Obviously, Poles is punting on defense to provide weapons for Justin Fields. But, he's also accumulating 2023 draft picks and salary cap space to fortify his roster after this season.
Smith was a 2018 first-round draft choice (No. 8 overall) out of Georgia. He was named second-team All-Pro in 2020 and '21 but staged a hold-in during training camp this year. The fifth-year linebacker was playing in the final year of his rookie contract and wanted an extension. He finally reported at the end of camp while in a stalemate with GM Ryan Poles. The first-year GM said the failure to reach an agreement at that time provided the impetus to trade Smith. Poles tried to work out a deal with the Smith and expressed a fondness for the star linebacker.
"I'll say it over and over," Poles said in August. " I love the player. I love what [he does] on the field. This is a very unique situation that we're handling the best that we can. We hope to have him in a Chicago Bears uniform. Hopefully, when we get through this game, we can come to some type of resolution."
Smith did not sign an extension with the Ravens and will be a free agent in the offseason. He is reportedly seeking at least $100 million over five years, a price Poles was unwilling to meet. UDFA Jack Sanborn filled in for Smith on Sunday and was credited with seven tackles. It was the rookie's first start of his career.
Smith is still a fan favorite and he will be missed. That was obvious on Sunday when Chicago let Miami score five touchdowns. That said, the Bears let the Cowboys score seven times in Week 8 with Smith playing.
NFL Insider Ian Rapoport shared Smith's letter via Twitter.
"Dear Chicago,
Today a new chapter of my career begins, and as I write this, I'm full of gratitude. Thank you to all the Bear fans worldwide for all your love and support, [and] to the city of Chicago for embracing me as one of your own. [Thank you] to Ryan Pace and his regime for believing in me. Thank you to the McCaskey Family for making my dream come true, and thank you to Dick Butkus, he knows why…to every teammate, thank you to every coach, thank you to everyone who helped me, from the trainers to the cafeteria staff; to everyone who held the standard of what being a Bear is all about.
And…thank you AGAIN to every Bears fan. When my career is over, we'll reminisce on all the good times we shared together in Chicago. I'm forever grateful for those memories.
As I begin this new chapter, I'm both excited and inspired for the journey ahead. Whatever God wants me to go through, I'll do it chin up, chest out, sunsets…no regrets.
With love and gratitude,
Ro."