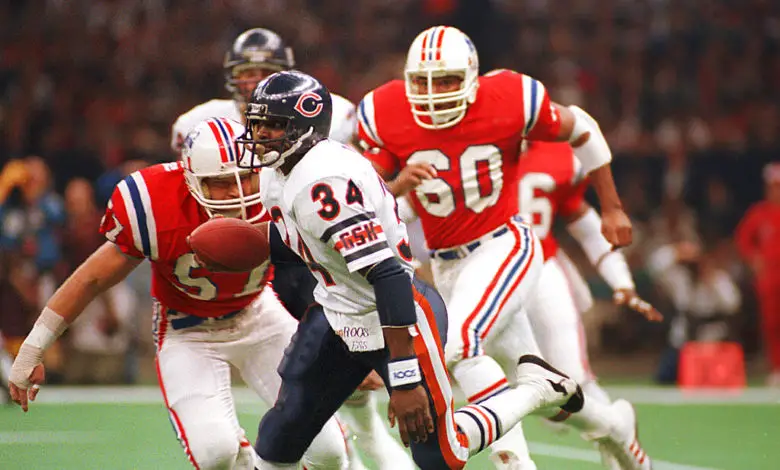 First & Long: Bears Could Look Internally to Replace Phillips, Pundits Sour on Chicago's Chances, Remembering '85 Champs
Bears scheduled to announce new stadium plans on Thursday
The big news this week is that Bears president and CEO Ted Phillips is stepping down after the season. The timing of the announcement was perfect. The Bears and every other team are enjoying a first-week bye, and the news dropped without being a distraction to the team or the start of the season. It's nice that the McCaskeys are finally running the franchise like a legitimate football operation.
Nobody is being mentioned as a potential replacement, though The Athletic's Dan Pompei name-dropped two internal suggestions when he broke the Phillips story that also included an exclusive interview ($). Scott Hagel, Chicago's Senior VP of Marketing and Communications is one. Team legal counsel Cliff Stein is the other. Both would be included if I had to put pen-to-bar-napkin to make my shortlist.
Hagel has been with the Bears since 1995, and in his current role since 2015. He oversees eight departments including marketing, content, brand creative, community relations, events and entertainment, media relations, social media, and digital media. Hagel joined the Bears as a public relations intern in 1996. He also served as a public relations assistant and assistant director before being named Director of Public Relations in 2000. In 2004 he received additional responsibilities in his role as Senior Director of Corporate Communications. Hagel was named Vice President of Communications in 2011. He's very qualified, to say the least.
Stein has been a fixture in Chicago's front office for 20 years. He was the head contract negotiator during the Jerry Angelo era and was asked to assist Ryan Poles after Poles was hired as GM. Stein is an expert negotiator with a strong league-wide reputation. Additionally, he once worked as a player agent.
Karen Murphy is another person of interest within the team's current front office structure. In an interview last November with Brooke Cersosimo of NFL.com, Murphy indicated her ultimate goal is to be team president. in fact, it's her single ambition.
"I want to be a team president, " Murphy said. "And I am grateful to the ownership of the Bears and my boss[es], because they continue to give me more responsibilities, and they have a lot of trust in me and allow me to take risks. They've allowed me to take a critical role on big projects and launch new departments.
"I'm a lifelong learner, and I'm never going to sit still, so the status quo is not good enough for me. I'm always creating new challenges, and being a team president, to me, would be the next big challenge."
Murphy is Chicago's senior vice president of business strategy and CFO. She, Hagel, and Stein are next in command to Phillips, so promoting any of the three makes a lot of sense, especially since Phillips will be stepping down before the new stadium is built in Arlington Heights.
Omar Khan of the Steelers makes an awful lot of sense if the Bears want to bring in an outsider. He was recently named Pittsburgh's GM, replacing Kevin Colbert. Chicago's opening is more attractive, however. Trace Armstrong received a lot of buzz on social media after the Phillips announcement, but I don't see him as a fit.
I'd place my money on Murphy, however. The McCaskeys are loyal and they tend to be NFL groundbreakers. The league's highest-ranking female executive is Browns Assistant GM Catherine Raiche. Murphy believes that teams are more open to female executives than ever before. Her position with the Bears is a great example.
Bears, SVP of Business Strategy and CFO, Karen Murphy, believes that organizations who prioritize diversity are leading the pack to make the league more inclusive.

Read more about Karen's journey in the NFL in this week's Next Woman Up.

🔗: https://t.co/bOjo6b810F pic.twitter.com/UQ7FqGv0tl

— NFL Up (@NFLUpOfficial) November 25, 2021
"The league has changed a lot," Murphy told Cersosimo. "I've been here for over two decades, and I would say there is a growing appreciation [for the] diversity of thought. In my opinion, we need to mirror our workforce with our communities, and when we do, we're bringing new insights to the table. It's helping us innovate, and it's really important that we authentically connect with our fan base. If we don't have a diverse front office, I think that's a huge disadvantage.
"We [recently] launched a senior vice president role of diversity, equity, and inclusion, and I'm really proud of that. I worked closely with our HR department to make that happen, along with a lot of people in the building. It's clear that it's a big priority from our ownership and executive team, and I think it's going to pay off. The companies that prioritize diversity are the ones that are innovating and [leading] the pack."
Bears News & Notes
There's a Flag…On the Play
In that Bears documentary, McMichael mentioned that he would stand at the 50-yard line during warmups and stare down the opposing team's quarterback.
There will NEVER EVER be another defense like the 1985 @ChicagoBears

via @nflthrowback pic.twitter.com/FMOXsZg46n

— NFL on CBS 🏈 (@NFLonCBS) August 26, 2022
Northern Exposure
Green Bay: Aaron Rodgers has admitted for the first time that he is taking ayahuasca again this offseason. The Packers star also said that he has only enjoyed playing football since he started using the psychedelic drug in 2020.
Minnesota: Jim Harbaugh said he will not apologize for interviewing for the Vikings' head coaching position in February. He also said he offers no apologies for returning to Michigan. The former NFL player and head coach said he is happy in Ann Arbor.
Detroit: The Lions had a salary cap issue and offensive tackle Tyler Decker agreed to restructure his contract to help the team. Detroit's front office converted a portion of Decker's 2022 base salary to an immediately-paid bonus.
NFL News & Notes
Russell Wilson and the Broncos have agreed to a five-year contract extension worth $245 million. The new deal includes $166 million in guaranteed money.
The Falcons are projected to have the first pick in next year's draft. Quarterbacks Bryce Young (Alabama) and C.J. Stroud (Ohio State) are at the top of the team's early wishlist.
A whopping 43 scouts representing 27 NFL teams are expected to attend Saturday's Notre Dame-Ohio State tilt. The Buckeyes are ranked No. 2 and the Fighting Irish are three spots behind. Ohio State is a prohibitive 16.5-point favorite.
The only NFL teams who will not have scouts at Saturday night's game are the Jets, Steelers, Texans, Chiefs, and (surprisingly) Falcons.
The powers-that-be in college football reportedly have decided to expand the NCAA football playoff from four teams to a full dozen. The NFL won't be happy with that type of competition for television viewers.
Rodgers recently called out his receivers, and that was just in the middle of training camp. If the mistakes continue into the season, he's not going to let it slide.
NFL training camps are generally hot and humid and some players struggle to manage their weight. Loaded baked potatoes, Uncrustables,  and Wendy's are among the consumables that help.
Ozzy Osbourne will perform at halftime in Thursday Night's NFL opener between the Rams and Bills. Pundits are calling the game a Super Bowl preview.
Three Yards and a Cloud of Dust
The Bears held the Patriots to seven net yards rushing and one rushing first down in Super Bowl XX.
Chicago's defense sacked Tony Eason and Steve Grogan seven times in that game.
Henry Waechter recorded a safety in that game. There have been nine safeties in Super Bowl history, with the first coming by Dwight White of the Steelers in Super Bowl IX. He sacked Vikings quarterback Fran Tarkenton in the end zone. Those were the only points in a first half that ended with Pittsburgh up 2-0.
From the Podium
"Honestly, I think [the running backs], as a whole, we can be really special. We can all do different things and we can all put pressure on the defense in different areas. I'm super excited to see what it's going to be. It's going to be fun." – Montgomery
"[Montgomery is an] explosive runner. Runs like he's angry. Runs like he's mad at somebody. He works extremely hard and he's a leader." – Khari Blasingame
"I've been blown away by how fast [Braxton] has developed. There's a lot of credit for our coaches and Chris Morgan, they've done an excellent job. He continues to kind of check the boxes. You go from OTAs, 'That guy looks pretty good.' We gotta go to training camp, we got to put pads on. We put pads on and still does pretty good. Let's see when the lights go on and we go to preseason, is he going to do it then? The longer you do this, you see these spikes, and then did he go? He continues to climb and get better and better and better." – Poles
Running Out the Clock
What else?
"I can't dance but I can throw the pill." – McMahon