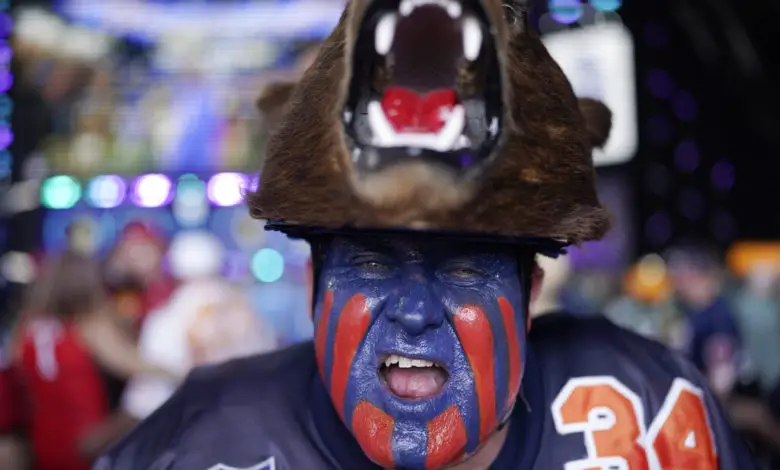 First & Long: Bears Announce 2022 Schedule, SI Writer Ranks Chicago NFL's Worst Team, Brady Signs Broadcast Deal With FOX
The Bears' schedule was released last night and it was interesting to see all the predictions that followed. We knew all along who the team was scheduled to play, and which were home or road games, we just didn't know the order. Having had that bestowed upon us shouldn't have changed any of the projected win totals for the season, but here we are.
The Bears will play four straight road games in October and the NFL has scheduled them for three nationally televised games in 2022, though if Chicago performs well there are always flex options during the final week of the season. They'll play at Green Bay on September 18 in a Sunday night telecast on NBC's Football Night in America, host the Commanders in a Thursday night tilt for Prime Video during Week 6, and then travel to New England to play the Patriots on Monday Night Football (ESPN) the following week.
The Bears produced a pretty basic video featuring QB Justin Fields, RB David Montgomery, and K Cairo Santos, among others, to announce their 2022 schedule. The Darnell Mooney shot from the moon won't win them an Emmy Award, to say the least. I did like Montgomery in the barber's chair, though.
Haters will say it's fake pic.twitter.com/tCCEl49lF0

— Chicago Bears (@ChicagoBears) May 13, 2022
The Chicago Bears 2022 regular season schedule: pic.twitter.com/qGRjSzCrHZ

— Daniel Greenberg (@ChiSportUpdates) May 13, 2022
The most intriguing non-division games include a home tilt against the 49ers on Opening Sunday, especially if San Francisco starts Trey Lance in that game, the Week 6 game against the Patriots and Mac Jones, and the Week 12 game, where the Bears will travel to New York to take on Trevor Lawrence and the Jets. For those who wanted the McCaskeys to hire Brian Daboll instead of Matt Eberflus, a Week 14 game at home against the Bills should provide a measuring stick of sorts, as long as fans keep in mind that Buffalo was 13 seconds away from playing for the AFC championship.
Though the Bears have one of the league's easier schedules, that didn't prevent Sports Illustrated writer Conor Orr from ranking the Monsters of the Midway dead last in the NFL in his post-draft power rankings column. If it feels like a bit of a hit piece, you should know that prior to the draft Orr wrote a column that basically said the Bears should do Fields a favor by trading him for a first-round draft choice, in order to select a different quarterback, one would presume.
Nobody realistically expects Chicago to be a Super Bowl contender this year, but dead last? Orr felt that GM Ryan Poles failed to provide Fields with any playmakers among this year's 11 selections, and that was the foundation of his argument.
"Velus Jones Jr. isn't going to fix the Fields situation, even if he was better than any receiver in the country at causing missed tackles (or breaking tackles after the catch, according to Sports Info Solutions)," Orr wrote. "I know I have been a bit of an alarmist about Fields, but it's difficult to imagine him reclaiming a sense of normalcy this year despite a smart coaching change. Bears fans may feel otherwise, but how did this draft assuage any of our concerns about their young quarterback's surrounding talent?"
Poles vastly improved Chicago's secondary, did a decent job of rebuilding and reshaping the offensive line, and hope to provide Fields with better protection. Reaching for a wide receiver such as George Pickens may have been a bad decision, and once the Packers traded up to take Christian Watson, Poles stuck to his promise to take the best player available each time his turn came up.
Orr doesn't buy what the Bears are selling though.
"Both of [Chicago's] starting tackles will likely be 2021 picks from outside the first round (meaning Teven Jenkins and Larry Borom)," Orr wrote. "This could get scary."
Bears News & Notes
There's a Flag…On the Play
Yes, Johnny Manziel had one fan once upon a time.
8 years ago today 😬 pic.twitter.com/2zpIQviRIf

— NFL Stats (@NFL_Stats) May 10, 2022
Northern Exposure
The Packers made a waiver wire claim on TE Eli Wolf, who was recently released by the Colts.
The Lions had one of the league's better schedule release videos, and the one-liner regarding Russell Wilson and the Seahawks is priceless.
The Vikings' secondary has been named the best in the NFL.
NFL News & Notes
Only the NFL could successfully market its schedule release, especially when opponents and locations have been known for months. Despite numerous leaks throughout the day, the entire prime-time production was a big win for the league.
Sources close to QB Baker Mayfield are wondering if the Browns sabotaged him, per an ESPN report.
Hate him or love him, Tom Brady signed a monster 10-year, $375 million contract to work for Fox Sports once he (really) retires. Brady represents the greatest American success story of all time.
NFL players turned broadcasters offered Brady a few warnings about working in the booth.
Top draft pick EDGE Travon Walker signed a $34.7 million rookie deal with the Jaguars.
Titans OT Taylor Lewan threw some serious shade at Steelers EDGE T.J. Watt in claiming that Myles Garrett and Aaron Donald are better pass rushers.
Commanders QB Carson Wentz thinks it will be fun facing the Eagles twice this year and that it "will make for a good storyline."
Three Yards and a Cloud of Dust
The Lions are the only team that wasn't scheduled for a prime-time game in 2022.
Only Brady and Jared Goff have 45+ wins and 20,000 total passing yards over the last five seasons.
The Steelers have a .667 winning percentage (6-3) when they record less than 300 yards of offense since 2020. Meanwhile, the rest of the NFL has a .283 winning percentage in that same situation since then.
From the Podium
"The message Tillman had was outstanding, just about being a pro, being a Chicago Bear and what that means to him and what it means to the fans and what it means to the city. To me, you can't have enough of that. I told Charles, 'pass the word around. Talk to the guys.' As you know, I texted a bunch of [former players] when I got the job. I've talked to several of them. They're all welcome to come in. We would love to see them. And we're excited about having guys like that around in the future." – Eberflus
"I feel very prepared coming from Washington, just like everything that they taught me in the way that I prepare myself game-to-game and person-to-person. I feel pretty good about going in there and shaking things up, for sure." – Kyler Gordon
"As I said before, [the Bears are] getting a guy that's mature. I don't care much about partying. I'm just coming in and I'm ready to establish a role on this team to help us win games. Definitely, my mind is screwed on right. And so they're definitely getting a mature guy that's all about his business and is going to help this team in any way possible." – Jones, Jr.
Running Out the Clock
Let's Get it Started by Black Eye Peas – Now that the bulk of free agency and the NFL draft has been completed, and after a very successful schedule release event, the countdown to the start of training camp is about 8-9 weeks, give or take.