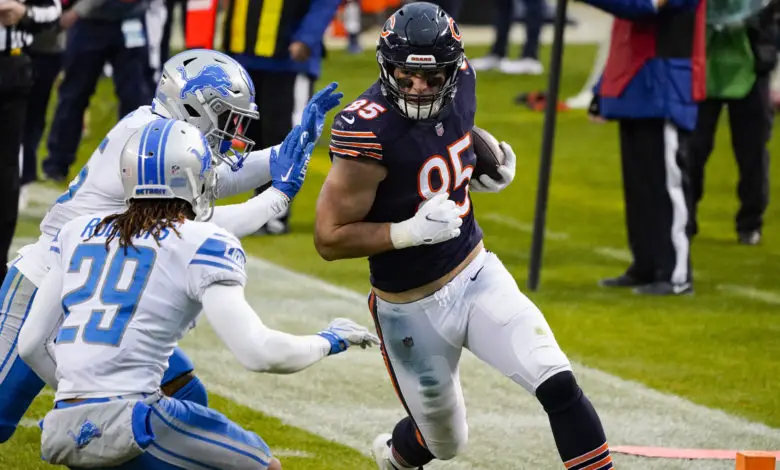 First and Long: Kmet Emerges as Bears Top Tight End, Nagy Defends Play Calling, COVID and Controversy Find Dez Bryant
I'm guessing we are going to be seeing a lot more of Cole Kmet in the final four games of Chicago's season. In fact, the sleepwalking Bears front office should demand playing time for a lot of guys who are on the proverbial bubble for next season, though Kmet has actually earned his extra snaps. If I'm Matt Nagy, I'm treating weeks 14-17 like the 2020 preseason that never happened. Better to see what you have before you try to decide what you need.
Kmet had his long-awaited coming out party in Sunday's 34-30 loss to the Lions. Though he's seen an uptick in his playing time since the bye week, the rookie tight end ran 36 routes on Sunday, which doubled his career-high coming into the game. He caught 5-of-7 targets for 37 yards, including a nifty 11-yard TD reception to give the Bears a 30-20 lead with 11:23 left in the game.
Big things ahead for @ColeKmet.

Tom Thayer breaks down the continuous development of our rookie TE.@surface | #DaBears

— Chicago Bears (@ChicagoBears) December 8, 2020
Let's face it, the Bears' 5-1 start is nothing but a mirage at this point, one of life's unexplained mysteries, like UFOs or really hairy hands. No team in recent memory has shown such a split personality.
In hindsight, Chicago would be much better off had they lost a couple of those games, particularly the ones to the Lions in Week 1 and their 30-26 come-from-behind surprise against the Falcons in Week 3. With two fewer wins, they would be looking at a Top 5 pick in next year's draft and a chance to grab a potential franchise-altering quarterback like Zach Wilson of BYU.
The best the Bears can probably hope to do now is the No. 7 overall pick and it will take a loss to the Texans to kick start that journey. They'll realistically need to lose to the 1-11 Jaguars on December 20, too. If you're suddenly fearing Chicago's head coach can still guide his pathetic team to an 8-8 record you're not alone. Nagy's squad would also have to beat the Packers or Vikings, but Green Bay may not have anything significant to play for when they meet the Bears in the final week of the season.
Then again, neither will the Bears, and Green Bay will likely show a little more pride no matter the situation. Of course, it would be a nice season-ending sting by the Packers to lose a meaningless game and force Chicago into first round purgatory. The Bears could possibly end up with one of picks 14-16 by finishing with 7 or 8 wins.
Still, Kmet is a star in the making, as are rookies Jaylon Johnson (2nd round) and Darnell Money (5th round). Pace has made some awful decisions in his tenure with the Bears, but so far it looks like he had a decent 2020 draft. And though each of those players probably improves the team's chances of winning another game or two, Nagy should allow each to continue his development as the season winds down.
Heck, let Tyler Bray play just in case Pace can't trade up to get the team's next "franchise QB." If Chicago's GM does find himself in a position to choose from multiple first-round signal-callers come April, let's hope he defers to his second or third choice. When you see Texans QB Deshaun Watson on Sunday, you'll better understand.
Bears News & Notes
There's a Flag…On the Play
Only, and I mean only Dez Bryant, who seems to attract controversy wherever he goes, sort of like vinegar and fruit flies. Even crazier, a deleted tweet by a Ravens employee seemed to show Bryant hugging members of the Cowboys before last night's game.
Latest tweet from Dez Bryant after testing positive for COVID-19 and being removed from the field during warm ups for Cowboys vs Ravens. https://t.co/57FXuWOTsI

— FOX Sports: NFL (@NFLonFOX) December 9, 2020
Northern Exposure
The Packers have reversed course and will not be allowing ticketed fans to attend any regular-season games at Lambeau Field. The organization and the city of Green Bay have not ruled out limited fan attendance during the playoffs, though.
Detroit's rookie OL Matt Nelson is garnering national attention for keeping Bears LB Khalil Mack off the stat sheet during the Lions victory on Sunday.
The Vikings are nearly a reverse image of the Bears this season. After starting 1-5, Minnesota is now 6-6 and fighting for a playoff berth, though fans aren't sure if they are as good as their last six games or as bad as the first six.
Eight in the Box
Los Angeles defensive coordinator Brandon Staley is a quickly rising star when potential head coach openings are discussed. The Rams have one of the most consistently maddening defenses in the league, and Staley is a disciple of former Bears DC Vic Fangio. The stars could be aligning here, and one would think the McCaskeys figure to be like yellow on a school bus for Fangio's protégé if they decide to make a head coaching change.
NFL News & Notes
Baltimore beat Dallas 34-17 last night in a game that probably shouldn't have been played, and for the 3-9 Cowboys, it basically ended their season. The Ravens are now 7-5 but need to leapfrog at least two teams, the Raiders and Colts, to secure a Wild Card berth.
Despite missing two games due to COVID-19, Ravens QB Lamar Jackson looked like he hasn't missed a beat. The third-year dual threat was 12-of-17 for 107 yards and two dimes, while rushing for 94 yards on 13 carries and a third TD.
Broncos cornerback A.J. Bouye is facing a multi-game suspension for violating the NFL's policy on performance-enhancing drugs.
The NFLPA sees no need for a postseason bubble as long its players follow the league's COVID-19 protocols. Try not to giggle. Too late?
The Eagles have a quarterback controversy of their own, and whether the starter is Carson Wentz or Jalen Hurts, the whole thing is one big mess.
Fumblerooski
Is Hub Arkush just a stooge for the McCaskeys? The Bears most definitely need a top football man running things, and they have about 30 years of results rebutting the argument that they do not.
The Bears may need a change at the top but hiring a "Top Football Guy" to hire a G.M. and/or coach just isn't how it works with the best teams in the NFL.https://t.co/yFTCBgC4sB via @nwherald

— Hub Arkush (@Hub_Arkush) December 9, 2020
At the Podium
"Could you go back and could you try to run a screen or do something like that? Or throw it behind the sticks and keep the clock running? You could always look at doing that. But we all, collectively as a staff, felt good about [the call]. I think our players did." – Matt Nagy
Halftime Entertainment
Personality Crisis by The New York Dolls – An apt theme song for the 2020 Chicago Bears and probably the Vikings, too.