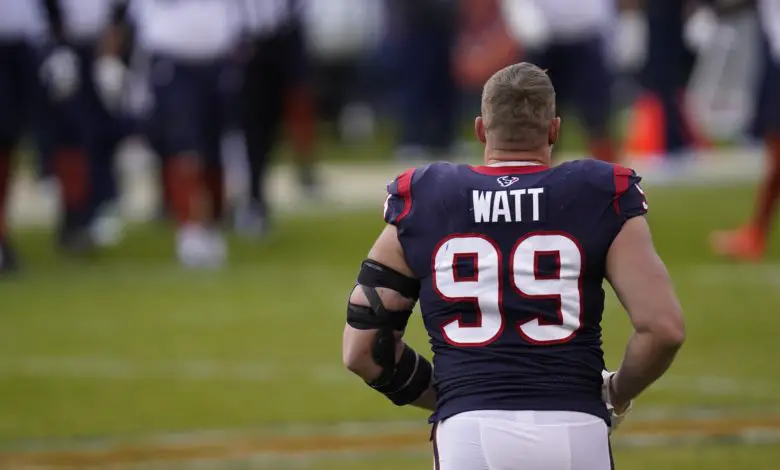 First and Long: Key Upcoming NFL Dates, Bears Extremely Short on Cap Space, Draft Speculation Starting, Super Bowl Viewership Way Down
I've been trying to figure out how to make this a daily column without dropping a daily payload of Mitchell Trubisky speculation, ownership and executive management dissatisfaction, and bleeding every Allen Robinson rumor dry. If you follow our Cubs site, you are painfully aware of the constant barrage of Kris Bryant news and non-news, and I just don't want to do that across two sites. So for the next few months, at least until we get closer to free agency and the draft, my focus may be a lot more league-related than Bears-specific.
I've never been more excited for an NFL offseason. There is going to be a massive amount of cuts due to salary cap situation. We'll have QB trades & interesting QB draft class. I believe we'll see massive team swings from 20 to 21 season. Good to bad & bad to good. LETS GO!

— Daniel Jeremiah (@MoveTheSticks) February 12, 2021
So let's look at a few key dates and figures:
March 1 – Deadline for eligible college football players to notify the NFL Player Personnel department of their intent to forgo the 2021 NFL Draft and return to college.
March 17 – That's when free agency starts and the 2021 season officially begins, but it's a little misleading. Teams can still make trades, they just aren't official until March 17. That said, front offices can start designating franchise and transition tags to potential free agents beginning February 23, and must complete that process by March 9. Look for a boatload of free agent signings during the first few days of free agency. The league also allows a three-day negotiating period before free agency commences.
$185 million – That's the expected salary cap for the 2021 season per Sportrac, a decrease of $13.2 million from last year.
$192.04 million – That's the Bears adjusted salary cap for 2021, which includes a $7 million rollover from 2020.
(-$577,000)– That's the Bears estimated cap space (and yes, that's a negative number) once upcoming salary commitments and dead money are included. Obviously, big moves are coming, especially if Ryan Pace really wants to trade for Eagles QB Carson Wentz or sign anybody in free agency.
$6,666,666 – That's the cap hit for backup QB Nick Foles, an ominous number.
$26.64 million – That's the cap hit for OLB Khalil Mack, and a much more frightening amount, because it represents 14.6% of Chicago's cap allowance. It's safe to wonder if Mack will be a casualty to the reduced limits on spending.
April 5 – On this day, the seven teams with new head coaches can start offseason workouts. Teams with incumbent head coaches have to wait until April 19.
April 23 – This is the last day that restricted free agents can sign with another team. That also means that April 28 is the last day that teams can match offer sheets for their RFAs.
April 29 – It's Chris Berman Day for the NFL as its annual draft begins, and this year the event will be held in Cleveland, possibly at the Rock & Roll Hall of Fame. Expect a lot of references to the movie Draft Day and legendary GM Sonny Weaver.
In pre-COVID days, rookie minicamps and offseason practices would begin a week or two after the draft. But these portions of the offseason calendar could change in 2021, just as they did in 2020, when teams held virtual film-study and planning sessions rather than on-field practices.
Bears News & Notes
Apropos of Nothing
This 2019 interview of Kevin Costner on the Dan Patrick Show is worth a chuckle or two.
There's a Flag…On the Play
The optics on this hire were bad from the start, especially since the league claims to be a leader in race relations. What were the Jaguars thinking? Then again, new head coach Urban Meyer has a bit of a checkered past, too.
Jaguars director of sports performance Chris Doyle, the former strength coach at Iowa who was accused of making racist remarks and belittling and bullying players, has resigned just hours after the organization was ripped for the hire. https://t.co/iTCt02oGtI

— SportsCenter (@SportsCenter) February 13, 2021
Northern Exposure
The Packers will be in search of a "game-wrecking inside linebacker" in the first round of the draft.
Aaron Rodgers won his third career MVP Award this week, putting him in elite company. There are five players in the history of the league who have won three MVPs: Jim Brown, Johnny Unitas, Brett Favre, Tom Brady, and now Rodgers.
Matthew Stafford is pretty torn up about being traded from the Lions to the Rams, stating that he gave Detroit everything he had.
The Vikings are apparently making no effort to trade starting QB Kirk Cousins.
NFL News & Notes
Dallas talk show host Mike Bacsik believes the Cowboys will release QB Dak Prescott before June 1, and that the veteran signal caller could be forced into retirement due to an ankle injury that recently required surgery.
The league appears to be on the precipice of superstar empowerment, much like the NBA.
Ja'Marr Chase of LSU heads the list of best available wide receivers eligible for this year's draft.
Ravens quarterback Robert Griffin III is scheduled to be a free agent for the third time since entering the NFL in 2012, and he wants to sign with a team that will let him start.
NFL draft analyst Mel Kiper Jr. prefers Giants starter Daniel Jones over every draft-eligible quarterback in the draft except Zach Wilson. New York was roasted heavily for selecting Jones at No. 6 overall last year.
Rumors continue to circulate that the Raiders may trade backup QB Marcus Mariota.
The Patriots are in dire need of a franchise quarterback, and are signaling that they'll do "whatever it takes" to land three-time Pro Bowl selection Deshaun Watson if the Texans are willing to trade him.
The Washington Football Team would be heavily interested in Russell Wilson if the Seahawks make their starting QB available in trade.
Pro Football Focus identified players considered the riskiest free agents at every position, led by QB Andy Dalton of the Cowboys and RB Aaron Jones of the Packers.
Three Yards and a Cloud of Dust
Dolphins CB Xavien Howard had 10 INTs this season, which was just as much or more than 10 teams.
Super Bowl LV drew in 96.4 million viewers, which makes it the lowest watched Super Bowl since 2007 (93.1M).
Brady has more Super Bowl victories (7) than the entire NFC Central (Packers 4, Bears 1). Brady also has more wins than any other organization. The Steelers and Patriots each have six.
Backfield in Motion
When you own more rings than any player in the history of the game, you get to write your own rules.
Tom's literally just tossing the Lombardi around. NBD

(via @NFLGameDay) pic.twitter.com/AWVCmX89vz

— FOX Sports: NFL (@NFLonFOX) February 10, 2021
From The Podium
"I don't really know why [the Bears ] would want Wentz, because you're going to get right back into the Trubisky conversation. If you get Wentz in one of these trades and it doesn't go well at first, everyone's going to go, 'What the hell? It didn't work that well in Philly. Did he really look that special in Philly? They didn't want him. We have guys that can't evaluate quarterbacks. What's going on?'…that is where the public conversation is going to turn as soon as he plays bad." – Phil Simms
Today's Halftime Entertainment
All We Ever Knew by The Head & The Heart – Suffice to say, Bears fans are programmed to root for the second string QB no matter who starts. So maybe Pace should find a suitable backup for Foles and let the fans push the new acquisition into a starting role.