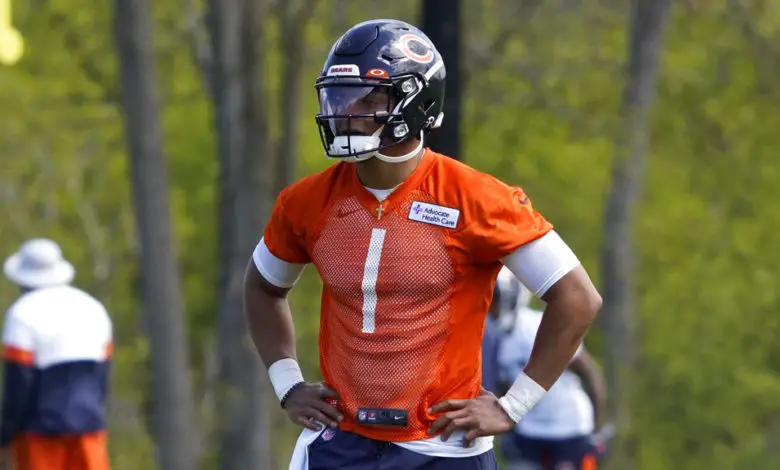 First and Long: Countdown to '21 Season Begins Today, McCaskeys Allegedly Mulling Team Sale, Fields Could Get Week One Call, Cap Relief Could Send Rodgers Packing
In older days, Chicago's baseball fates had usually been decided by June 1 and talk would immediately turn to Bears football. NFL training camps traditionally start the last week of July, and this year the coaching staff and players will report to Halas Hall in about seven weeks. 2021 will mark the Bears' second consecutive year of staying home for camp due to the pandemic. The success of the Cubs in recent years has kept the Bears out of the summer spotlight for the most part, and this year is no different except that the White Sox are also one of the better teams in baseball. But let's face it, in Chicago, the Bears NEVER fly under the radar.
For the first time, the NFL has set a joint start for training camp as all teams are set to report Tuesday, July 27, according to NFL Network's Tom Pelissero. The report date comes 47 days before the Sunday of Week 1, as specified in the league's Collective Bargaining Agreement. This year, those practices will be open to fans and the organization expects full capacity for all publicly available events, including preseason games against the Dolphins and Bills in August.
From Cbus to Chi-town… @justnfields is not afraid to embrace the grind 😤😤#GoBuckeyes • @ChicagoBears pic.twitter.com/34N4FLCt3U

— Ohio State Football (@OhioStateFB) May 28, 2021
Because of some draft day wizardry by GM Ryan Pace, the Bears should grab their share of headlines as the 2021 season draws closer. QB Justin Fields was drafted in the first round, and the organization's deep draft should provide plenty of storylines as camp opens. Whether the Bears are any better this year remains to be seen, but the feeling that they will at least be more exciting to watch is palpable. The Bears have a tough schedule, and wins and losses might not be the measuring stick to which success is appraised.
That said, Pace and head coach Matt Nagy may still need to get to the playoffs to save their jobs. Anything resembling last year's play during its six-game losing streak will light a fire under both. Regardless, Fields, and when Nagy will eventually call his number, will be the one story that likely follows the team all summer and into the season.
Bears News & Notes
In a stunning report by Jim O'Donnell of the Daily Herald, who cites "an individual with exceptional knowledge of the working dynamic within the McCaskey family," Chicago's longest-tenured ownership group is currently conflicted about whether or not they should sell the franchise. I'll have more on this tomorrow. The Bears have been family-owned since 1920.
The NFL announced league schedules earlier this month, and in a bit of a quirk, the Bears will alternate home and road games all season. Their first game is against the Rams in Los Angeles on Sunday night, September 12, and Chicago's home opener is the following week against the Bengals.
Bears fans have a level of excitement for their rookie quarterback not seen since Jim McMahon was selected 5th overall back in 1982.
An excellent draft that includes a couple of late-round steals has Bears fans excited and could be enough to help Pace keep his job beyond 2021.
Barring drastic setbacks in the fight against COVID-19, Soldier Field will be at 100% capacity for all Bears home games this season. All 30 teams have been approved for full capacity.
Nagy being on the hot seat makes zero sense to anybody who is not a Bears fan. The fourth-year HC has the third-best odds to be the first fired during the upcoming NFL season.
Whether the team says so publicly or not, Fields will challenge Andy Dalton to win the starting gig as soon as the first game of the season. Nick Foles is still listed as the team's number two signal-caller.
Of the 34 quarterbacks picked in the first round since 2010, 13 started the season opener. Almost three-fourths (25) were starting by Week 5, including Mitch Trubisky (a fifth-week starter in 2017).
As if his opinion matters, former Bears QB Jay Cutler said he wouldn't play Fields to start the season.
Meanwhile, Cutler is seeking to be awarded half of ex-wife Kristin Cavallari's brand in their divorce proceedings.
With the departure of Kyle Fuller, the Bears are thin in their defensive backfield and have reconfigured their O-Line so that rookie Teven Jenkins can start at LT. Those are just two of the team's biggest question marks as OTA's kick-off this week.
Statistically speaking, the Bears will need to do better on short pass defense, third-down conversions, and must improve their deep passing game.
If the Bears open up their offense behind Dalton or Fields, it could mean big things for running back David Montgomery.
Gale Sayers would have turned 78 years old today. Nobody moved like Sayers with the ball in his hands.
There's a Flag…On the Play
Perhaps rookie WR Dazz Newsome will be the impetus for Waffle House to finally open a franchise in the Chicago area. The nearest locations are in Lima, OH or Muncie, IN, each about 230 miles from the Windy City.
#Bears rookie Dazz Newsome was bummed to find out there wasn't a Waffle House in Chicago area.

So Waffle House stepped up, sending him some waffle mix and syrup — for which he was quite appreciative.https://t.co/Cda4nIgKPF via @ParkinsSpiegel Show pic.twitter.com/ysZOd5V5Id

— 670 The Score (@670TheScore) May 21, 2021
Northern Exposure
Anyone paying attention to the ongoing Aaron Rodgers drama in Green Bay understands the importance of tomorrow. If the three-time MVP is traded after June 1, it will save the Packers $16.05 million in salary cap space this year.
Packers GM Brian Gutekunst is "holding firm to the stance" that he "will not" trade his marquee quarterback.
The Vikings desperately wanted to trade up for Fields but the Bears beat them to the punch. Minnesota instead selected Kellen Mond in the 3rd round, which could make for an awkward transition from incumbent starter Kirk Cousins.
The Panthers turned down what they deemed a lowball offer from the Vikings for the 8th overall pick.
Former Rams running back Todd Gurley visited Detroit last week as the Lions are still looking for depth at the position. Gurley leads the NFL in rushing touchdowns since he entered the league in 2015, but he's also coming off back-to-back ineffective seasons — the first of which led to him being released by the Rams and the second of which has left him still without a job deep into the offseason.
NFL News & Notes
Former NFL assistant coach Eugene Chung, who is Korean, says he was told he was "not the right minority" while interviewing for an NFL coaching job this offseason.
The Falcons have discussed several trade offers for WR Julio Jones, including an offer for a future first-round draft pick, per sources.
Kicker Adam Vinatieri, the NFL's all-time leading scorer, announced his retirement after 24 seasons.
Former Bears and Panthers TE Greg Olsen said his 8-year-old son's heart is "reaching its end" and will ultimately require a transplant.
Five quarterbacks were drafted in the first round this year, including Trevor Lawrence, and all should expect to be named starters by Week 5 of the upcoming season (subscription to ESPN+ required).
Are You Ready for Some Football?
We'll have plenty of NFL coverage here at Bears Insider on a daily basis from here on out.
Exactly 100 days until the Cowboys and Bucs kick off the NFL regular season on Thursday, September 9.

— Adam Schefter (@AdamSchefter) June 1, 2021
Three Yards and a Cloud of Dust
The Buccaneers will return all 22 starters from last year's championship team.
Jones needs 7 games with 100+ receiving yards to surpass HOF Randy Moss (64) for the 2nd-most such career games in the Super Bowl era. Jerry Rice is the all-time leader with 76.
The Steelers, Ravens, and Bears have the toughest 2021 schedules.
Backfield in Motion
With a 17-game schedule, 2021 will represent the first time that an NFL team could earn 20 wins by running the table start-to-finish. Patrick Mahomes believes the Chiefs can be the first team to do so.
Patrick Mahomes hopes to make history by leading Chiefs to undefeated season in 2021: "Being able to go 20-0, to be the first one to do that, that would be awesome"https://t.co/vaEmCK5UHU pic.twitter.com/BmgfhMuxE5

— Around The NFL (@AroundTheNFL) June 1, 2021
From the Podium
"I'd carry [Amazon founder Jeff Bezos] piggyback to get him into the NFL." – Jerry Jones
"I know that for everybody the biggest question is, 'When is that going to happen?' When you move up to draft a quarterback like Justin [Fields], everyone's very excited and they want to know when, when, when, and trust me, we all understand that. But we need to make sure that whatever that plan is that we put together, that it's the best thing for the Chicago Bears." – Matt Nagy
Two-Point Conversion
I've been struggling with how to end this column since its inception. I don't want to do music videos like I do over at Cubs Insider, so my current plan is to pool from 100+ years of Bears history.
"Give me 18 inches of daylight. That's all I need" – Gale Sayers
On December 12, 1965, Sayers scored six touchdowns in a single game on his way to the NFL Rookie of the Year award.